How to Make Falernum, the Essential Tiki Liqueur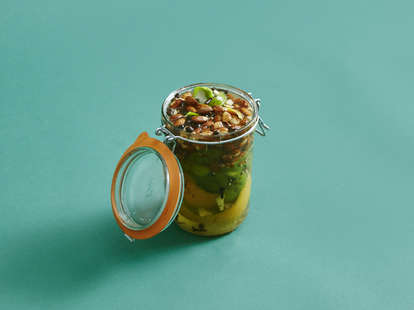 Most tropical drinks boil down to rum, sugar and lime. Add a few funky syrups and liqueurs, however, and they take on that distinct spiced-but-sweet flavor that is the essence of tiki. Falernum is one of the great granddaddies of tiki liqueurs. It's the secret sauce that takes a frosty sweet umbrella drink and gives it depth and subtlety.
Used in classics like the Zombie, Pearl Diver, and Three Dots and a Dash, falernum is rum infused with almonds, lime zest, ginger and spices. Non-alcoholic falernum syrup like Fee Brothers is often used to give drinks a bright flavor hit, but the liquored up version does the job even better. Adding alcohol also keeps your precious tiki juice from going bad.
While Velvet Falernum is commercially available, making your own isn't difficult and offers exponentially fresher flavor. And its ingredients can be found at any grocery store. The only hitch is that once you have it assembled, it has to sit for two days before you can use it.
Falernum #9:
This modified recipe was adapted from the Falernum #9 recipe in Jeff Berry's Beach Bum Berry Remixed.
Ingredients:
16 oz Wray & Nephew White Overproof White Rum
Zest of 9 limes, no pith
Zest of 1 grapefruit, no pith
20 dried allspice berries
20 whole cloves
1.5 oz (by weight) fresh ginger, peeled and diced
1 cup blanched almonds
16 oz cold-process cane syrup
.25 teaspoon almond extract
4.5 oz fresh lime juice, strained
Tools:
1 64oz Mason jar
Cheesecloth
Funnel
Medium-sized bowl
METHOD
Roughly chop almonds and place in a dry skillet over medium heat, stirring constantly. Once they become aromatic (3-5 minutes), remove from heat.
Combine rum and toasted almonds in a large mason jar. Let the mixture sit at room temperature for 24 hours.
Add the lime zest and grapefruit zest, along with the ginger, allspice and cloves, to the almond and rum mixture. Let the mixture soak for an additional 24 hours.
Strain rum mixture through a cheesecloth-lined funnel into a medium-sized bowl. When finished, squeeze the cheesecloth to extract every last drop.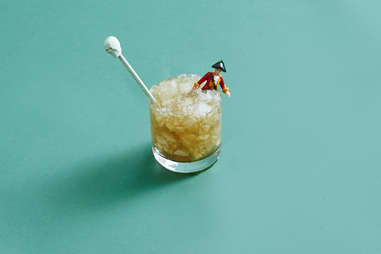 Clean the Mason jar thoroughly and pour the rum infusion back into it. Add almond extract, cane syrup and fresh lime juice. Shake the jar to fully incorporate the new ingredients into the infusion, then mix it into a tiki classic like the Test Pilot (pictured above).
This syrup will keep up to a month refrigerated. Recipe yields approximately 3 cups.