Fassionola: The Greatest Syrup You've Never Heard Of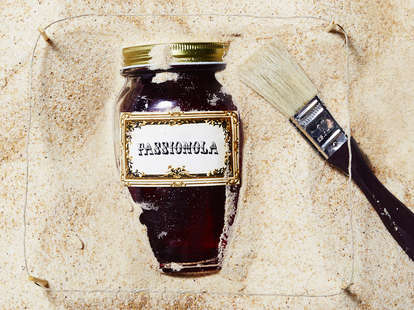 Invented by Donn Beach in the 1930s, fassionola syrup is a key ingredient in the Cobra's Fang, the Pi Yi and the original Hurricane. Unfortunately for tiki-philes and cocktail devotees, Beach took the original recipe for the syrup to his grave. But that didn't stop us from making our own version.
Bartenders and at-home-mixologists have debated endlessly over Beach's recipe: Some say it can be reproduced with Smucker's raspberry syrup and grenadine, while others argue it is a concentrated derivation of POG, a blend of passion fruit, orange and guava juices. In our attempt to recreate the syrup, we relied on two facts: One, that most recipes we found contained passion fruit juice, so we could be fairly certain that the original did as well, and two, that bartenders and tiki heads agree that, whatever the recipe, the syrup tasted like Hawaiian Punch.
Our final recipe is hodgepodge of several recipes for Hawaiian Punch, fresh POG juice and passion fruit syrup. We highly recommend using the syrup in cocktails as a substitution for passion fruit syrup, grenadine or tropical syrups like pineapple gomme. It can also be made into a delightful non-alcoholic punch. Simply mix two ounces of the syrup with one ounce each of the pineapple and orange juices. Pour into a highball glass over crushed ice, top with soda water and enjoy a taste of tiki's forgotten past.
Supercall's Fassionola Syrup
Makes approx. 1 quart
TOOLS:
Gram Scale
Measuring Cup
Funnel
Swing-Top Glass Bottle or 32-oz Mason Jar
INGREDIENTS:
.25 cup passion fruit juice
.25 cup papaya juice
.5 cup tart cherry juice
.5 cup orange juice
.5 cup guava juice
.5 cup canned pineapple juice
.5 cup fresh pineapple juice
.5 cup apple juice
2.5 grams Citric acid
.5 cup dried hibiscus flowers
4 cups white sugar
METHOD:
In a saucepan combine all of the ingredients except for the fresh pineapple juice.
Bring the syrup to a strong simmer, then remove from the heat and cool.
After the syrup has fully cooled, whisk in the fresh pineapple juice.
Funnel the syrup into a swing-top bottle or pour into a 32-oz Mason jar and refrigerate.
The syrup will keep for up to one month in a refrigerator.