Ginstant Karma: How to Transform Vodka Into Gin
If you've found yourself here, chances are you identify as a serious gin lover. Only a true ginthusiast would want to not only drink the delicious, juniper-spiked spirit—but also make it from scratch. Lucky for you, it's a cinch to make at home.
No stills or bathtubs required, all you need is vodka, botanicals and some time. It's that simple. We came up with three different DIY recipes: a classic juniper formula, a citrus-driven variation and one with hops. Ready to start your new hobby as an amateur spirits producer? Ready, set, infuse!
How to Make Classic, Juniper-forward Gin:
Ingredients:
375 ml 80-proof vodka
.25 cup juniper berries
1 cardamom pod, crushed
.25 tsp peppercorns
Peel of one lemon
Tools:
2 one-pint mason jars
Funnel
Coffee filter
When it comes to making anything for the first time, it's best to start with the basics—your first foray into baking wouldn't be a triple-layer cream cake, would it?
This recipe is a juniper-forward infusion, meant to evoke London Dry brands like Beefeater and No. 3. Clean and classic, it can be used in anything from Gimlets to Martinis. The formula can also be easily adapted to include a wider variety of flavors like coriander, dried herbs and fennel seed, depending on your preference. We chose to include peppercorns for a bit of spice, lemon peel for a nice citrus edge and just a touch of cardamom (any more overpowers the juniper) for some complexity. Once you have all of your ingredients measured out, the most difficult part of the process is waiting.
Step 1: Prepare the first mason jar by washing it in soapy water, rinsing and drying it thoroughly (no one wants leftover soapy aromatics worming their way into the infusion). Pour the vodka into the clean jar, followed by all of the remaining ingredients. Screw the lid on tight. Then, shake it up to make sure every last berry and peppercorn are saturated. Let the infusion sit in a cool, dark area for three full days, shaking the jar each day.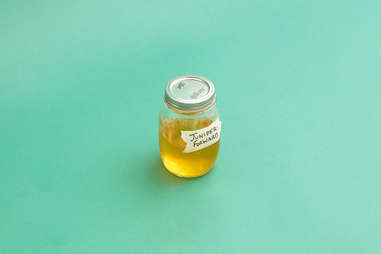 Step 2: Once 72 hours have passed, it's time to strain your elixir. Wash, rinse and dry another mason jar. Place the funnel in this new, empty jar and line it with the coffee filter. Then, slowly pour the infusion into the funnel. When all of the visible liquid is through, gently squeeze the ingredients in the coffee filter for every last herbaceous drop. Don't be alarmed that the gin is no longer clear. Big brands filter out that amber hue, but the flavors will be the same.
Step 3: It's time to put the fruits of your labor to work. Grab some tonic and mix up a summery Gin & Tonic. Or, add some lime and simple syrup for the balanced sour/sweet flavor bomb that is the Gimlet. We're also crushing hard on the Gin Rickey. In other words: Gin it up.
How to Make Citrus Gin:
Ingredients:
375 ml 80-proof vodka
1.5 tbsp juniper berries
1 cardamom pod, crushed
.25 tsp peppercorns
Peel of one half-grapefruit
Peel of one lemon
.5 tbsp dried orange peel
Tools:
2 one-pint mason jars
Funnel
Coffee filter
This variation was inspired by a universal truth: Gin is only made better with citrus. So why not put it right into the mix? The first couple of infusions we tried came out bitter—too much grapefruit, not enough lemon—and something was missing. Finally, the winning combo revealed itself. We added dried orange peel and adjusted the other ingredients, also adding a hint of peppercorn to counterbalance the citrusy peel with spice.
Follow steps one through three in the recipe for juniper-forward gin, swapping in the botanicals listed above. But only let the infusion sit for two days instead of three—otherwise it gets overwhelmingly citrusy. When it's ready, the world of gin cocktails, once again, is your oyster. A Tom Collins? No problem. The Clover Club? Get at it.
How to Make Hopped Gin:
Ingredients:
375ml 80-proof vodka
1 tbsp juniper berries
Peel of 1 lemon
.25 cup dried hop flowers
Tools:
2 one-pint mason jars
Funnel
Coffee filter
Can't get enough of the mouthwateringly bitter, floral aromatics in your favorite Citra IPA? We developed this gin with you—and your Negroni—in mind.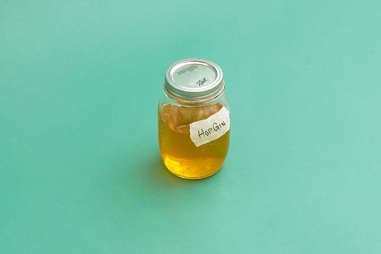 Once again, follow steps one through three of the classic juniper-forward recipe, infusing the mixture for the full three days. When it's ready to drink, try it out in cocktails that already lean citrusy and bitter, avoiding conflicting flavors like mint and berries. Our favorite? The simple, yet mysteriously complex Negroni.