Flower Power: Make Your Own Hibiscus Grenadine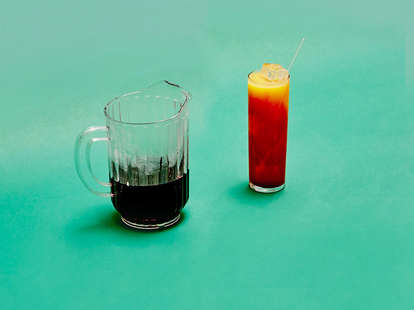 When you were a child, you drank like a child. You sipped neon-red Shirley Temples made with viscous, bottled grenadine—and you loved it. But now you're an adult, and you should drink like an adult. It's time to make your own, real, from-scratch, balanced, not-too-sweet grenadine.
Made simply with pomegranates, water, sugar and dried hibiscus flowers, this homemade grenadine not only adds a beautiful ruby red hue to cocktails (or Shirley Temples, if you're still a fan), but also a rich, deep, sour-flower flavor. Get ready for grenadine greatness.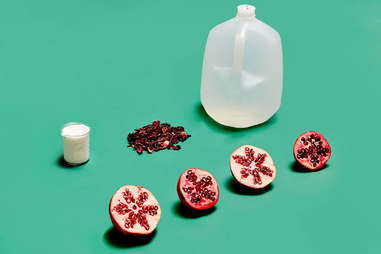 How to make your own high-quality hibiscus grenadine:
Ingredients:
1 cup white sugar
1 cup water
2 whole pomegranates
0.5 cups dried hibiscus flowers
Tools:
Knife
Bowl of water
Empty bowl
Saucepan
Fine sieve
Swing top bottle or mason jar
Step 1: Start by seeding the two pomegranates. Cut the pomegranates in half. Then, in the bowl of water, peel apart the membranes to release the seeds—that way you'll avoid staining your fingers (and everything around you) bright red. Strain the seeds.
Step 2: Now that you have a bowlful of pomegranate pips, it's time to make the syrup. Add all of ingredients to a saucepan. Bring to a strong simmer (near boiling) and reduce the heat to low. Let simmer for 30 minutes, then let the syrup steep for an additional 30 minutes before straining.
Step 3: Strain the syrup through a fine sieve into a bowl, then pour into a mason jar, or funnel into a swing top bottle. Refrigerate prior to serving, then mix up a round of grenadine-enhanced cocktails like Zombies, Jack Roses or the best Tequila Sunrises of your life.