There's nothing like luscious Irish cream. Whether you're spiking your morning latté or just looking for a deliciously soothing nightcap, the Emerald Isle liqueur is a great way to go. But instead of the pre-made bottled stuff, try making your own.
Making Irish cream from scratch isn't just easy, it's easier than making your own Bloody Mary mix—and you probably already have most of the ingredients you'll need. All you have to do is throw Irish whiskey, heavy cream and a few other key ingredients into a blender, and just like that, you're done. The best part is, a couple of batches will eliminate the need for holiday shopping. Because who wouldn't want to be on the receiving end of a bottle of decadent homemade Irish cream?
Here, our super simple recipe for DIY Irish cream. Feel free to adjust any of the amounts to suit your tastes.
Supercall's Irish Cream
Makes about 4 cups
Tools:
One 750-ml or two 500-ml swing-top bottles
Blender
Ingredients:
1.5 cups Irish whiskey
1 14-oz can sweetened condensed milk
1 cup heavy cream
1 tbsp unsweetened cocoa powder
2 tbsp honey
2 tsp vanilla extract
2 tsp instant coffee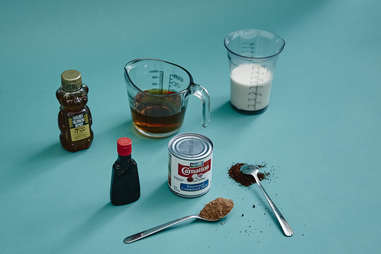 Method:
Add all ingredients to a blender and blend thoroughly.
Allow the foam to settle and divide into two 500ml bottles.
Keep, refrigerated, for up to two months, and shake before serving.