How to Make Nutella Liqueur
Nutella—the creamy, chocolatey hazelnut spread that people consume by the jarful for breakfast, lunch and dinner—has appeared in everything from crêpes to ice cream to lattés to grilled cheese sandwiches, so it was only a matter of time before it found its way onto the bar.
This creamy Nutella liqueur tastes delicious on the rocks or mixed into coffee, but it's also a great replacement for Irish cream or chocolate liqueur in cocktails like Chocolate Martinis and Mudslides. Plus, it's insanely easy to make yourself. Made with just four ingredients that you probably already have lying around the house (we know about that "emergency" jar of Nutella behind the paper towels), it comes together in seconds. Drink it straight from the bottle with spoonfuls of leftover Nutella scooped right from the jar—we won't judge.
DIY Nutella Liqueur
Makes about 4 cups
Tools:
One 750-ml or two 500-ml swing-top bottles
Blender
Ingredients:
1.5 cups vodka
1 can sweetened condensed milk
1 cup heavy cream
.75 cup Nutella
Step One: Add all ingredients to a blender and blend until smooth.
Step Two: Allow foam to settle then bottle in a sealed container.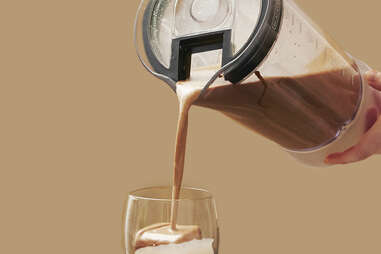 Step Three: Keep refrigerated for up to two months. Once chilled, the oil from the Nutella may separate and solidify, so shake before serving to incorporate mixture.