Chocolate Liqueur is Shockingly Easy to Make at Home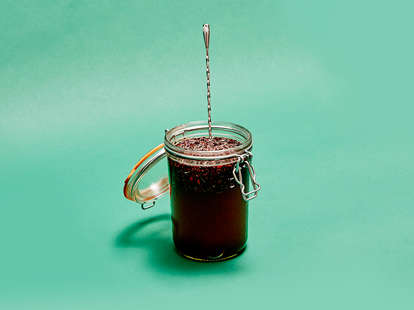 If you dabble in alternative Martinis (cocktails that aren't technically related to real Martinis in any way but happen to be served in Martini glasses), you're probably all too familiar with chocolate liqueur, which is squirted liberally into 'tinis of all types. Sadly, the chocolaty elixir available behind the stick often leaves much to be desired. Laden with sugar (or, more likely, high-fructose corn syrup) and cream, it is usually lacking in the most important flavor: actual chocolate.
So we set out to create our own version of a chocolate liqueur that's as smooth as a Cadbury Creme Egg and complex as a glass of Highland scotch. And, not to pat ourselves on the back too much, we more than succeeded. Ready to get buzzed on liquid chocolate?
How to make the best darn chocolate liqueur:
Ingredients:
1.25 cups demerara sugar (for a delicious depth of flavor)
.75 cups distilled water
2 cups 80-proof white rum (or vodka, depending on your tastes)
1 cup raw cacao nibs (for just a touch of bitterness)
1 teaspoon cinchona bark (for just a touch more of bitterness)
1 Madagascar vanilla bean
Tools:
Small saucepan
Glass jar (750 ml with a solid seal)
Large bowl
Sieve, fine mesh strainer
Funnel
Coffee filter
Glass bottle (750 ml with a swing top)
Yield: About 3 cups
First, you'll need to make a rich demerara syrup because, while you want your chocolate liqueur to be complex, you still want it to taste good. Add the demerara sugar and distilled water to a small saucepan over medium heat and stir. Keep stirring until all of the sugar is dissolved. Let it cool to room temperature before moving on.
Once the syrup is cool, add 1.5 cups of it to your jar. (Cover and refrigerate the remaining syrup to use in cocktails.) Then, add the rum, cacao nibs and cinchona bark to the jar. Before you throw the vanilla bean in the mix, split it and scrape the insides into the jar, then drop in the scraped bean halves. Seal the jar, making sure it's air-tight, and shake it until all the ingredients are thoroughly mixed. Place the mixture in a cool, dark area to steep, giving the jar a quick shake once a day. Think of it as your daily, 30-second workout.
After 48 hours, remove the vanilla bean halves so the vanilla flavor doesn't become too overpowering, then continue to steep the mixture for three to four more days—or, if your prefer a seriously intense chocolate flavor, let it sit for a full week. Taste the liqueur every day after the initial 48 hours to monitor its chocolaty levels (it's the responsible thing to do). We strained ours after it steeped for six days from start to finish, which gave it a deep, chocolaty finish and slight bitter undertone.
When you decide your infusion has achieved the height of chocolate perfection, it's time to strain all of the solids out of the jar. Get out your sieve or fine mesh strainer and have your funnel, coffee filter and bottle at the ready. Strain the liqueur through the sieve or strainer into a bowl to remove the bulk of the cacao nibs and cinchona bark, pressing the solids to get every last drop of precious liqueur out. Then, place the coffee filter in the funnel and slowly pour all of the liqueur through the funnel into the bottle.
Finally, your liqueur is ready! This dark-chocolate-bar-in-a-glass is downright delightful neat or over ice—its toffee glow might even fool someone into thinking you're drinking whiskey—but it also makes a killer cocktail. Use it in a Chocolate Martini or pour a teaspoon or two into a Rum Old Fashioned for a fun twist. Add it to a cup of coffee for a stealthy pick-me-up in the afternoon (or morning, who's judging?). Want to impress all of your friends with your fancy new potion? Bottle it in small jars or bottles for gifting.
Or you could hoard it all. Totally up to you.