How to Open a Bottle of Champagne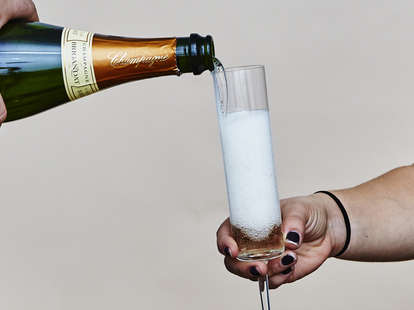 Nothing gets a party started like the celebratory pop! fizz! of a bottle of Champagne. But for someone who's not accustomed to opening a bottle of the stuff, it can seem trickier than it really is and a little scary—you never really know what the cork is going to do once you manage to wiggle it out of the bottle. Thanks to the carbon dioxide pressure that builds up inside a bottle of Champagne, it could forcefully fly across the room (this usually only happens if the bottle is warm or has recently been shaken) or it could give a modest pop and fall simply into your hand. In the interest of avoiding a bubbly-induced emergency, follow these steps to easily—and safely—open a bottle of Champagne, cava, prosecco or any sparkling wine.
Step 1
Take a chilled bottle of Champagne and unwrap the foil around the cork and cage. Discard the foil.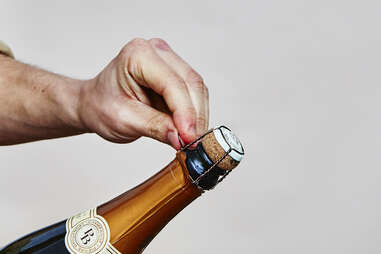 Step 2
Remove the cage from the cork, making sure to keep one hand on top of the cork, securing it, as much as possible.
Step 3
With one hand around the bottle and the other securing the cork, gently twist the bottle, pointing it away from others or anything breakable at a 45 degree angle, until you hear a pop.
Step 4
Pour a glass of bubbly.