How to Separate and Measure Egg Whites for Cocktails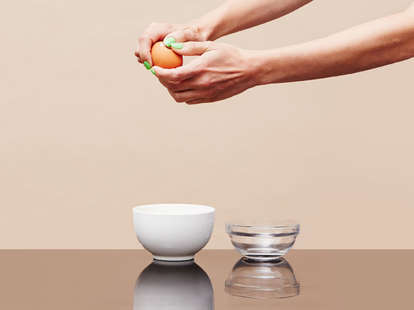 Egg whites are used in cocktails to create beautiful, fluffy foam and a rich, velvety mouthfeel. Remember to not throw away your egg yolks after separating the whites, since there's always someway to use the yolks—even if it's to make extra-eggy scrambled eggs, which happen to be a great pairing with an egg white-topped Ramos Gin Fizz. Here, the best way to separate the whites from the yolks in order to make a delicious drink.
Tools: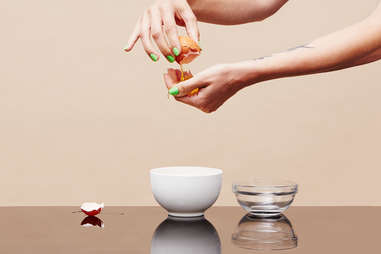 Step One
Hold your hand with your palm upwards, your fingers loose and relaxed. Crack an egg on a hard surface and break it into the palm of your hand, discarding the shell.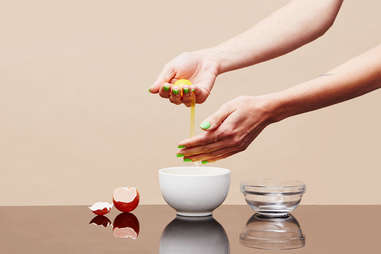 Step Two
With your hands above a bowl, pass the yolk from hand to hand. The egg whites should pass through your fingers and into the bowl. Reserve the yolk for other uses.
Step Three
Pour the egg whites into a squeeze tube for ease of use. Or, simply keep them in the bowl if you are using them immediately.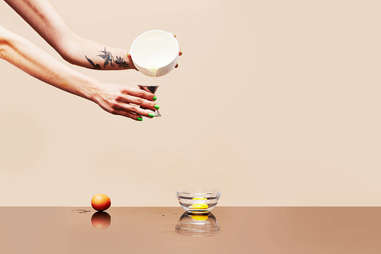 Step Four
To measure, squeeze or pour the egg whites into a jigger. The most commonly used measurement for egg whites in cocktails is .75 oz, which happens to be approximately the whites of one egg.