How to Smoke Cocktails and Spirits at Home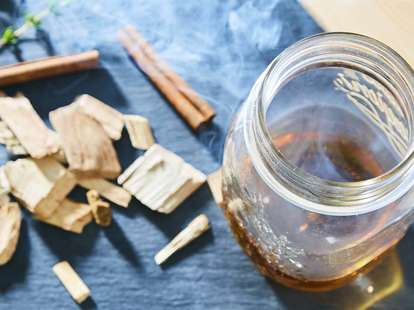 Marisa Chafetz
Marisa Chafetz
Fire and smoke are impressive no matter what, but when those pyrotechnics result in delicious drinks, now that's really something. While bartenders have been smoking drinks for years, it's not only for the professionals anymore. There are a couple ways to smoke ingredients and cocktails at home, and they're both pretty easy. All it takes is a little time, the right equipment (here's the excuse you've been looking for to buy a smoking gun) and a fire extinguisher nearby—just in case.
To get the scoop on the right way to smoke booze at home, we tapped Freddie Sarkis, the chief cocktail officer at Liquor Lab, an event space offering interactive cocktail making classes with locations in New York City and Southampton, New York. In his classes, students learn how to make fun but simple drinks like spicy Margaritas in frozen bell peppers, honeydew Boulevardiers and, of course, smoked cocktails. Here are his instructions for adding a little smoke to your cocktail repertoire.
What to Use to Smoke Spirits and Cocktails
Whatever you choose to use, be sure you like the smell of it. Smoke is not easily contained, so the aroma will linger for a while. Both wood chips and herbs are good candidates for smoking, as well as spices.
"I'm a fan of using hard spices," Sarkis says. "Like star anise, cinnamon bark, nutmeg, etcetera." Good woods for smoking include apple wood, hickory or mesquite, while good herb options include things like rosemary, thyme and sage. Some of Sarkis' favorite smoke/spirit combinations are apple wood with rye whiskey, cinnamon with Campari, and rosemary with tequila.
How to Smoke a Drink Using a Wood Plank (aka the Smother Method)
Step 1: Choose Your Smoke
Pick out the ingredient you'll be using to flavor your spirit or cocktail. Barks, wood chips, hard spices and herbs are all great options.
Step 2: Prepare Your Smoking Station
"Use a durable surface," such as a wooden plank, Sarkis says. "And make sure it doesn't have a varnish." Place your smoking ingredients in a small pile.
Step 3: Create Your Smoke
Carefully set your pile of wood, spices or herbs aflame. Then smother it with the glass in which you'll be serving your drink.
Step 4: Make Your Smoked Drink
While the smoke gathers in the glass, build your cocktail. When you're ready to serve it, turn the glass over and quickly strain your drink into it.
How to Smoke a Drink Using a Smoking Gun (aka Cold Smoking)
Step 1: Choose Your Smoke
Pick out what you'll be using to flavor your spirit or cocktail. Again, barks, wood chips, hard spices and herbs will all work.
Step 2: Choose Your Smoking Vessel
"When using a smoke gun, you want to make sure there is enough room to house both the smoke and the liquid," Sarkis says. "Mason jars or carafes work well for this purpose." Whatever you pick, make sure you can cover it with a lid or some other top that will hold in the smoke.
Step 3: Add Your Cocktail or Spirit to the Vessel
Pour your spirit of choice into the vessel or build your cocktail and strain it into the jar or carafe.
Step 4: Pack Your Gun
Fill the chamber of the smoking gun with a teaspoon of whatever flavoring you chose. Switch the gun on and ignite your herbs, spices or wood chips.
Step 5: Smoke Your Drink
Pipe the smoke into the vessel, then cap it off. Swirl the liquid around so the smoke infuses into it. Then uncap the vessel and pour the drink into a glass (over ice, if you would like). As the smoke pours out, let loose an "ooh" and an "ahh," then drink up.