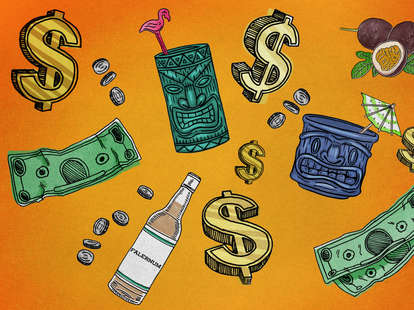 With Mai Tais, Pina Coladas and Jungle Birds blossoming at bars across the country, the tiki train shows no sign of slowing down. But given the daunting complexity and rafts of ingredients in tiki cocktails, many aspiring bartenders worry the drinks aren't practical to make at home. Fortunately for all of us, this common misconception is easily remedied.
The truth is that tiki cocktails are only as involved as the bartender wants to make them. In fact, for most of their existence, tiki cocktails have been associated with trash ingredients and dive bar Chinese restaurants. We're not saying you stoop that low, but if you're not looking to get super fancy, most classic tiki cocktails are within reach.
So start small. Then you can kick up your game over time with more rums, more equipment, and more mugs and garnishes. Here's what you need for a basic tiki setup to start making the tropical elixirs of your dreams.
ESSENTIAL SYRUPS:
These can be bought online or made at home. The homemade version is always more satisfying, but we're not above a shortcut that gets us down to drinking a little faster.
Orgeat—Almond syrup used in a Mai Tai and a Fog Cutter.
Passion Fruit Syrup—More sour than sweet, this is what makes the Hurricane howl.
Cinnamon Syrup—If there's a secret tiki sauce, this is it. You might not be able to pick it out in a drink if you don't know it's there, but it makes everything better.
ESSENTIAL BITTERS:
Use these to add a third dimension to a drink's flavor profile and bring down tiki's achilles heel: sweetness. If cocktails are french fries, bitters are the ketchup.
Angostura Bitters—A requirement for any bar, tiki or otherwise. ($10)
Bittermens 'Elemakule Tiki Bitters—Similar to allspice dram, but more bitter. Also great for a Rum Manhattan. ($20)
Bittercube Trinity Bitters—A mixture of three of the company's bitters: Bolivar bitters (which has cinnamon, jasmine and chamomile), orange bitters, and cherry bark and vanilla bitters. This is your secret weapon when making a Zombie. ($22)
LIQUEURS AND CORDIALS:
Get to know these five modifiers. With them you can make almost every Beachcomber, Trader Vic or Beachbum staple. If you want to save a little cash, you can even make your own falernum.