Here's the Right Way to Store Whiskey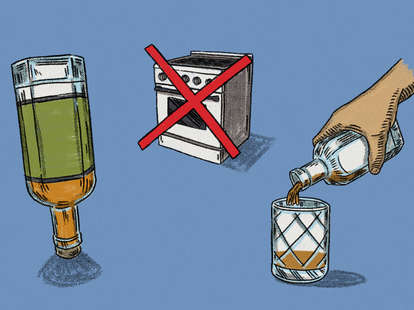 Throwing down for that expensive bottle of whiskey is a big leap (one worth taking), and that investment requires protection. Don't think that you can simply cram your precious brown ambrosia in any corner of your home and leave it there until the end of time. While alcohol won't go bad the way wine might spoil or beer might skunk, whiskey is still vulnerable to taintage if you don't store it correctly. Here, how to store your whiskey right, so it'll always be there when you need it.
Keep It out of Direct Sunlight
Sunlight is the No. 1 killer of whiskey. UV light not only dulls the color of that beautiful mahogany booze, but it also breaks down compounds within the whiskey itself, causing it to turn somewhat rancid. Unlike beer, which is housed in dark bottles to protect the liquid from skunking, whiskey usually comes in clear glass, so the booze is totally helpless against the sun's destructive glare. While your whiskey won't stink quite as bad as skunked beer, the taste will be noticeably harsher after a few months by the window, with flavors of rubber, paint thinner and rotten fruit.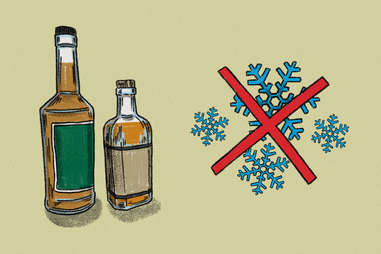 Don't Freeze It
Keeping any spirit in the freezer won't permanently harm it, but it will dull the flavors if you pull the bottle out and immediately pour a glass. While chilling flavorless vodka is fine and dandy, your expensive whiskey tastes way better at room temp. If you like your whiskey a bit colder, plop in an ice cube or give it a quick (read: not permanent) chill.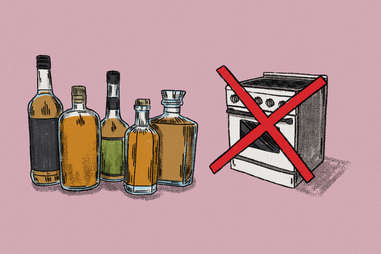 Don't Keep It Above the Oven
Whiskey is a liquid, and like any other, it will begin to evaporate under high heat, especially if you keep it in the same hot spot for years. A sealed bottle won't suffer the same loss of liquid as an open bottle, but better safe than sorry (even if you really jam the cork down in there, some vapor may escape). Who wants to drink hot whiskey anyway?
Stand Your Bottle Up
Wine is stored horizontally, but whiskey should stand up straight and proud. The issue in both cases is the cork. Storing wine on its side means the liquid stays in constant contact with the cork, keeping the stopper moist so it doesn't dry out and crack. The higher proof of whiskey, on the other hand, will degrade the cork over time if the bottle is tipped over.
Wet the Cork by Flipping the Bottle
Even though whiskey will degrade a cork if kept in constant contact, a brittle, dry cork can still spell danger for your precious hooch. Instead of keeping the bottle sideways all the time, simply flip it occasionally to re-wet the cork.
Don't Bother with the Decanter
Annexing wine into a glass carafe or decanter allows the vino to "open up," changing its flavor as it reacts with the air and, often, improving the taste. Whiskey gains no such benefit from contact with air. While you might like the look of your brown booze in a fancy decanter, you likely won't be drinking the strong liquor as quickly as you would down a bottle of wine, so the whiskey may be sitting around for months. Oxygen won't destroy a full decanter too quickly, but it will degrade the whiskey faster than if you just kept it in the original bottle.
Transfer Leftovers to a Smaller Bottle
While an opened full bottle of whiskey is relatively safe from oxygenation, air will have a much greater impact on the leftovers at the bottom of a well-used bottle thanks to the increased ratio of air to liquid. Conventional wisdom states that when your whiskey is drained to a quarter of its original volume, it's time to address the oxygen issue. Simply transfer your leftover booze to a smaller container that the whiskey will fill almost to the top, and cap it with a decent stopper to keep rampaging oxygen at bay.
Or Just Drink It up with Some Friends
Or you could skip the rebottling process altogether and use oxygenation as an excuse to drink off the end of a bottle with a few pals in one sitting.