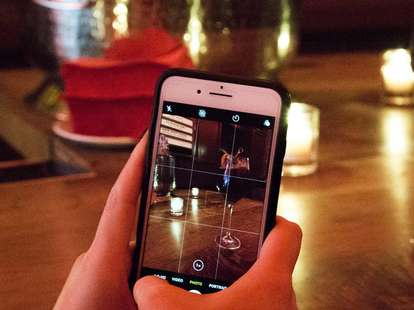 How to Take the Best Instagram Photos in a Dark Bar, According to Photographers
We all have that friend who takes a picture of every drink they get and posts it on Instagram. Some of us are that person (guilty). It's a blessing and a curse: Bars that are making eye-catching drinks are getting more attention, but countless feeds are being cluttered by poorly shot beverages. We can't all make our pictures look like the ones from top cocktail bars and cocktail bloggers with the best 'grams, but we can take a few small steps to improve our own aesthetics. We spoke with Rachel and Kyle Ford, the founders of Ford Media Lab, and Anthony Danielle, the cofounder of The Mobile Media Lab, for advice on taking better drink photos when out at the bar. Then we tested their tips at Ghost Donkey, a tequila and mezcal focused bar in New York. Take note, your friends will thank you.
Stabilize.

It doesn't matter if you have the steadiest hands in the world, taking a photo in a dark bar will expose all of the shakes you don't even realize you have. "Mobile phone tripods are tiny enough to carry," Danielle says, "and if you're going to be shooting in low light, they are a must have." Bracing yourself against the chair or keeping your phone steady on the table or bar works in a pinch.
Keep it simple.

"The best photos, in my opinion, are actually relatively simple," Kyle says. "You want to focus on the subject, which is the cocktail. If you have a busy cluttered background it can get confusing."
Cocktails with crazy garnishes should be in a simple environment to bring the emphasis to them, while simple cocktails like a Martini can have a little more going on behind them. Just don't get stuck in a rut of doing the same shot over and over again.
"I get bored of having just straight cocktail shots, because at some point, once you've seen one then you've seen them all," Rachel says. "Add interest other than just a close up. It makes it more compelling and unique."
Pay attention to the background.

If you take only one piece of advice from this list it should be: Pay attention to the background. The background is what gives an image context while staying clean and simple (move those crumpled napkins and water glasses, please).
"This really comes down to preference. I'm someone who likes to include the ambiance of the bar, so I'll sit at the bar with the shelf and bartender in the background," Danielle says. "Not that there's anything wrong with a cocktail portrait, though. I find those shots work best at a table against a plain wall (making sure to move any table accessories). Anything but random bar patrons in the background looks best in my humble opinion."
Bring some life to your photos to make them stand out. The human element draws a viewer in. It can be something as simple as a hand or a few fingers on the stem of a glass, or as intricate as a bartender lit up by the lights behind the bar.
"Think of the story you want to tell, something more than just 'this is a pretty cocktail,'" Rachel says.
Own the fact that you're going to be that obnoxious photo taker.

"I've always been a firm believer in owning it," Danielle says. "Focusing your attention on how you look taking a photo is guaranteed way of not having your photo come out the way you envision it."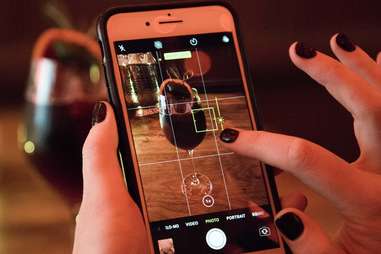 Lock down your exposure and shoot vertically.

On your phone's camera, you can lock the auto focus and adjust the exposure by tapping and holding a spot on the screen. This keeps the phone from automatically adjusting every time you move. It's also a good idea to turn on the grid on your camera to make sure you line everything up correctly. Vertical images are best for Instagram because they stay on the screen for longer as people scroll through. Posts will crop to a 4:5 aspect ratio, and story images crop to a 9:16.
Find yourself an editing app and stick with it.

The work isn't done once you snap your photo. The Fords suggest editing apps like Lightroom to fix any lighting problems (Edison bulbs in bars give off a distinct red-orange tint), and Danielle relies on Pro HDR. Once you pick an app and get comfortable using it, stick with it. JPG images decrease in quality each time they're transferred. Instagram's editing tools do the trick for easy fixes and touch ups.
"Since Instagram offered up the ability to adjust the highlights and shadows, 'brightening' a photo has never been easier," Danielle says. "Using Lux (the yin-yang sun at the top) is also helpful in bringing some more life to your dark bar photos."
Embrace the filter and stay consistent.

"It's no secret that I'm a fan of Instagram's filters to edit photos," Danielle says. "I've been using them as long as the app has been around. If you're brightening up a shot (like a dark bar shot, for example) you'll want to use Reyes or Rise."
External light is your friend.

A lack of a reliable light source is the most common problem when shooting in a dark bar. "Your camera doesn't see what your eye sees," Kyle says, "so you have to trick it into doing what you want."
Assuming you didn't go to the bar alone, however, there's an adjustable light right next to you: your friend's phone.
"I'm most often using the flashlight on a friends phone compared to using an external flash, as friends usually have a phone with them and I'm not actively carrying an external flash," Danielle says. "Pro Tip: If the light from the phone is too much, grab a cocktail napkin and cover it, you'll get a cooler and more dramatic lighting tone."
But avoid using your own phone's flash at all costs.

"A photographer can bounce the flash off a ceiling or object, you don't have the option with a cellphone camera because it's right next to the lens," Kyle says. "Bombarding light directly on your subject doesn't highlight the things you want to see, it usually emphasizes the imperfections."
Remember that tip to own it if you're taking a photo in the bar? That doesn't apply when you're firing off 15 flashes and ruining the ambiance.
"No flash," Rachel says. "Can't say that enough."
iPhone users beware: Use Portrait Mode carefully.

Portrait mode has its benefits, but it has its limitations as well. It doesn't act the same way as a real camera does. Instead, a program identifies what it thinks you'll want to be blurred then does it for you. Sometimes that's a success, sometimes it means half of the stem of your Martini glass is gone. Just be cognizant.