How to Make a Whiskey Advent Calendar
Mark Yocca/Supercall
Mark Yocca/Supercall
A whiskey Advent calendar is one of the best gifts you can give someone leading up to the holidays, but at over $150 a pop, it's probably over your Secret Santa limit. Luckily, you can still spread Christmas cheer with a dram a day by making your own DIY whiskey advent calendar for almost half the price. Using mini bottles of booze, toilet paper tubes and Christmas wrapping paper, this festive, Christmas tree-shaped countdown will spread Yuletide joy with every passing day.
This craft requires a toilet paper tube for each day leading up to Christmas, so start stocking up on rolls well in advance, or source extras from your friends or office (upcycling for the win!). While whiskey is our favorite cozy spirit for cold December nights, feel free to fill the calendar with your choice of booze.
Here, step-by-step instructions for creating an awesome whiskey advent calendar.
Tools
24 different mini bottles of whiskey, small enough to fit into a cardboard toilet paper tube
24 cardboard toilet paper tubes
Christmas-themed wrapping papers, double-sided patterns are best
White or colored paper
Numbered stickers (optional)
Piece of cardboard
Black marker
Scissors
Tape
Hot glue gun
Step One
Trace the circumference of a toilet paper tube end onto a piece of paper to use for a stencil later. Set the tubes on their sides on the ground (to avoid any unfortunate breakage). Slide a mini bottle of whiskey into each tube.
Step Two
Wrap each tube (ends too) in different Christmas-themed wrapping paper, alternating designs so that it looks varied when assembled. Try to leave one end of the tube as smooth as possible for labelling—take your time.
Step Three
Using your stencil, draw 24 circles onto pieces of white or colored papers. If you are using colored paper, make sure it stands out against your choices of wrapping paper. Write the numbers 1 through 24 on the circles and cut the circles out. Paste the numbers to the smoothest side of each tube, making sure to mix up the numbers and wrapping paper patterns. Alternatively, adhere numbered stickers to the tubes if using.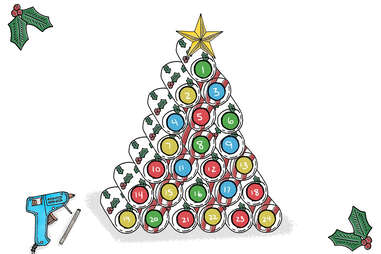 Step Four
Hot glue the tubes together in a pyramid formation with the numbered faces all facing the same way. Cut a star out of a piece of cardboard, and trace it onto two sheets of colored paper. Cut out the two paper stars and glue them to the sides of the cardboard star, then glue the finished star to the top of your tubular Christmas tree.
Instruct your recipient to pop his or her thumb through the paper on each tube to retrieve the whiskey, to be enjoyed neat or mixed into some of our favorite whiskey cocktails.