3 Genius Ways to Use Mini Liquor Bottles This Christmas
You don't have to go to Crate and Barrel and spend hundreds of dollars on fancy Christmas decorations to turn your home into a festive winter wonderland this season. All you need are a few mini liquor bottles to create adorable decorations that will spread Christmas cheer to all and get you in the holiday "spirit" making them (geddit?). Here are three easy ways to use nips of booze this Christmas season.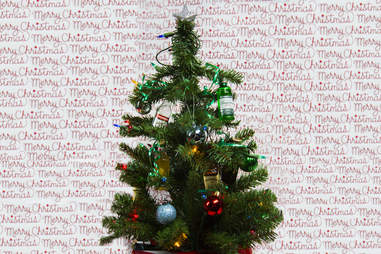 Marisa Chafetz/Supercall
Easy: Ornaments
For a super simple holiday craft, tie ribbons around the caps of the nips, and display them on the branches of your Christmas tree alongside your novelty ornaments from vacations past and the paper reindeer you made as a kid. But don't be surprised if all of your new ornaments mysteriously go missing by the end of the holiday.
Tools:
Mini liquor bottles

Ribbon (the kind you would get for balloons)

Scissors
Method:
Cut about a 6-inch piece of ribbon, and tie a strong knot around the cap of the nip bottle, leaving an equal amount of leftover ribbon on each side.

Tie the ribbon to the branch of a Christmas tree.

Sheer any leftover ribbon to curl it for decoration if desired.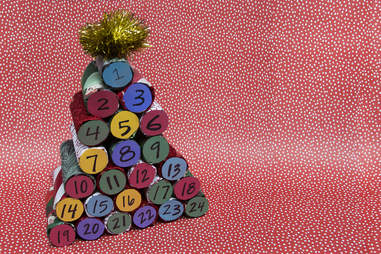 Marisa Chafetz/Supercall
Intermediate: Boozy Advent Calendar
Instead of counting down to Christmas with a measly square of chocolate per day, create an Advent calendar that rewards you with a daily nip of alcohol. All you need are mini bottles, toilet paper rolls, holiday wrapping paper, hot glue and tape to create the Advent calendar.  
Tools:
24 different mini bottles of booze

24 cardboard toilet paper tubes, or paper towel tubes cut in half

Christmas wrapping paper (double-sided pattern is best)

Regular white or colored paper (cardstock weight is ideal)

Black marker

Scissors

Tape

Hot glue gun

Star topper
Method:
Trace the circumference of a toilet paper tube end onto a piece of paper to use for a stencil later. Set the tubes on their sides on the ground (to avoid any unfortunate breakage). Slide a mini bottle of booze into each tube.

Wrap each tube (ends too) in different Christmas-themed wrapping paper, alternating designs so that it looks varied when assembled. Try to leave one end of the tube as smooth as possible for labelling—take your time.

Using your stencil, draw 24 circles onto pieces of white or colored papers. If you are using colored paper, make sure it stands out against your choices of wrapping paper. Write the numbers 1 through 24 on the circles and cut the circles out.

Paste the numbers to the smoothest side of each tube, making sure to mix up the numbers and wrapping paper patterns. Alternatively, adhere numbered stickers to the tubes.

Hot glue the tubes together in a pyramid formation with the numbered faces all facing the same way.

Top with a pre-made star. Alternatively, cut a star out of a piece of cardboard, and trace it onto two sheets of colored paper. Cut out the two paper stars and glue them to the sides of the cardboard star, then glue the finished star to the top of your tubular Christmas tree.

To retrieve the bottles, pop your thumb into one of the tubes and pull out the bottle.
Marisa Chafetz/Supercall
Expert: String of Lights
Deck the halls with boughs of booze by turning mini liquor bottles into a string of glittering Christmas lights. You'll need to empty the liquor bottles into a larger bottle (or directly into your mouth) and wash them out before following these instructions for securing the string of LED lights to the bottles with tape. Then, hang by the chimney with care.
Tools:
White light string

Empty booze bottles (you will need as many as there are bulbs)

Scissors
Method:
Remove the top of each bottle and empty liquor, preferably into a drink.

Wrap floral tape tightly around the mouth of the bottle several times.

After you've wrapped the tape a few times around, insert a bulb from the string of lights into the mouth of the bottle, then wrap the floral tape up and over the wire to the other side, creating a loop. Go around a few more times over the wire, then again around the mouth of the bottle.

Continue until you've added a bottle to each light, then spread out the string and illuminate.