Super-Easy One-Ingredient Fixes for Bad Cocktails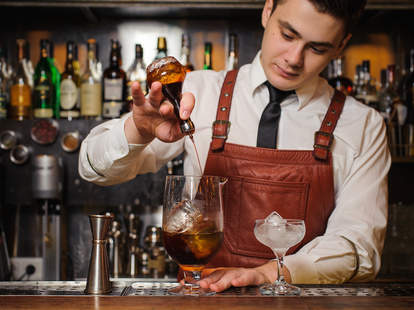 Maksim Fesenko / Shutterstock
There's no such thing as a bad cocktail—just a cocktail that needs a little love and attention. When a cocktail doesn't taste right, it's either because it was made with poor quality ingredients or because it lacks balance. Luckily, both problems are easily fixable. First: Use fresh ingredients when making drinks at home, and skip the Margarita if you notice a big bottle of fake lime juice on a bar. And when it comes to fixing an unbalanced cocktail, that's easy too. While we don't recommend trying to doctor your drinks at a bar, there are a few simple fixes for homemade cocktails. Here, our one-ingredient solutions for "bad cocktails."
If your drink is too sour...
The acidity levels of citrus fruits depend not only on where they were grown, but also on the time of year they are sold. Because they're often put on the shelves underripe, a lime at a Minnesota grocery store during the winter is not going to taste the same as a lime in the same grocery store when the weather is hot and muggy. While you may use the exact right amount of citrus juice in a cocktail, the acidity in your drink will vary wildly. The fix for this problem is simple: If your drink is not sour enough, add some malic or citric acid, both of which can be purchased online. Mix up a 2:1 solution of water to acid, then add it in small amounts to your cocktail with a dropper until it tastes right. For cocktails that are too acidic, add more sugar. Start by adding one bar spoon of simple syrup and go from there.
If your drink is too sweet...
While some people like their cocktails to taste like desserts, others may prefer bone dry Martinis and savory drinks. Depending on your preference, cocktails can either be too sweet for your palate, or not sweet enough. If a drink is not sweet enough, it's a ridiculously simple fix: Add more of the syrup that you used in the original mix, or add a modifier or liqueur that is sweeter than it is boozy. On the other hand, if your cocktail is too sweet, dry it out with a few dashes of the bitters of your choosing.
If your drink is too bitter...
It's easy to accidentally make a cocktail too bitter. Get heavy handed with those mole bitters and the next thing you know, your cocktail tastes like you're licking a leather shoe. Contrary to what you may think, adding sugar to your cocktail will not reduce bitterness. Instead, you need to add saline solution. When added to a cocktail, salt reduces bitterness while enhancing other flavors. To make a salt solution, simply mix two parts hot water to one part salt, stirring to dissolve the mineral completely. Use an eyedropper to apply it to your cocktail.
If your drink is too boozy...
Yes, it is possible for a cocktail to taste too boozy. When a cocktail has a "hot" finish and isn't balanced or rounded on the palate, then it needs dilution. While you can simply add a few drops of water and stir in the glass, the best results come from mixing the drink more. If it's a stirred cocktail, pour the cocktail into a mixing glass, add more ice and stir until it tastes more balanced. For shaken cocktails, add your cocktail back to the shaker tin and shake again with fresh ice. Alternatively, if you want your drink to taste like straight liquor, just drink straight liquor.
If your Bloody Mary is too salty or too spicy...
You just spent $30 on ingredients, you have guests on their way over and the Bloody Mary mix that you just whipped up tastes too salty and is hotter than a handful of habaneros on a 110-degree day. Don't worry, this mix is salvageable and doesn't need to be poured down the drain. To tone down the heat, just add more tomato juice. The juice has high amounts of water and salt, which will dilute the capiscum heat. If your mix has one too many teaspoons of celery salt or Worchestire sauce, you can reduce the salinity by adding fresh lemon juice or rice wine vinegar, which cuts saltiness with its acidity and sweetness.