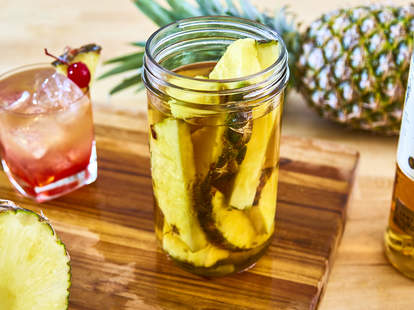 How To Make Your Own Pineapple Rum (No Sugar Added)
When warm weather starts to hit, it's time for pineapple cocktails. The sweet, golden fruit lends a rich, tropical flavor to any libation and gets us in the mood for beach days and poolside hangs. Ironically, though, pineapple drinks are often not so bathing suit body-friendly—just look at the Piña Colada with its heavy (albeit delicious) coconut cream. Luckily, there's still a way to get all of that pineapple-y goodness without so much sugar or calories: homemade pineapple rum.
All you have to do is cut a pineapple into large pieces, place them in a jar, pour in some gold rum and let it sit for two weeks. A quick shake every day will help the infusion process along. Then you can strain it and enjoy. This rum is great neat or used in place of regular rum in your favorite cocktails if you're looking to give the formula an extra tropical tinge.
Tools:
Knife
32-ounce Mason jar
Mesh strainer
Ingredients:
1 750-mL bottle dark or gold rum
1 ripe pineapple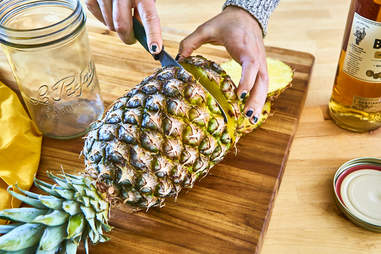 Marisa Chafetz / Supercall
Step 1
Slice the top off the pineapple. Core it and cut into wedges or chunks.
Marisa Chafetz / Supercall
Step 2
Place the pineapple into a 32-ounce mason jar. You want the jar to be full but not completely stuffed so you have room for some rum.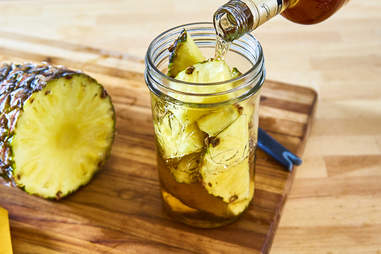 Marisa Chafetz / Supercall
Step 3
Fill the jar with rum. Don't worry if you have some left over.
Marisa Chafetz / Supercall
Step 4
Twist the lid on tight and set in a cool, dark place. Shake the jar once a day. After two weeks, strain the liquid and enjoy.