Seeing the American flag flying high may cause you to shed a patriotic tear, but we get most excited for the ol' red, white and blue when it's chilling a boozy beverage. While color coded cocktails are a great way to toast a patriotic holiday, American flag ice cubes allow a bit more leeway when it comes to drinks, as you can plop them into any clear cocktail of your choosing (we recommend white rum, gin and vodka-based drinks with these cubes). Made with bananas, strawberries and blueberries, these frozen fruity cubes infuse more flavor into the drink the longer they sit in the glass. The next time you're celebrating our nation (or France), don't just wave a flag, swirl a few of these colorful cubes around your cocktail glass.
Tools:
King-sized ice cube tray
Blender
Knife
Ingredients:
5-6 oz strawberries or about 15 berries, stems removed
1-2 strawberries, stems removed and finely chopped
1 banana, chopped
10-12 small blueberries, whole
1 pinch powdered butterfly pea flower tea
Water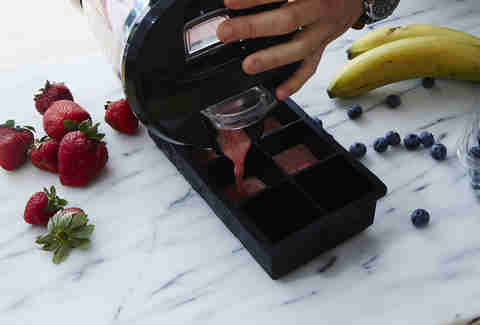 Step 1
Purée whole strawberries in a blender with 4 oz of water until liquified. Reserve chopped strawberries for Step 2.
Step 2
Fill ice cubes molds one-third full with the strawberry purée. Add 1-2 chopped strawberry slices to each mold. Freeze for at least 4 hours, or until solid.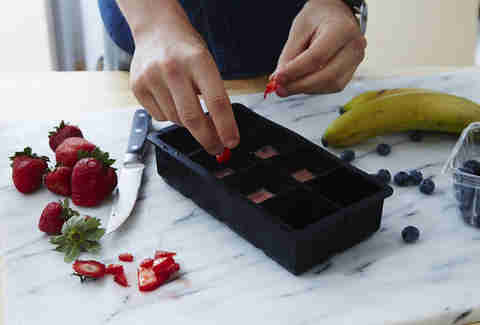 Step 3
Blend chopped banana with 4 oz of water. Remove ice cube tray from the freezer, pour blended banana into slots on top of the frozen strawberry purée until each slot is two-thirds full. Freeze again for at least 4 hours, or until solid.
Step 4
Mix 1 pinch butterfly pea flower tea with 1 cup water and whisk until powder dissolves and color is dark blue. Strain to remove any remaining powder.
Step 5
Remove ice cube tray from freezer, and pour the blue water on top of the banana purée layer until the water reaches just below the top of each slot. Add whole blueberries, making sure they are submerged fully beneath the surface. Freeze again for at least 4 hours, or until solid.
Step 6
Remove ice cube tray from freezer. If any frost has built up on the top, run the ice under room temperature or warm water until the blue layer is clearly visible.
Step 7
Carefully remove the cubes from tray, stack in a tall glass, and fill with your choice of beverage (we're partial to Gin & Tonics or Vodka Sodas—or, if you really want to get colorful, try a Mojito).