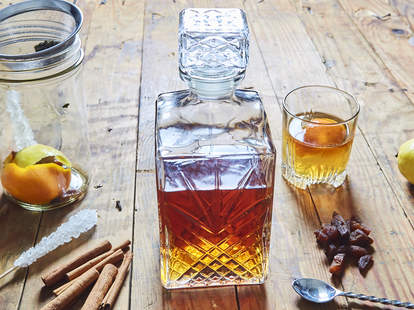 Rock and Rye is nothing new. In fact, the infused whiskey got its start before the turn of the 20th century when American bartenders would add rock candy to smooth out the overly spicy flavor of young ryes at the time. Whiskey makers caught on to the trend and began bottling their own recipes. Right before Prohibition hit, these manufacturers started to market their product as a medicinal remedy—sold to cure everything from bronchitis to the common cold—to avoid disapproval from the temperance movement. Post-Prohibition, Rock and Rye returned to the bar, and with it, hundreds of unique recipes.
While the spirit has always been around more than a century, modern iterations like Hochstadter's Slow & Low and New York Distilling Company's Mister Katz's have renewed our interest in and love for the sweet, spicy, satisfying beverage. Better yet, Rock and Rye is really simple to make at home—all you need is a handful of ingredient and four days of resting time. Here, Supercall's recipe for a delicious Rock and Rye that's impressive to serve on the rocks or in cocktails.
Tools:
1 liter container
Mesh strainer
Funnel
Ingredients:
1 750-mL bottle rye whiskey (we like Old Overholt)
Peel of 1 orange
Peel of 1 lemon
2 dried apricots, sliced
Half a cinnamon stick
1 whole clove
1 6-inch piece rock candy
.5 tsp horehound*
Marisa Chafetz / Supercall
Step 1
Combine the whiskey, orange peels, lemon peels, dried apricot and cinnamon in a large container. Infuse for three days, stirring or shaking occasionally.
Marisa Chafetz / Supercall
Step 2
Add the clove, rock candy and horehound and infuse for an additional 24 hours, or until the mix reaches desired flavor.
Marisa Chafetz / Supercall
Step 3
Fine strain into a clean bottle and serve.
*Horehound is a flowering plant in the mint family that's considered in holistic medicine to aid digestion and soothe sore throats. The dried variety can be purchased on Etsy.