9 Boozy Weekend Projects for Your Home Bar
If your usual level of effort when it comes to cocktailing hovers somewhere between drinking whiskey neat and sometimes adding ice, it's time to make a resolution to be a better home bartender. "But," we hear you whining, "after a long week at work, the last thing I want to do is do even more work at home." Don't worry, we don't want to rob you of your precious couch time. These boozy projects range from easy to ambitious, so you can choose just how much of your weekend you want to dedicate to your drinking-adjacent activities. On Monday, you will thank weekend you—especially after sipping the fruits of your weekend labor.
Outfit and Decorate Your Bar
Whether you've just built or bought your first home bar or are looking to give your old one a much-needed makeover, it's time to trick it out with some new toys and decorations. Shop for some organization aides and any essential tools you don't have, like a specialty bar knife. You could also stock up on outdoor bar decorations in preparation for your summer tiki nights, or stay on trend by dressing your bar in the Pantone color of the year: Greenery.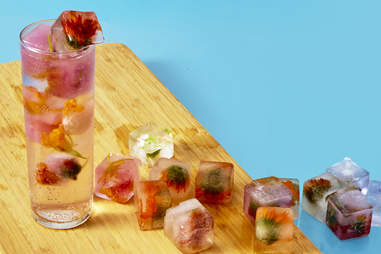 Matthew Kelly/Supercall
Matthew Kelly/Supercall
Matthew Kelly/Supercall
Fat-Wash a Spirit
Despite its less than appetizing moniker, fat-washing a spirit yields delicious, full-bodied results. The process involves infusing a spirit with fats like oil, butter or even bacon fat, and freezing it overnight. The fat solids rise to the top, allowing you to scrape them off, revealing a silky spirit with an incredible flavor. Start by making your own bacon-infused bourbon on Saturday, eat the crispy bacon byproduct for brunch, then whip up a batch of these Bacon, Egg and Whiskey cocktails on Sunday.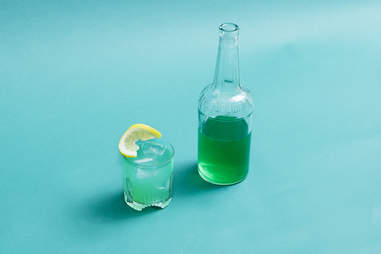 Matthew Kelly/Supercall
Matthew Kelly/Supercall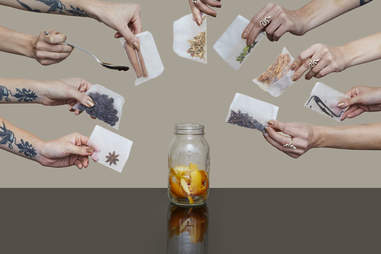 Matthew Kelly/Supercall
Make Bitters From Scratch
Crafting your own bitters means you can customize the blend to your exact flavor preferences, but it does take commitment and patience. Bitters take a long time to fully infuse—a few weeks, typically—so get started on the first step this weekend. Stock up on ingredients like cloves, cardamom, gentian root and citrus, and infuse them in some Everclear. Complete the rest of the infusion process, detailed here, in the weekends to come.
Upcycle Empty Bottles
While you should always recycle your empty liquor bottles, you can create even less waste by upcycling them. Exercise your creative muscles and turn empty bottles into everything from lamps to planters to pieces of art.
Build a Shot-Ski
If you break out a homemade Shot-Ski at your next winter bash, you're sure to be crowned the king or queen of the party. This whimsical shot holder is actually pretty straightforward to make—if you know your way around a power drill and have some old skis lying around. Here's an easy step-by-step guide for how to build one.