How to Make Candy Hearts Vodka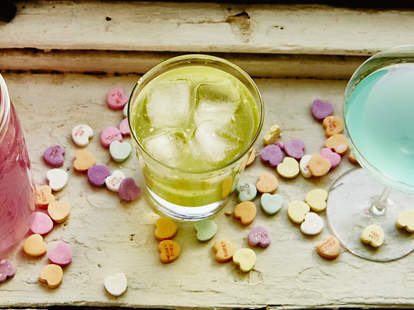 Those candy conversation hearts are cute—when you're seven years-old. As an adult, they're too cheesy to give as a gift and too sugary to eat as a snack. But that doesn't mean you should do away with them for good. Instead, use them to make a DIY Valentine's Day gift that people will actually want: brightly colored booze.
While the results are impressive, the process is easy. Here's how to make your own candy hearts vodka.
Step 1
Pour out a few boxes of candy hearts (we used Brach's) and separate them by color.
Step 2
Add a handful of one color to an 8 oz Mason jar and fill with vodka.
Step 3
Seal the jar and give it a good shake. Continue to shake it every 10-15 minutes until the candies completely dissolve.
Step 4
Use the vodka (which, while colorful, retains its neutral flavor) in any of your favorite vodka cocktails. To show off the vibrant hue, opt for something that is usually clear or transluscent like a Vodka Tonic or a Gimlet.