How to Make Honey Whiskey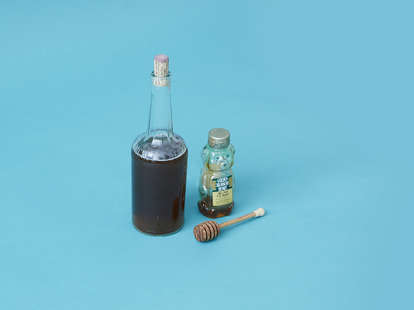 Matthew Kelly / Supercall
Whiskey and honey are a cocktail power couple. They're just better together, with honey's mellow sweetness enhancing whiskey's cozy warmth and whiskey's edge brightening honey's silky depth. Look to classic cocktails like the Hot Toddy for proof of just how incredible the duo can be. But, sadly, most bottled honey whiskies on the market are laden with sugar and artificial ingredients. They may taste decent in a pinch, but they pale in comparison to the real thing—which happens to be a breeze to make at home. All you need is whiskey, honey syrup and a Mason jar to get it right. Here, step-by-step instructions on how to make a superior honey whiskey from scratch.
Ingredients
1.5 cups bourbon
⅔ cup honey
.5 cup water
Tools
32-oz Mason jar or swing top bottle
Step 1
Rather than simply adding heavy, viscous honey to whiskey, we use a honey syrup, which seamlessly infuses into the spirit. To make the honey syrup, add the honey and water to a saucepan and bring to a simmer over medium heat. Let the syrup simmer, stirring frequently, until the ingredients are mixed, about five minutes.
Step 2
Once the syrup has cooled, combine it with the whiskey in a Mason jar or bottle.
Step 3
Give the jar a good shake and there you have it—you just made the best-ever homemade honey whiskey. You can serve immediately or allow it to sit for a day. Like chili or lasagna, the flavors only improve after a night of rest. Store at room temperature or in the fridge for six months.