Paid Content For

Whisky Wrapping 101
Paid Content For

Matthew Kelly/ Supercall
Matthew Kelly/ Supercall
This has been said before, but it bears repeating: Gift-giving is an innate talent, like speed, a knack for music, or the ability to catch any household object that falls off a cupboard shelf, every time, without fail, no exceptions. (Even if that last talent is criminally underappreciated by your family. Forget them. You're like a cat with those reflexes.)

Thankfully, though, there are short cuts in the gift-giving department. Spirits are one of them. Chances are, you know whether or not your potential gift recipient likes to imbibe, and if they do, well, then a whole world of extremely appealing options opens up to you, the gift-giver, just like that.
So you hit up the package store, or go online and, whew, hurdle cleared. But no sooner have you vaulted that obstacle than another one pops up in front of you: How to wrap this excellent and thoughtful gift that you know with 100% certainty your whisky-loving loved one is going to use and appreciate.
Fear not, there's a technique to whisky bottle gift wrapping, even if you don't have a box. Use Johnnie Walker Whisky's conveniently square bottles and you're even better off.
Here, a step-by-step whisky gift wrapping tutorial: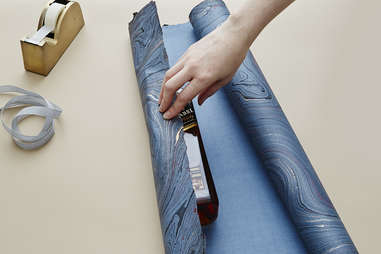 STEP 1
Unspool a roll of wrapping paper on a wide flat surface. Lay the whisky bottle down lengthwise, and wrap it halfway across the front of the bottle. Cut an appropriately sized swath of wrapping paper off the spool, meet your first fold in the middle and seal with two pieces of tape. Trim the bottom of your strip of paper for a neat seal underneath the bottle.
STEP 2
Fold your newly trimmed paper underneath the whisky bottle and seal with one piece of tape. You're more than halfway there, and looking good. Did you know Johnnie Walker was not only a real person, but also the person who launched the brand, while still a youth, out of a grocery store in Kilmarnock, Scotland? It's true.
STEP 3
Flip the bottle around, grasp three-quarters of the way up the package and press the wrapping paper gently to around the neck of the bottle. Tie on the ribbon of your choice here. Your bottle is now ready for gifting, and you didn't get so much as a paper cut.
STEP 4
Attend festive office party, holiday gathering, birthday party, or New Year's Eve bash. Present gift. Step back. Bask in twin glow of own thoughtfulness, recipient's warm appreciation.

Please drink responsibly. Diageo, Norwalk, CT.