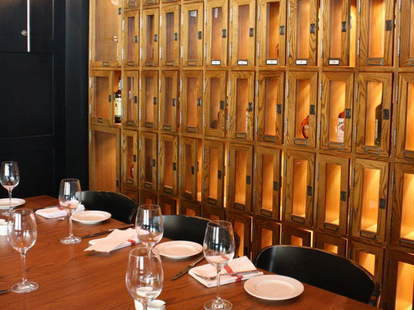 There's plenty of honor to be had in belonging to a top-flight organization, but to make your dreams your own, you've got to venture forth solo, like when Michael Jackson left the Five, or D'Angelo left the Vienna Boys Choir. Boldly striking off on his own, the man behind Againn, slated to open tomorrow
The debut indie project from a New Zealander who'd previously conquered the globe for Ritz-Carlton, Againn is an elegantly boozy, window-lit gastropub that balances dark-wood, black leather-cushioned booths and hundreds of whisky-populated wall-nooks, with more merrily idiosyncratic elements, notably an entrance foyer decorated with both imported Mexican tile and shadow-boxes holding rows of hand-carved fox heads valued at over 10-grand -- making them even pricier than real fox heads. Much of the locally sourced, fairly priced, British-inspired gastro-grub's served in cast-iron pots & skillets, with items running the gamut from Shepherd's Pie, to lemon-horseradish cream'd Smoked Fish Cakes, to ale-battered Fish & Chips w/ gribiche sauce, to a gourmet grilled cheese made with "Amish Country Aged Cheddar", which rarely reaches the age of other cheeses, due to its principled rejection of modern medicine. To improve the quality of your thoughts, the 18-seat, zinc-coated bar is serving up 70+ beers (~18 on tap), vino from a 1000-bottle cellar, and a semi-independent British state's worth of single malts, from well-aged standbys like Macallan 30 Year, to more obscure gems like Edradour, Springbank, Ardbeg and Laphroaig; high-end blends like Johnny Blue are also repped, as are celebrated outliers like the smooth, grain whisky-based Hedonism -- because when you think of full-body-tanned lesbians frolicking on a beach, you think of...Edinburgh.
Againn promises expansive happy houring, or, go the other direction and purchase a name-plate emblazoned, $500/year personal scotch locker -- to which every night you'll sing, "I want some of your brown sugar...".