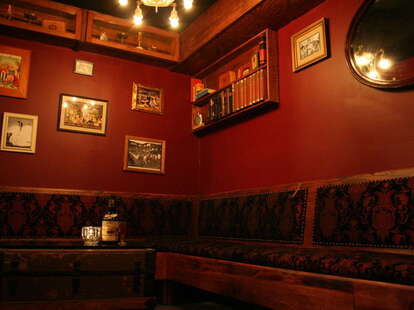 The beauty of nostalgia is that you can yearn for things from the past that you didn't even experience, like sock hops, or happy parents that support you no matter what, even during that "Magician" phase. Making you nostalgic for a Cuba you never knew, La Descarga, opening Tues, and taking reservations now.
From a former Doheny barman and the guys behind Piano Bar, La Descarga's a painstakingly-designed, secret-entrance'd, two-story ode to pre-Fidel Havana, complete with a weathered ceiling/walls, a felt-banquetted, dark-lit boudoir, bathrooms festooned with reprints of old, Cuban newspaper articles, and a bar made of white carrera marble, which gets significantly less dirty than Asia Carrera marble. Like obtaining a Cuban visa, getting in's a process: first, make a reservation using the link below; then show up at a nondescript door on Western, where the doorman'll check you in; proceed up a shadily narrow staircase to a receptionist's room dolled up like an instrument-strewn musician's nook; once you're confirmed, an unexpected secret entrance will open up, and you'll be transported across the world, like Ben Linus, without having to also kill your dad. Once you're in and drinking, you can select from their collection of over 60 rare and impossible-to-find rums or select fresh-ingredient'd cocktails like the maraschino/lime/simple syrup/Bacardi Carta Blanca "Papa's Daiquiri," the stirred Zaya/Carpano Antica/cherry Heering/Whiskey Barrel bitters "Tapping the Admiral," and the "Bad Spaniard," which includes Cruzan Black Strap, Amaro Averna, egg yolk, sweetened condensed milk, cinnamon, and a hint of Francisco Franco.
If you look behind the bar, you'll see a hallway designed to look like a ragged, candlelit back alley; through it's the back cigar bar, with a second bar serving up flights of premium rum served only neat or on the rocks, and a stogie selection that includes 10 different hand-rolled options, each aged 5-10 years, the same interval it took to get over the fact that no one respected "The Mysterious Todd".