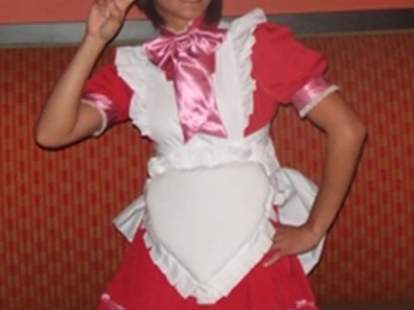 Vegas' awesomeness derives from its complete disrespect for authenticity, because when it comes down to it, who'd really want to sleep in a stone pyramid, with a girl who'd actually want to service your cadaver. Giddily departing from Tiki tradition, Cosplay Lounge in the Monte Carlo
An ottoman-strewn booze redoubt tucked inside the newly overhauled Dragon Noodle Co. & Sushi Bar, Cosplay's a relaxed-yet-delirious mix of orange-glowing Chinese lanterns and waitresses decked out in futuristic French-maid get-ups ("cosplay" -- it's a Japanese nerd thing), serving up Tiki-style drinks that, on many occasions, violate rules held sacred by Polynesians men named Vic and Don. The rule-flaunting-but-no-doubt-effective action starts with the 1944 Mai Tai (Cruzan Light, Myers's Dark, Marie Brizard Orange Curaçao, orgeat & rock-candy syrups, fresh lime), The Scorpion (10 Cane, Hennessy, orange & lemon juice, orgeat), and the for-two Mount Gay Eclipse/Hennessy/pineapple/rock-candy syrup "Volcano", which, like the movie starring Tommy Lee Jones and Anne Heche, will ruin you. Bending and breaking the rules are the Blue Rabbit (Absolut Citron, fresh blueberries, fresh lemon sour, Star Rabbit Blueberry Sparkling Sake), The Purple Pearl (Momokawa Moonstone Black Raspberry Sake, Marie Brizard Cassis, sweet & sour, fresh blackberries) and the Cruzan Guava/fresh pineapple juice/TY KU "Otsu Rui" -- which refers to a form of shochu known in Asia as "the real thing", prompting the question, "why is there no shochu in this dRUInk?"
To hold your tipsy in check, Cos serves up light fare including delicious-sounding dim sum from fried shrimp balls, to steamed beef meat balls, to...braised chicken feet -- authenticity that could make you jump off a fake Eiffel Tower.