Hard Rock's New Flagship Cafe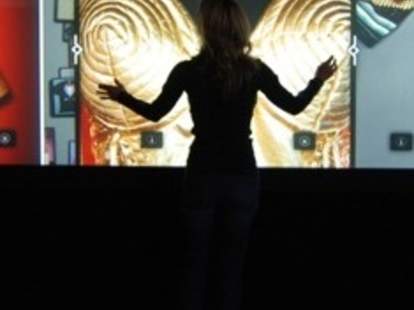 No matter the business, Vegas is an obvious choice for bigger, badder flagship locations -- back in '02 even CVS opened a glitzy franchise here, propping up giant sculptures of toothpaste tubes and film canisters to attract America's most valuable customer, the profligate hygienic Luddite giant. Following suit with power chords, the all-new Hard Rock Cafe Las Vegas.
Because there's nowhere left to expand to (thanks, Hard Rock Guam), the Rock's reinventing itself instead, with a mammoth, three-story venue boasting a swanky VIP lounge, and, on the top floor, a glass-walled, 2,200 capacity concert venue with unobstructed neon views of Las Vegas Blvd and an upcoming lineup ranging from Chris Cornell to KISS ARMY, a 15-year-veteran cover band whose website's "History" page is hilariously "Coming Soon!". Beyond the 45 flat screens (37 of them are 65 inchers), the signature amenity is the Rock Wall, a giant touch screen that gives virtual access to 157 venues' worth of memorabilia, interactivity that's replicated in 38 electronically abetted booths and 7 Microsoft Surfaces, all of which allow patrons to vote on which jukebox song'll play next, giving Ugly Kid Joe and his 80 first cousins a fighting chance. Actual, physical mementos include Alice Cooper's Schools Out album-cover desk, Jim Morrison's mugshot after his arrest at Vegas' Pussycat a' Go-Go, satin pants sported by Keith Moon, and a "collage-art bustier" worn by Madonna during 1987's "Who's That Girl" tour -- though you'd think a collage-art bustier would clear up any doubts as to whether or not that girl was Madonna.
Sustenance remains largely the same, with meals like the Twisted Mac and a West Tennessee-style rack of ribs, and beverages ranging from Tres Generaciones margaritas to big mugs o' Hurricanes, plus an alcohol-free "Alternative Rock" menu featuring numbers like the mango-colada-ish "Groupie Grind" -- though the last time you had an alcohol-free drink, you were at a CVS in 2002.