The Las Vegas Pool Lineup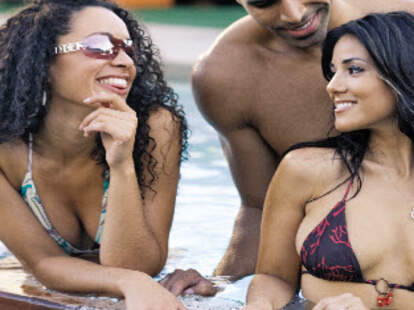 You can't comprehend enormity 'til you're hit with raw numbers: hearing "Michael Caine has been in lots of movies" isn't nearly as impactful as "Michael Caine has been in 120 movies, including Jaws: The Revenge". Vegas knows how to make a statement, too. This summer, prepare to be staggered by the enormity of the Las Vegas pool scene.
VisitLasVegas.com's summer page breaks down the shocking number of pools of the LV aqua-party scene, complete with special events, stirring photos, and celebrity sightings of grungy musicians, film directors, and pop stars you'd actually want to see rub themselves down with lotion. Topless pools range from Mirage's Bare, a Euro-style, palm-shaded oasis serving up pitchers of Bloody Marys and mojitos, to Wet Republic, a 2,500-square-foot lounge where you can dance, swim, mingle, or, if you're feeling particularly saucy, mingleswim. The rest of the action stretches from bikini-clad bashes at the Hard Rock Hotel's legendary Rehab and Flamingo's GO Pool, to the 11-acre Mandalay Bay Beach's 2,700 tons of sand, to the Sapphire Pool, a one-of-a-kind Brazilian pool experience created by Sapphire, Las Vegas's premiere gentlemen's club. Plus, you'll also get summer poolside shows from the likes of Jay-Z, Incubus, and Wilco, who you could see perform the Yankee Hotel breaststroke.
To make sweet eye-love to all of Las Vegas's pools, check out VisitLasVegas.com -- where you will find no sharks, vengeful or otherwise.