The first of its kind in the US, M5's bar, tables, stools, walls, vodka-loaded shelves, and full-service Ice Chapel are all made of...ice, construction that necessitates your hostess handing you a parka, mittens, and faux-fur slippers upon entry. The frosty concept was pioneered by Auckland, NZ's Craig Lind to honor his awesomely named grandfather Buck Rockwell -- a North Pole adventurer, but only because they hadn't invented porn yet.
Recommended Video
This Shot and Beer Combo Comes with a Free Hot Dog
Previous Venue
Next Venue
Venue Description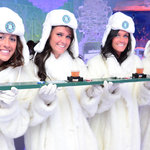 1. Minus5 Ice Bar
3930 Las Vegas Blvd, Las Vegas, NV 89101
When someone says you're "Cold As Ice," in this Mandalay Bay bar, they literally mean it. M5's the original ice bar in the US, and they still go above and beyond the rest: The walls are ice. The shelves are ice. The tables are ice. The seats are ice. The glasses? You guessed it, ice. You can't just roll up to this bar and order as usual, you'll have to purchase a package, which determined how many drinks you'll have and how long you get to stay. When you arrive, you'll get a parka or a faux fur coat with mittens and slippers before you enter the "ice chapel," and enjoy your ice-cold specialty cocktails.