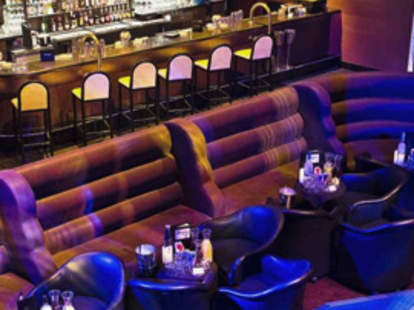 The playground served as a source of endless entertainment, until the day you could touch the top of the slide without jumping, and couldn't slide down it without greasing the sides. For all manner of grown-up fun, hit another kind of Playground
Taking over the now-defunct Penthouse Club, this mammoth strip-joint-and-more is a darkened maze of private cabanas, Roman columns, oversized mirrors, and red Gothic chandeliers, divided into four main rooms all open 24/7 for your entertainment/inappropriate napping. Crazy Horse III's the main attraction: bottles start at $250 (not bad for topless spots), with ogling options running from semi-secluded private tables, to curtained off "cabanas", to a pole-equipped VIP room starting at $500 (includes bottle of the only Skyy you've seen in days). Should motor-boating fatigue arise, check out the Rock Room, an intimate live-music lounge with huge red leather-studded wall panels and surprisingly arena-tested regulars like System of a Down, Anthrax's Scott Ian, and some ex-Alice in Chains guys, plus equally incongruous sushi bar-snacks (the Nacho Roll; the spicy scallop/fresh salmon Sex on the Beach) from a chef actually named Bruce Lee; late-night, stumble into Obsession, an LED-lit, planetarium-like techno nightclub where Crazy Horse girls will infiltrate the dance floor to seduce you back into the topless area, so that you can once again demonstrate your lethal "One Inch Punch"
For aromatic mellowness, head into the beanbag-chair appointed Jack & Jill Hookah Lounge, where you'll find a plethora of tobaccos and herbs, but none of the stuff that can turn just about any setting into a source of endless entertainment.