Ultimate Vegas Bachelor Package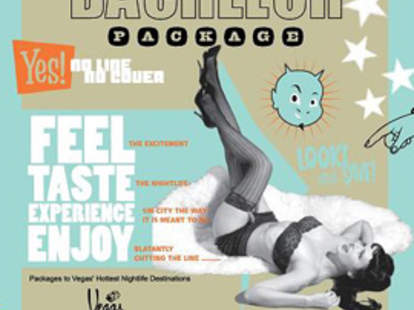 Thanks to long lines and steep covers, club hopping in Vegas is nigh impossible -- meaning you're stuck with the night's first stop even if the only cleavage is formed from ill-gotten muscle bursting out of Ed Hardy tees. Hop around at will, with the Ultimate Bachelor Package.
From debauchery facilitators Vegas Passport, the UBP is a $99/person boozy ValPak that covers admission and grants line-skipping VIP-ness at 16 clubs and two gentlemen's establishments, plus packs in all manner of perks at a slew of other quality joints. The clubs range from low-key buzz-starters (McFadden's at the Rio, Revolution Lounge at Mirage, House of Blues at Mandalay Bay) to status-mongering spots like LAX, Christian Audigier, the Rio's 51st floor VooDoo Lounge, and Tommy Lee's Rok Vegas -- the name a testament to his greatness, and the fact that after dropping out of high school, he learned to read from Chinese takeout menus. Naked action includes comped limos to both OG Dream Girls and Treasure's, where you'll also get $100 off bottle service, 1/2 off an entree at their steakhouse, and a comped half hour in a VIP booth -- where you can eat that shameful second entree unmolested
Bonus action includes 2 for 1 cocktails at places like Ibar (Rio), Mist (TI), and Caramel (Bellagio). The best part: you can save any unused passes for your next trip, a great incentive to have a next marriage.