Amsterdam's Red Light District is famous for one thing, and it isn't the coffee. Although, after reading this, you might justifiably wonder why not. We've already given you the full "Disneyland of Vice" tour, but don't forget that this 'hood is just a normal place where people live and work other jobs, too. (There's even a daycare!) Here's all the stuff you can get up to around the Rosse Buurt without anybody taking their pants off...
1. Play in a classic arcade for grown-ups
Let out your inner child at the TonTon Club (ball pit and all), where you can pair the next round of Mario Kart or pinball with bottles of some of Amsterdam's best brews. If you like this arcade, you'll be happy to hear they've opened a second, bigger pop-up location in Westerpark.
 
2. Explore the city's oldest church and graveyard
It's the Old Church. You can't miss it. (And check out the website to see what special exhibitions are going on.)
3. Visit the city's oldest coffee shop
Yes, the "special" kind of coffee shop. But the Bulldog has claimed the title of first, so you can tick this off as a historical landmark visit.
 
4. Discover a hidden church
 "Our Dear Lord in the Attic" is basically the Tardis of Amsterdam: it looks like a regular townhouse from the outside, but inside it hides the replicated home of a 17th-century Catholic merchant and a church seating 200 people and a one-story organ.
 
5. Grab a good beer for a good cause
As we noted the last two times we wrote about it, De Prael is a good (and good-looking) place for good fun and good people.
6. Explore weirdo-chic décor while sipping coffee
Ivy & Bros serves food too, and even has a couple of sunny terrace tables.
 
7. Learn your hemp history
Surprisingly informative, the Hash, Marihuana & Hemp Museum will walk you through the story of the cannabis plant from pre-history to today.
 
8. Question the "professors" of the Cannabis College
They've got the inside intel on the current state of cannabis in Amsterdam and beyond. Plus a garden to visit and vaporizer to sample (for a small donation). OK, can we stop talking about cannabis now?
9. Grab a coffee in a pretty garden
No, not another one of those coffee shops. The specialty here is really coffee. Just next the Old Church, built into the church, there's a small shop with a bare, but charming interior -- but this is a spot you're going to want to save for when you can enjoy your coffee in the shockingly wholesome walled garden terrace.
 
10. Watch some DJs at work
Red Light Radio offers a new kind of voyeurism in former prostitution windows. (Online, too.)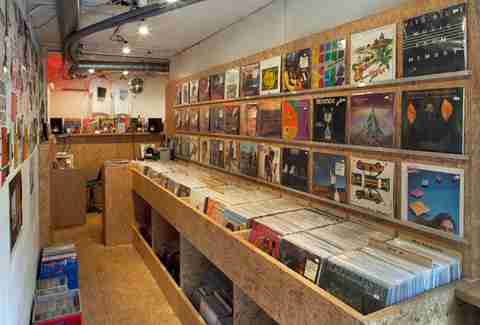 11. Dig through the bins of Red Light Records
Close cousin (and back courtyard companion) of Red Light Radio is this other music hotspot for vinyl geeks.
 
12. Enjoy some fine dining at a reasonable price
Restaurant ANNA looks out over all the action with a la carte items like candied peel of veal with lardo di Colonnata, green asparagus, white eggplant, and polenta, plus multi-course menus and wines to match.
 
13. Enjoy some fine dining in a hidden courtyard
It's easy to miss the gated entry way to Blauw aan de Wal amidst one of the most crowded stretches of the Red Light District. Once you reach the pretty courtyard tables bedecked with mostly seafood and veggies, though, you'll forget the Red Light District even exists around you.
Amsterdam Calling/Jerry Goldberg
14. Taste old Dutch liquors (and learn how they're made)
Wynand Fockink has no seating, and it isn't open late, but it's well worth seeking out for its classic interior and tasty homemade liquors. Or you can just pick up some bottles from the shop to go. Come by on the weekend for a tour of the distillery itself.
 
For when you've got a night of drinking the world's favorite intoxicating substance ahead, stock up on one of this spot's blue bottles -- a mix of minty mojito and foul sulphite flavors that, when guzzled down with a glass of water before bed, really does seem to help people.
 
16. Check out a smartshop
OK,  there's another (fungal) substance you'll find in this neighborhood, and the Smart-Zone is the Red Light District destination to take your questions.
17. Score some hemp
Nothing in this shop is going to get you high, but there are plenty of edibles. Non-edibles, too. Basically, from seedy snacks to full-on fabrics to bath products, if it's made with (THC-free) hemp, it's sold at Hempstory.
 
18. Sup and sip like a spy
We don't know why they named the spot after the Netherlands' sexiest spy (ooohhhh…), but we know we like Mata Hari's food, booze, and overall vibe -- it's one of our favorite spots in the entire Medieval City Center. The canal-side terrace isn't bad either, if woefully under-sunned.
 
19. Have your beer with a side of football
When you want to feel like you're drinking at the bottom of a boat while mingling with the local soccer fans, the appropriately titled Cafe Old Sailor is for you.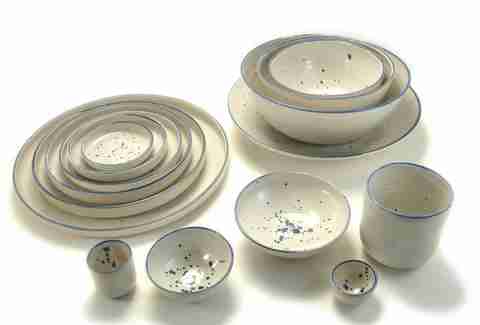 20. Pick out some pottery
Dishwasher-proof, oven-safe, and just plain pretty, J.C. Herman Ceramics' dishes are the stuff good gift-giving is made of. (Even if the recipient is just yourself.)
 
21. Try out some seriously inventive chocolate
Also built into the (other) side of the Old Church, we named Ganache's oddball bonbons one of the 50 Amsterdam foods you need to eat before you die. We stand by that.
22. Take in some art with your coffee
If the weather is less than wonderful, you can head around to the back of the church to snag a coffee at Quartier Putain, which you can enjoy upstairs while taking in the latest of the changing exhibitions.
 
23. Nab some sexy bags at Ignoor
If the shape of these bags (from the daughter of a family with more than a century of leather-working experience) looks alluring, it's because they were modeled after the female form.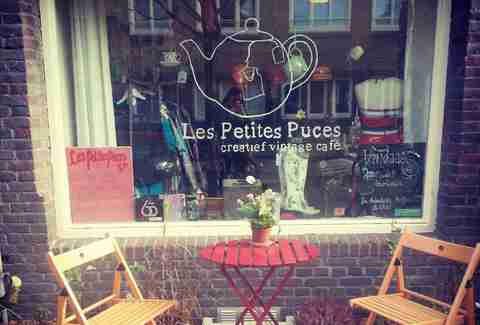 24. Shop for vintage
Named after a French flea market, Les Petites Puces offers a mix of vintage threads, shoes, and accessories. Plus they sell coffee, tea, and baked goods, as well as sacks and coffee and tea to-go.
 
25. Shop some wood
Not that kind of wood, put your pants back on. In the surprising old and vast Houthandel Schmidt you have your pick of dead trees, mostly in raw-material form, as well as iron and other accessories.  
 
26. Get a tattoo
Hanky Panky's not cheap, and the artists there aren't going to hold your hand while you cry through the pain, but the spot has a reputation for talent. Angelina Jolie once got a tattoo here (a dragon she later covered up), and so did this article's writer.
27. Follow print art in action
Once known as The Proud Otter, this off-beat RLD shop has merged with art and lit 'zine Goodbye Horses to form the new Peer on this spot. The shop, which will focus more on paper-based art, will also be a work space for creatives to come and work on their own projects while observing the magazine-making process and regular exhibitions. When all that observing gets you hungry, refuel with coffee, cakes, and cordials.
 
28. Get cultural in other cool, creative spaces
They're spreading like wildfire, but we're not complaining: Ultra de la Rue coffers another (fair trade) coffee, Wi-Fi, and art combo with films, lectures, and other events to boot. There is also a shop with silk-screen tees and sweats and other goodies and books about street art and urban life.
 
29. Pick up some epic hats
Mirjam Nuver's hats are almost complete costumes in and of themselves. Browsing is as much fun as buying.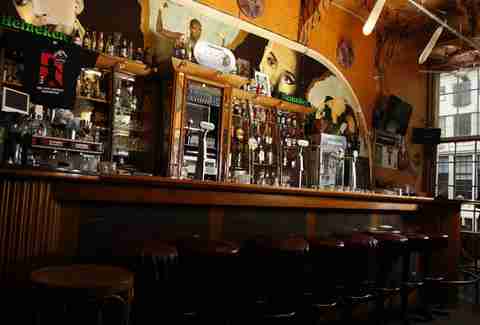 30. Chill with a drink at the Black Tiger
A popular place to get merry without all the frenetic tourism outside.
 
31. Eat Tibetan food
The lack of real competition isn't the only reason the aptly named Tibet is the best Tibetan restaurant in the city. The food is just damn good. And spicy.
 
32. Eat wood-oven pizza
Da Portare Via (one of our top pizza picks) has a local shop, with all the wood-oven goodness, right here.
33. Listen to classical music or jazz
The Bethaniënklooster is a small remnant remaining for the former medieval cloisters that used to take up the full city block. The pleasing, opulently austere interior is restored rather than original -- actually, the gorgeous concert venue and staircase were once a canteen. Classical music fans follow the klooster's Facebook page to learn about upcoming concerts. Jazz fans, keep an eye out for the regular jazz nights that take place in the vaulted basement under the name Bethany's Jazz Club.  
 
34. Karaoke your heart out
At The End, the staff may not be friendly, but the crowd sure is. Don't expect too many solos. (See our Amsterdam bucket list.)
35. Sample some modern Korean
Quick Korean lesson: Yokio, this restaurant's name, is the polite word Koreans use to get a waiter's attention. You can practice it while participating in one of three social concepts: on the ground floor, you can just walk in and snag a spot at the long tables or the bar; upstairs you can eat a la carte in the salon; or if there are two or more of you, you can arrange a full Korean BBQ at the table. Grab a few friends and go for the last. The chef is Jaymz Pool, of the Wilde Zwijnen and Trouw fame.
 
36. Get even more coffee
At KOKO Coffee & Design it comes with clothes. And accessories. Expect fresh, modern Scandi and Dutch design with Belgian coffee.
Sign up here for our daily Amsterdam email and be the first to get all the food/drink/fun in town.
Elysia Brenner is a writer, editor, and all-around Amsterdam expert. Follow her on Twitter right here.