The term "legal dating" sounds like what happens when a judge pursues a torrid romance with a bailiff. There's not much there that's sexy. So why not gamble with your freedom and criminal record by courting that special someone through unlawful means? Well, because you could be arrested or worse, and end up paying some unsexy lawyer thousands of bucks, which will only go toward a wedding present for the judge and bailiff. The system is so rigged. Anyway, if you really want to play the outlaw role, here are nine ways you can get yourself some play that we absolutely do not condone.
Kiss passionately on a rooftop as fireworks go off around you
How to pull it off despite us desperately wishing you'd stop all illegal behavior this minute: Find a place with lots of flat asphalt and zero trees. With nobody else around for blocks, if not miles. Be sure it's not during a drought. Double-check safety precautions. Strike a match; light the fuse. Start kissing like it's safe.
Laws you'd be breaking: If you're doing this after midnight, or it's not past 2am on the days before or during Independence Day and NYE, you're living like a menace to society. They just started letting us light bottle rockets and Roman candles. People like you will send us all back to the sparklers-only era.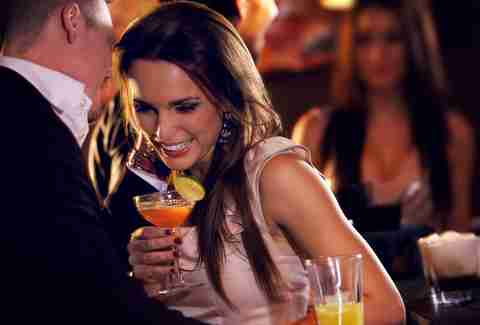 Make yourselves infamous by telling steamy, controversial, completely untrue tales about your relationship in public
How to pull it off despite us very clearly advising against it: Go to Loca Luna, get weird on margaritas, raise your voices a little bit, and just start talking about the naughty dirty sexes you do together. Hell, take it outside and walk the BeltLine, sharing hot lies with complete strangers! If he/she is down for the adventure, it could have amazing real-life results later.
Laws you'd be breaking: It's illegal to spread false rumors in Georgia, because you ain't gotta lie to kick it.
Have a romantic, peaceful (unarmed) dinner at your Kennesaw residence
How to pull it off knowing this is an idea we just cannot get behind: Just get your lover to visit your house, condo, or apartment, and enjoy quiet, relaxing moments, without having a weapon handy. It's as simple and sensible as that!
Laws you'd be breaking: Every head of household living in Kennesaw must keep not only a firearm for protection, but have ammunition. There are only three ways to opt out: have a physical or mental disability, be very poor, or oppose the law because you're super-religious. All of which will probably and ironically result in no sexytimes.
See the sunset from inside Bellwood Quarry
How to pull it off despite our repeated pleas not to do it due to legal issues: You're only supposed to use the official BeltLine bus tour, but you're a thug, so you'll forego the bus tour and possibly die. Here's how: start (end) by walking a path that includes a blockaded road, an open field, a mini-forest, another road, and eventually a pretty weak gate that you shouldn't at all climb over (because of the barbwire fence, and you know -- the law). The cliffs and aqua-green water basin combine for one of ATL's most gorgeous and romantic sites.
Laws you'd be breaking: Trespassing. And apparently people are getting gently arrested more frequently these days, due to police waiting for romantic daredevils, as well as cameras setup by Watershed Management. Still, what's more romantic that risking jail (and possibly dying) to express desire? Worst case, you'll have the best (last) view EVER if you slip and fall to your death!
Hop a freight train together and ride through the Westside
How to pull it off despite our disapproval and repeated withering looks: You can actually do this from a variety of streets that connect Northside and Howell Mill (Antone St will do). Several buildings have train tracks in their backyards, where flatbed cars stay parked for hours, moving very slowly when they finally start moving again. Mount it when it's steady. That also goes for the train. HEY NOW!
Laws you'd be breaking: Freight-hopping is pretty much illegal everywhere, not just ATL. It's also dangerous as hell, so the law isn't the only thing you should be concerned with breaking.
Drink together on MARTA
How to pull it off despite us repeatedly begging you not to do this: Very smoothly. Fill a flask with your date's favorite warm adult fun juice, find a row with two empty seats, and drink. If you don't know this date well-enough yet (#coldsores), bring two. Don't swig too expressively.
Laws you'd be breaking: You can't even have a non-alcoholic drink on MARTA, much less whiskey or red wine. But with as many red eyeballs as you see riding MARTA, do you really think anybody cares?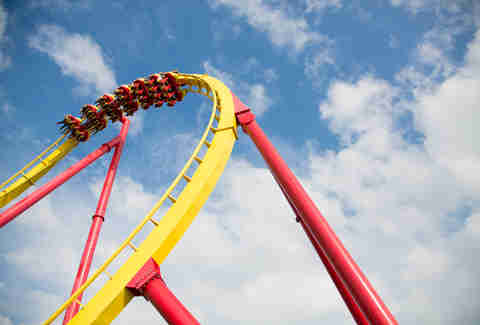 Turn Six Flags into Sex Flags
How to pull it off despite the fact that we'll call your parents if you actually do it: You're totally on your own if you get caught, and you're not even reading this assertion that we said not to do this, because we never even had this conversation. But if you can keep quiet, there are roped-off and "backstage" pockets of the amusement park where you might go unseen, at least by the kids. Unfortunately these places also provide cover for the security guards who'll surely beat you to death for being too horny to just drive down the street to a seedy Fulton Industrial hotel, like all the other respectable citizens.
Laws you'd be breaking: Public indecency. And in 2015, you really broke that law just by going to Six Flags on a date in the first place.
Go "green" together at the High
How to pull it off despite our disappointment in the person you've turned into: Vapes, which are sold for "novelty" purposes, are everywhere. Buy one and use it.
Laws you'd be breaking: Possession, whatever the "controlled substance" laws say, and every other weak premise police have to arrest you for something that'll totally be legal nationwide in a couple years.
Go shopping together for toys you can't buy at children's stores
How to pull it off (we couldn't care less if you did this one actually): Head to Love Shack on Roswell Road. Ask someone who works there to help you find a "sex toy." Find one, buy it, and leave with it. Have fun playing!
Laws you'd be breaking: You can't legally buy "sex toys" in Sandy Springs at the moment, due to some weird local ordinance that mandates a prescription. At least that gives you an excuse to play "doctor." Man, Georgia is lame.
Sign up here for our daily Atlanta email and be the first to get all the food/drink/fun the ATL has to offer.
Mike Jordan is pretty sure you're going to jail after reading this, and has neither good legal advice nor money to bail your criminally romantic ass out. If you can find a smartphone in jail, tweet him angrily at @michaelbjordan.