Learn to Dance, Make a Rug, or Decorate Cakes at These Adult Classes in Atlanta
Lean into the back-to-school vibes.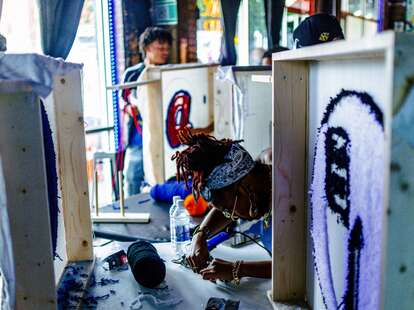 Rug-making class with The Tuftest Guy in Town

| Photo courtesy of OurBarATL
Rug-making class with The Tuftest Guy in Town

| Photo courtesy of OurBarATL
And just like that, summer is over. With kids all over the city going back to school, it's time for the adults to learn a thing or two. Don't worry, we're not suggesting you enroll in geometry and test your memory of the periodic table—there are plenty of classes around Atlanta to experience that are way more exciting.
For starters, Ponce City Market's 12 Cocktail holds a popular drink making class for the aspiring bartenders out there, and The Tuftest Guy In Town is teaching people of all ages how to make rugs. You may have graduated a few years ago, but you're never too old to learn a new trick at one of these classes for adults in Atlanta.
Food and drink classes in Atlanta
Cocktail classes at 12 Cocktail
Old Fourth Ward
12 Cocktail in Ponce City Market is more than just a speakeasy-themed bar, it's also home to one of the best cocktail classes that the city has to offer. Headed by the establishment's beverage director, guests can saddle up behind the bar to learn how to make four hand-crafted cocktails. The intimate class sizes mean you'll learn directly from the pros and leave with a few new recipes to take home.
Baking classes at Cake & Sip
West End
At Cake & Sip's classes, you can make your cake and eat it too. The confectionary experts will teach you how to frost, pipe, and write on your own cake that looks good enough to be sold in any bakery. The shop offers three options: a traditional decorating classes, a music-fueled Cake & Karaoke session, and a Cake & Kidz course for little ones.
Cooking classes at Bellina Alimentari
Old Fourth Ward
Every month, the Italian restaurant Bellina Alimentari offers a wide range of cooking classes, beverage tastings, and dining events for all to enjoy. These hands-on, expert-led classes cover topics like how to make pasta (both filled and regular) and an introduction to amaro, a beloved spirit native to Italy.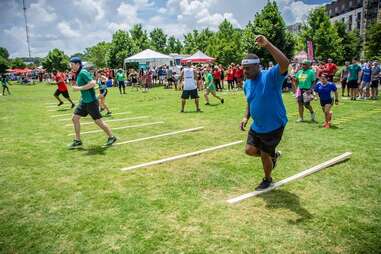 Sports and dance classes in Atlanta
Archery classes at Atlanta Archery Club
Dunwoody
The Atlanta Archery Club teaches the ancient art of bow and arrow usage and offer courses for all ages. Whether you want to take a day-long class, rent the space for a party, or enroll in a program that takes place over multiple weeks, Atlanta Archery Club has an offering for you. All accessories are sold and available to rent on-site, so all you have to do is bring yourself and an open mind.
Ballroom dance classes at Atlanta Ballroom Academy
Buckhead
Buckhead's Miami Circle has long been a hub for arts and culture in the city, so it's only right that the 404's most reputable dance institution is located in the same place. The Atlanta Ballroom Academy contains three rooms and more than 13,000 square feet for you to learn a truly beautiful art. For over 40 years, this establishment has offered the best quality ballroom and Latin dance instruction in the Southeast, so whether you are a beginner, novice, or seasoned veteran, the ABA is the perfect place to hone those dancing skills.
Various sports leagues at ATL Sport & Social Club
Midtown
Playing sports is fun no matter how old you are. Since 2012, the Atlanta Sport & Social Club has been a great source for adults to get into leagues and tournaments, and enjoy fun-filled events with like-minded individuals. With the ASSC, you can relive your glory days by participating in a traditional game of basketball, flag football, soccer, or softball, or have a blast with recreational games of kickball or cornhole. When you're ready to dust off your trusty high school cleats, head over to the club's Midtown headquarters to sign up.
RollerBasics lessons at Rollerfit
Piedmont Heights
With popular establishments such as Cascade, Skate Towne, and Golden Glide, Atlanta has come to be known as a hub for roller skating. While this talent is normally learned during one's younger years, you're never too old to pick up a pair of skates. At RollerFit, adults can learn the basics of skating, while getting fit at the same time. From starting and stopping, crossing over, even backwards skating, after a few lessons here you'll be rolling around like a professional.
Art classes in Atlanta
Pottery classes at Atlanta Clay Works
Cabbagetown
With 21 years of experience under their belts, Atlanta Clay Works is the ideal place to learn the craft of pottery. The space mainly caters to member artists who use the wheels and other materials to make fine art, but the studio offers introductory wheel classes and hand building sessions a couple times a month.
Candle making workshop at Bear & Honey Candle Co.
Little Five Points
Bear & Honey Candle Co. sells some of the sweetest smelling candles in the city, and it's also home to some unique candle making classes that you have to experience. Along with creating some cool candles that have up to 40 hours of burn time, visitors can also make dessert candles—a waxed and wicked fixture modeled after your favorite pastries. Whether you're popping in solo or booking a group party, these candle classes are both fun and fulfilling.
Drawing From Experience at The High Museum of Art
Midtown
This monthly series at The High focuses on a different way of seeing and capturing the world through art. Although it is guided by a creative professional, each attendee is still able to express themselves individually and develop sketching skills at their own pace. In a few weeks, people will learn how to exaggerate shadows and combine dark lines in a Halloween-themed drawing class, just in time for the fall season.
Rug-making classes at The Tuftest Guy In Town
Edgewood
How many people do you know who can say they've made their own rug? Be the first in your friend group to do so with a class by The Tuftest Guy In Town. Located at Our Bar ATL in Edgewood, this class is about 3 hours, and all material and equipment will be included, so there's no excuse for you not to sign up.
Glass-blowing classes at Decatur Glass Blowing
Decatur
Learn how to create some vibrant glass fixtures with the help of some knowledgeable artists at Decatur Glass Blowing. With the Halloween season quickly approaching, you can enroll in one of the pumpkin glass blowing classes, or sit back and enjoy a seasonally themed demonstration with the finished products also being available for purchase.
Okla Jones
is an Atlanta-based journalist who writes about food, fine arts, and entertainment. His work also appears in
ESSENCE
,
Creative Loafing Atlanta
, and
Consequence of Sound
. Follow him on Instagram at
@coolhandoak
.