So long, summer. You've been great, but frankly the best part of the year is coming up: when it's not doggedly hot, people stop wearing terrible shorts, and your favorite drinks are back in season (stronger beer, redder wine, darker spirits).
Now all you've gotta do is keep up with the ever-growing list of things happening in the city between now and winter, and there's no better way to do that than to bookmark this here events calendar. Enjoy your autumn fun, folks.
Recommended Video
Winter Starbucks Beverages Around The World
SEPTEMBER
Sep 27 - Oct 7
Landmark Theatres, Outfront Theatre Company, Plaza Theatre
Out On Film is Atlanta's foremost LGBT film festival, showing more than 130 movies in the largest program ever. Three extra days have been added for 2018, its 30th year.
Cost: $11 - $30
OCTOBER
Oct 12-14
Piedmont Park
This is the 48th Atlanta Pride Festival and Parade; start partying on Friday night and hit the parade on Saturday, celebrating love and diversity the ATL way (wildly).
Cost: Free
Oct 12-14
Historic Fourth Ward Park
Hit the park for German-themed games, food, and live music. Oh, and beer, lots and lots of beer. Ingest as much as you can, without losing your American citizenship.
Cost: $19 - $34
Oct 13
Oakland Cemetery
The Run Like Hell 5K race runs right through our historic inner-city place of eternal rest, and it's a Peachtree Road Race qualifier. Register by October 1 if you want a shirt in your size.
Cost: $35 until September 14; $40 after (until October 10)
Oct 13
Georgia State Stadium
The Great Atlanta Beer Fest is more American! Or something. Anyway, there will be 150 or more brews here, plus ciders, over 25 wines, college football playing on large screens, live music, and a DJ.
Cost: $40 - $45
Oct 13
Brookhaven Park
First, promise you'll get healthy after this weekend. Next, go to the Atlanta Chili Cook-off, where you'll eat chili and Brunswick Stew from more than 75 restos. If you hurry, you can even sign up your own chili-cooking team (you've got until September 14).
Cost: $25
Oct 20
Decatur Square
Well, that commitment lasted a week, but who cares, there'll be more than 80 breweries (see the list here) at the Decatur Craft Beer Fest. And you know it's always better-ur in Decatur.
Cost: $50 for general; $100 for VIP
Oct 20
Olmsted Linear Park
The two-day autumn edition of Festival on Ponce is a celebration of fine arts and folksy crafts, with a bunch of food and drink stalls set up too. A lot of the artists are small-time and up-and-coming, so get out there and buy up some stuff to support them.
Cost: Free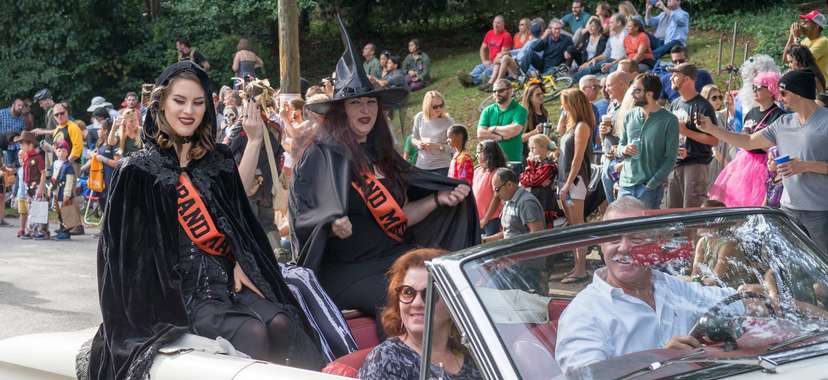 Oct 20
Little 5 Points
The L5P Halloween Festival and Parade is today, displaying all the freaky-deaky strangeness we love and expect every year. The route hits Euclid, Moreland and U-turns at Wrecking Bar, so pick a spot and watch the blaze of color and flamboyance go by.
Cost: Free
Oct 28
Atlanta History Center
At the AHC there'll be dancing, crafts, and truck-loads of authentic food to celebrate the Mexican festival, "Dia de los Muertos." Once you're done with the event, head inside to the exhibitions in the historic house, or hit a trail through the grounds -- everything is free today.
Cost: Free
NOVEMBER
Nov 2
InterContinental Buckhead
Whiskies of the World Atlanta is a four-hour experience with more than 200 expressions of scotch, bourbon, and other whiskies from all over the planet (Irish, Canadian, Japanese, etc). Experts will lead seminars to talk you through what you're drinking, and food pairings are laid on to line your stomach.
Cost: $120 - $145
Nov 3
Cabbagetown
If you get to Cabbagetown and can't find the humongous chili-tasting event known as Chomp and Stomp, your senses are all the way off, because it's in the wind, on people's shirts, being chewed in mouths… everywhere, I tell ya!
Cost: $5 cash; $6 with a card
Nov 3
Atlanta Expo Center
This is the first time the Oddities & Curiosities Expo has come to Atlanta, so make good use of your chance to buy (or just gawp at) all kinds of super-strange stuff, from creepy taxidermy and crazy jewelry to actual bones and "wet specimens." We don't know what they are either, but you'd better show up to find out.
Cost: $10
Nov 3
Downtown Decatur
Consider Decatur Wine Festival a challenge: You've got four hours to hit 70 tables, sip samples of all the new wine, and decide which crates to take home with you. Go.
Cost: TBD
Nov 10
Cobb County Civic Center
Be meat-free with all the rest of your plant-based buddies at the seventh annual Atlanta Veg Fest. Watch cooking demonstrations, listen to guest speakers, take your little ones to a kids activity, or just feast on all the free samples.
Cost: $5 suggested donation at the door
Nov 10
Downtown Atlanta
The annual Atlanta Veterans Day parade starts at 11:11am at the corner of Ivan Allen and Ralph McGill, heading south on Peachtree all the way to Centennial Olympic Park. Go cheer for the heroes.
Cost: Free
Nov 11
King of Pops
Right outside the KoP's Inman Park HQ will be the seventh annual Field Day, where you can go popsicle crazy: Engage in a pops-eating contest, eat free pops, and pop in and out of a pleasant sugar rush with thousands of other Atlantans who love cold local treats and happy times.
Cost: Free
Nov 13-18
7 Stages Theatre
Purposely make it so that you can't ever sleep in the dark by yourself again, after watching dozens of horror flicks at the Buried Alive Film Festival.
Cost: TBD
Nov 17
Georgia Freight Depot
Indie Craft Experience's Holiday Shopping Bonanza will have all sorts of funky, knick-knacky gifts that somebody you love will love. Go on and knock out all the capitalism so you can actually enjoy the season and feel like you supported true ATL creatives.
Cost: Whatever you want to spend, baller
DECEMBER
Dec 1
Wrecking Bar Brewpub
If you missed last year's Strong Beer Festival… that's weak! Be there this time, as they pour more than 40 beers from 25 breweries, all at 8% ABV or higher.
Cost: $63.99
Dec 8
The Center for Puppetry Arts
Don't miss the chance to see Jim Henson's immaculate retelling of the Christmas story through the hand-controlled mouths of Muppets, during this public screening of The Muppet Christmas Carol.
Cost: $12.50
Dec 15
Lost Dog Tavern
Start at Lost Dog and walk around Buckhead looking festive and ridiculous during the Ugly Sweater Crawl, which also hits Dive Bar, Kramer's, and Buckhead Saloon, among others.
Cost: $17
Dec 16
Live at the Battery
Go to the Braves stadium and spread tipsy cheer with other people dressed as Saint Nicholas during the Atlanta Santa Pub Crawl, which will include boozy stops at C. Ellet, Yard House, Antico, and other spots around The Battery at SunTrust Park.
Cost: $7 - $40
Sign up here for our daily Atlanta email and be the first to get all the food/drink/fun the ATL has to offer.