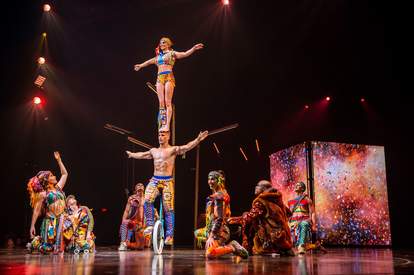 Everything You Need to Do This Winter in Atlanta
Fall in Georgia is usually short-lived, but we got spoiled this year with a fully realized season of nice, brisk weather against a backdrop of gorgeous red and yellow hues. Alas, winter has finally arrived, and now it's cold as hell. Still, the marathon continues, and there are plenty of events begging for your attention over the coming months. Here's your guide to all of the unlikely sources of entertainment, shameless eating and drinking, and down-right good times that are happening this winter in Atlanta (and here's your guide to having a good time in Atlanta no matter the season).
December 14
Buckhead
The annual Ugly Sweater Bar Crawl is back for its fifth year, so grab an ugly sweater and get ready to go bar to bar. Participating establishments include Buckhead Saloon, Red Door Tavern, Lost Dog Tavern, Dive Bar Buckhead, and Kramer's Buckhead Atlanta. With discounted drink specials, raffle giveaways, and ugly sweater contests all on the docket, it shouldn't be hard to get into the holiday spirit.
Cost: $19.99
December 15
Midtown
Indie Craft Experience is hosting a holiday market from 11am to 6pm with over 100 craft and vintage vendors confirmed. Scratch off the remaining names from your shopping list or simply shop for yourself. Parking is free, and the first 100 attendees get specially designed swag bags.
Cost: $5 entry
December 16
Old Fourth Ward
In addition to its assortment of shops and eateries, The Roof gives you even more reason to love Ponce City Market. Now decked in holiday decorations, The Roof offers 50-minute ice skating and private igloos (21+) that you can rent out for a party of up to six people. Extended hours begin on the 16th, so whether you plan on sipping cocktails with your friends inside an igloo or trying your hardest to not fall while ice skating, there will be ample time to experience all The Roof has to offer.
Cost: $22 - $150
December 22
Downtown
Studies years from now will show that trap music has indeed enhanced our quality of life. Until then, enjoy this silent disco spinoff that boasts three different DJ channels to groove to -- '90s music, trap, and R&B. It also doubles as an ugly sweater party, so it's an undeniable move for the holidays.
Cost: $20
December 24
Midtown
Bring a bit more magic to the holiday season by catching The Nutcracker at the Fox Theatre. This is the production's final year at the Fox, and -- coupled with the fact that its closing show is on Christmas Eve -- it's set to truly be a special experience.
Cost: $35 - $145
December 25
Midtown
Sure, you can catch the Botanical Garden's Garden Lights, Holiday Lights exhibit any night from now until January 11. But if you're looking for a memorable way to cap off Christmas with your family, friends, or significant other, this is it.
Cost: $31.95 - $39.95
December 31
Krog Street
If you haven't heard yet, there will be no Peach Drop this New Year's Eve. We'll have to fill the peach-sized hole in our hearts another way, and Axis Replay's NYE party seems like an early bet. The event promises food, drinks, a plethora of games, silent disco, and complimentary valet parking. It's not the Peach Drop, but it's set to be a really fun alternative nonetheless.
Cost: $25
January 1
Downtown
Although it leaves Centennial Olympic Park weeks before the Chinese New Year, witnessing the Chinese Lantern Festival would be a marvelous way to spend New Year's day. The holiday attraction features beautiful handcrafted lanterns, merch booths, and authentic Asian food offerings.
Cost: $13 - $17
January 5
Atlantic Station
Cirque du Soleil shows are nothing short of extraordinary, and their latest exhibition appears to hold up to that standard. VOLTA's inner workings consist of ballet, rope skipping, ladder acrobatics, and more. It may sound simple, but check out their final show on the 5th and prepare to be amazed.
Cost: $69 - $145
January 11
Downtown
Or opt to be a spectator. Whichever route you choose, the evening promises to be an entertaining one, as brave souls act out imaginary sexual encounters with an invisible partner. In a setting as intimate as Purgatory (Masquerade), it will be an event that you laugh about for months.
Cost: $10
January 19
Stone Mountain
Don't wait for another snowmageddon to hit so you can transform your driveway into a slippery slope. For the winter months, Stone Mountain has set up Snow Mountain, a place where you can have all the frosty fun your heart desires. In addition to the free-reign SnowZone, you can go snow tubing on one of the many slopes open this season.
Cost: $34.95 - $79.95
January 25
Downtown
After a hiatus in 2019, the yearly bout for dominance between HBCU marching bands comes back to the Mercedes Benz Stadium. The eight finalists have been chosen, so now it's time to see which school leaves the Honda Battle of the Bands victorious.
Cost: $10 - $28
January 31
Downtown
Experience Seishun Con, Atlanta's premiere winter anime convention, as it returns for its 10th year. Held at the Marriott Marquee, the three-day event has panels and special events in store for attendees, from nightly karaoke to a cosplay contest. 
Cost: $75 - $125
February 1
Atlantic Station
The Atlanta Winter Beer Festival hits Atlantic Station for its 10-year anniversary with a four-hour tasting of wine, beer, and cider. For a modest price, attendees will have the opportunity to sample as much booze as they please, and the tickets come with a commemorative souvenir cup as well.
Cost: $35 - $55
February 7
Hapeville
To kick off Black History Month, the Hapeville Maker Space is hosting Afro Arts, a showcase of African American music, culture, and contemporary art. The exhibit is free, and it's a great way to celebrate Black History Month. 
Cost: Free
February 14
Marietta
Forego the typical Valentine's Day dinner and catch a play about searching for love through food. The Marietta Theatre Company's Five Course Love finds three actors portraying 15 characters across five different restaurant-based scenes. And if that mere concept makes you peckish, find comfort knowing that dinner packages are available for the show as well.
Cost: $25 - $125
February 15
Sweet Auburn
Who would've thought the Atlanta StreetCar was the secret to smooth bar hopping on Mardi Gras? Well, from the looks of the 2019 recap video, it turns out a lot of people were on game. Now that you are too, prepare to explore over 35 participating bars and restaurants throughout Downtown and Old Fourth Ward.
Cost: $15 - $30
February 25
Midtown
If you're a fan of the NBC cult classic, you probably didn't need a reason to revisit the workplace adventures of the Scranton gang, but here's one anyway. This unauthorized parody of The Office is dedicated to fan service and good laughs, and the fact that it's a musical only makes it better.
Cost: $40 - $60
February 29
Downtown
2020 is stacked with so many things to look forward to, one of which is the Olympic Games in Tokyo this summer. Start your fandom early by attending the Olympic Team Trials for marathon runners and see firsthand which athletes will advance to Tokyo.
Cost: Free
March 1
Downtown
Too often our New Year's resolutions to become more fit and healthy fall short. Give yourself something to work towards with the Publix Marathon at the start of March. Don't let the 26-mile course deter you -- there are half-mile and 5K options too.
Cost: $30 - $140
March 6
Downtown
The Atlanta Tattoo Arts Convention returns for a third installment at the Atlanta Convention Center. In addition to getting up close and personal with over 300 international tattoo artists, expect live tattooing, burlesque, and some Ink Master alumni to make an appearance. This is a chance to get inked by some of the best tattoo artists in the world, so be sure to contact your favorite artists in advance.
Cost: $20 entry
March 7
Cobb
Often dubbed the great American opera, George and Ira Gershwin's Porgy and Bess is coming to the Cobb Energy Performing Arts Centre for a five-night stint courtesy of the Atlanta Opera. Grab some friends for a night at the opera, and see how the 1935 masterpiece fares nearly 85 years later.
Cost: $45 - $150
March 8
Midtown
Everyone may not be walking around in Virgil Abloh's designs for Off-White or Louis Vuitton, but the masses are definitely tuned in to the Chicago icon's journey through the fashion industry. His exhibit at the HIGH concludes the second Sunday of March, so that means free admission -- the perfect excuse to check it out before it leaves.
Cost: Free
March 14
Midtown
St. Patrick's Day may fall on a Tuesday this year, but the weekend prior will be chock full of festivities, most notably Atlanta's long-running St. Patrick's Day parade. Pull out your favorite green garments for a family-friendly afternoon of floats and bagpipes.
Cost: Free
March 15
West Midtown
Get ready to down as many Bloody Marys as (safely) possible. The Bloody Mary Festival brings you the most creative tomato juice cocktails in the city, and if you're not already sold on the unlimited aspect, there will be food and drink samples as well.
Cost: $47.50
Sign up here for our daily Atlanta email and be the first to get all the food/drink/fun the ATL has to offer.