The funny thing about the word-slash-season "winter" is that you definitely don't feel the "win" when it's this damn cold… especially if your home team didn't make the Super Bowl that's in your home field...
That said, there are many other great ATL events to keep you entertained -- or at least distracted -- between now and the end of February, and that information is right here in this handy little calendar. Bookmark it, use it, share it… hell, print it out if you're so inclined. You could always use it for kindling in a worst case scenario kind of moment… but we really hope it doesn't come to that.
December 1
Park Tavern
The 85-foot-long, 40-foot-wide Rink at Park Tavern is now open, with a "Fire & Ice" theme that will not include zombie dragons, but instead have private cabanas, fireplaces and fire pits, and specials on sushi, sangria and house draft beer from 9pm to midnight every evening.
Cost: $20
December 8
The Village Theatre
You deserve adult comedy in the form of puppets, and that's just what you'll get at The Puckin' Fuppet Show. It's a competitive "puppet slam" that also includes audience games like the "Baby Jesus Manger Toss," and wild contests that include egg nog funnelling and candy cane, um, swallowing.
Cost: $10, cash only
December 8
The Battery Atlanta
Terrapin Taproom, Live at The Battery, and several other food and drink establishments around SunTrust Park invite you to dress up like history's favorite jolly holiday gift-deliverer and go around sipping and snacking. Your ticket includes $5 that can go toward a PBR during the 11pm afterparty, and don't forget to bring an unwrapped toy; the Marines are collecting them outside Sports & Social for Toys For Tots.
Cost: $5 - $20
December 15
Venkman's
Go to the O4W restaurant and live music venue named for Bill Murray's Ghostbusters character, and watch the holiday comedy "Elf." Brunch will be served, so get reservations to make sure you'll have a table.
Cost: Free (excluding brunch)
December 15
The B Complex
Not only can you hype-beast yourself silly and buy all sorts of fresh footwear, but you can also feel good because funds will support Christmas giveaways for youth. Go VIP and with the "To Move Ya Feats" package and you'll get faster entry, open bar, retail discounts and swag.
Cost: $37.25 - $1,658 (depending on how much you want to flex)
December 15
State Farm Arena
Eight of today's hottest singers, including H.E.R., Ella Mai, Tory Lanez, and even Lil Duval (yes, he's a singer) will all be onstage at the annual Winterfest concert.
Cost: $78 - $157 (depending on what section you want)
Advertisement
Between the holidays and finishing out the year at work, your calendar can fill up fast in the colder months. But whether your winter plans involve heading out to a new bar opening, onto the open road, or to the office, Wrangler has new styles and comfortable fits made for wherever life takes you -- so you won't have to think twice about what to wear.
December 31
Front Page News & Tijuana Garage
New Beer's Eve begins at 9pm, with a 2am last call. Your all-inclusive ticket gives you the right to dig into a buffet of wings, sliders, corn dog nuggets, and Cameli's Pizza, as well as a list of 40 beers and house wines.
Cost: $60 - $70
JANUARY
January 4
Atlanta Symphony Hall
You loved E.T., or some older relative told you that you one day would. Tonight's your chance to catch it, at the ASO's live performance of E.T. The Extra-Terrestrial in concert, with the film projected on a large HD screen and synced to the music.
Cost: $49 - $89
January 6
Lava Lounge
Calling itself "the first indoor/outdoor DJ Festival dedicated to the origins of the art form and its impact in music today" is a long way to say the A DJ Festival will be crackin'. Confirmed sound selectors include DJ Mars, E-Clazz and Franchize, and the show goes from 4pm until midnight.
Cost: Free
January 19
5 Seasons Brewing Westside
You'll get to sip samples of at least 55 cask-conditioned ales at the Atlanta Cask Ale Tasting, where craft brewers from here in ATL (Monday Night, New Realm, Variant. Three Taverns, etc.), across the States and even across the pond bring out their weirder stuff. You can also cask… er, cast, your vote for People's Choice.
Cost: $43.50 + tax
January 19
City Winery
There'll be two four-hour sessions where you can put more than 50 wines in your mouth at the Atlanta Winter Wine Festival. You'll also be drinking beers and ciders, and don't forget the occasional water break.
Cost: $45 in advance, $50 after
January 21
Downtown
You know that world-famous Civil Rights Movement leader from Atlanta? You can honor him today at the MLK Day March and Rally, beginning at Peachtree & Baker Streets at 10am.
Cost: Free
January 25 - 27
Yaarab Shrine Center
Don't front like you don't get mesmerized when you see juggling in front of you. Give in to your weakness and hit the annual Groundhog Day Jugglers Festival, where there'll also be unicyclists, hoopers, kendama and other things you didn't even know where occupations. There's also a cabaret at night for $10 extra.  
Cost: Free during the day
January 26 - 27
Cobb Galleria Centre
The state's largest indoor bike show, the Great American Motorcycle Show, begins today. Dealers and individual sellers will have 100,000 square feet filled with all their hogs, mopeds, scooters and such, including accessories like leather wear and rider gear available for purchase.
Cost: N/A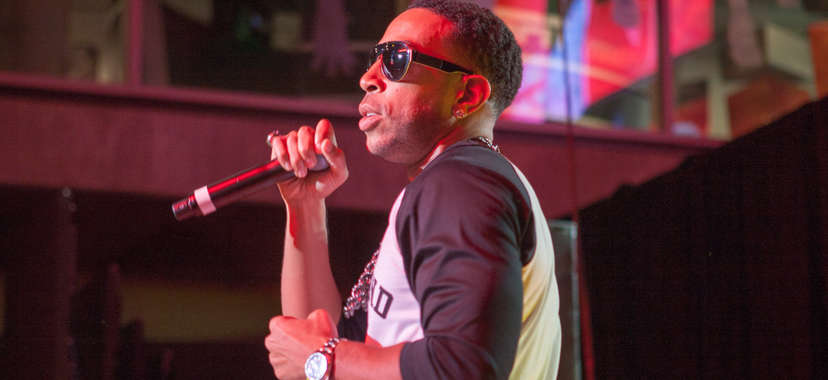 January 31 - February 2
State Farm Arena
The Bud Light Super Bowl Music Fest starts Thursday night with Ludacris, Migos, Lil Yachty, Lil Baby, and Lil Jon playing a DJ set. It continues for two more days with Aerosmith, then Bruno Mars and Cardi B. Does that make it a little less weird to have Maroon 5 performing at halftime? Nah. But we'll take it.
Cost: $95 - $1,500
FEBRUARY
February 2
Atlantic Station
The Atlanta Winter Beerfest will have more than 150 beers, from around the country, but especially here in ATL and around Georgia. You'll also be surrounded by meads, ciders, mimosas, rosés, and other mood-enhancing liquids.
Cost: $40 advance, $45 after Jan 19; $55 at the door
February 3
Mercedes-Benz Stadium
Yes, it is the Super Bowl, and yes, it is in Atlanta. Yes, the Falcons will be there, but only as viewers. Oh, and apparently you can buy tickets! They are not cheap.
Cost: $5,000 - $17,500 (and higher soon, surely)
February 8 - 10
Atlanta Marriott Marquis
If you've never been to Seishun Con in its eight previous years, you've missed a very big anime convention, where there'll be cosplay, manga, and other ways to worship Japanese culture. Be advised, there is a "swimsuit rule," meaning your genitals need to be covered. But you can wear leashes!
Cost: $30 - $40
February 9
Tiki Tango
Of course the Saints may have already done this if they play in the big game in our home field (shudders at the thought), but still, a Midtown Mardi Gras Block Party is never a bad idea. Twenty bars, including Fado's, My Sister's Room, Foxtrot, Sutra, Einstein's and Establishment will host your Big Easy-themed shots, food specials and other deals, as long as you dress festively in your loveliest beads and masks.
Cost: $12.50 - $30
February 16
Big Sky Buckhead
Cupid's Undie Run will help you show support for people with neurofibromatosis, which is a genetic disorder that causes nerve tumors all over the body, by joining a marathon of folks who jog in their draws. There'll also be an underwear-rocker's dance party afterward. Tell people you're just cold if they stare.
Cost: $30 - $50
February 23
Downtown
Setup begins at 10am, and the Black History Month Parade kicks off from 1pm to 4pm, moving through the Sweet Auburn District with dancing, marching, and fun ways to be proud of Atlanta's diversity and role in black history.
Cost: Free
February 17
Georgia World Congress Center
Hit the Yellow Lot at 7:30am and join the Allstate Hot Chocolate 15K/5K, because there's actual hot chocolate involved, as well as running. For participating you'll get a goodie bag, a finisher's medal, and a lot of melty cacao-based things to consume. Plus proceeds benefit the Make-A-Wish Foundation.
Cost: $44 - $64
February 23
Delta Flight Museum
More than 40 breweries will have sudsy stuff at Hops In The Hangar. The beer list isn't finished yet, and tickets don't go on sale until 2019, but unlike your usual arrival at the ATL airport's south terminal, at least you're early!
Cost: $20
Sign up here for our daily Atlanta email and be the first to get all the food/drink/fun the ATL has to offer.