This summer is leaning toward drought-like conditions in terms of rain, but fortunately, it's not at all draught-like in terms of things to do in Atlanta. Yes, it will be hot, but that's just an excuse to cool down at all the fests featuring beer, wine, cocktails, and more. Feel free to eat, eat, and eat again at all the food fests, too, because there are health-centric events and plenty of arts and cultural get-togethers to balance things out. This is your guide to summer in Atlanta in 2019.
Recommended Video
Model, Influencer & Entrepreneur Lindsey Pelas Reveals Celebrity Pick Up Stories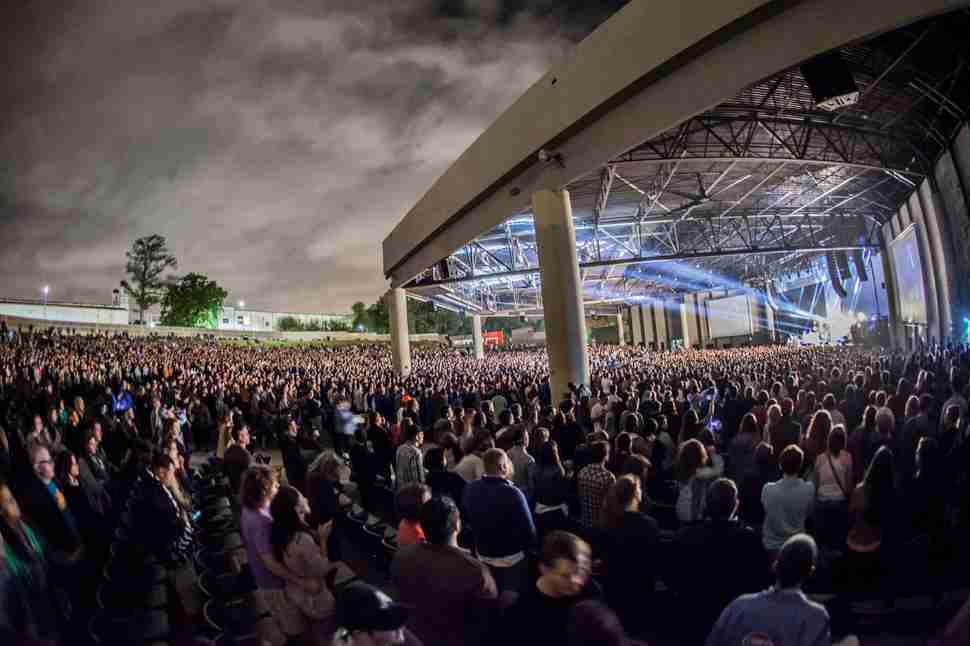 June 8
Cellairis Amphitheatre at Lakewood
Kendrick Lamar, Chris Brown, 50 Cent, T.I., Trey Songz, and like eight more big-time hip-hop and R&B stars (Young Thug, Fabolous, etc.) are hitting the stage at the Tycoon Music Festival, which begins with a noon party with performances from 5pm on.
Cost: $51 - $1,006
June 8
Oakland Cemetery
Nine acts, from Athens indie rock headliners Futurebirds to R&B/jazz College Park band Distilled Butter, will perform for the living and deceased from 12:30 to 8pm during the annual Tunes From the Tombs concert. There'll also be food trucks, New Realm and other craft beers, and an artist market.
Cost: $20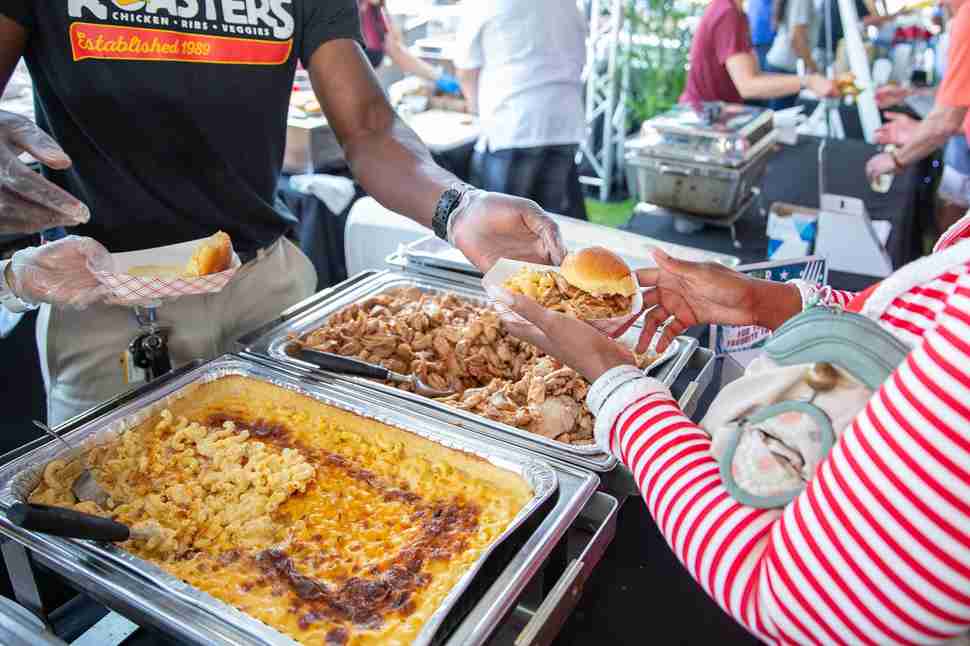 June 8
Sandy Springs
This is year four for Food That Rocks, at which you get all-you-can-eat stuffings from almost two dozen eateries (Three Sheets, Casi Cielo, Taqueria Tsunami), plus the same quantity of cocktail, beer, and wine tastes, and a live show from '80s cover band The Biffs. Bring a non-perishable food item -- the event benefits the Community Assistance Center nonprofit -- and get VIP First Taster tickets for access to tastings an hour earlier than general admission (6:30pm, as opposed to 7:30pm).
Cost: $65 - $75
June 9
Westside, Decatur
Fight back against automotive traffic in ATL by joining the "Cross-City" version of Atlanta Streets Alive (its longest-ever route at almost 10 miles) in which no cars will be allowed between the east (Dekalb Avenue, Decatur Street) and west sides (Howell Mill, Marietta Street) of town. This year they've also added West Howard Avenue to the plans, and extended the action to six hours, starting at 2pm.
Cost: Free
June 14
Inman Park
Today is the eighth anniversary of Wrecking Bar Brewpub. Be there for at least one of the next three days for a party celebrating their success, as departing brewmaster Neal Engleman serves up a stellar anniversary tap list that'll feature exclusive barrel-aged and cask beers tapped each day, including a triple dry-hopped IPA on Sunday and first-time-ever bottling of some of their higher-ABV beers. Today and tomorrow you'll get a free gift for being one of the first 50 customers.
Cost: Free entry
June 14
Vine City
Today through Sunday is the Juneteenth Celebration, a big black history party that takes place nationwide and serves as an acknowledgment of June 19, 1865 -- the historic date when emancipation of enslaved African-Americans was announced throughout what were once Confederate states -- at Mercedes-Benz Stadium's Home Depot Backyard. Along with lots of live bands, the festival will also include a parade, New-Orleans-style second line, artist market, fireworks show, and more.
Cost: Donations requested
June 15
Old Fourth Ward
The Atlanta Summer Beer Fest will have you sipping somewhere between 150 and 200 beers, 25+ wines and free bottled water to help with basic hydration in Historic Fourth Ward Park, starting at 4pm. You'll also have DJ Q-Tip (not the guy from Tribe), and a live show from Nashville-based pop band Ocean Street.
Cost: $45 advance, $55 at the gates
June 15
Downtown
State Farm Arena is hosting Hot 107.9's annual Birthday Bash, and this year the lineup is a who's-who of trap music all-stars, including Migos, Megan Thee Stallion, DaBaby, Lil Baby, and hopefully no actual babies because this isn't the content for toddlers. There'll also be R&B -- ATL's own Lloyd and "Fall" singer Davido will also perform, and the day begins at noon with a block party including "king of R&B" Jacquees.
Cost: $69 - $189
June 21
Decatur
No, it's not a real place, but today you can pretend Downtown Decatur is a shoreline, thanks to the Decatur Beach Festival, at which the city pours its largest amount of sand ever (80 tons) on Ponce De Leon Ave and becomes a resort town with food trucks, street beer, pop-up performances, live music, and more from 5pm to 11pm.
Cost: Free
July 4
Buckhead
The Peachtree Road Race is today, and you have until June 15 to register, or until July 4 to get yourself a good spot to watch the action as racers sprint/jog/stumble from the Buckhead shopping district to the meadow at Piedmont Park.
Cost: $200 to register; free to view
July 4
Downtown
The Georgia Aquarium is hosting your Independence Day party tonight at 7pm in the Oceans Ballroom, and calling it Red, White & Brew, because you get unlimited beer and cider, plus a barbecue dinner (buttermilk fried chicken, pulled pork, baked beans, cheese biscuits, a tater tot bar…) and live music
Cost: $50 - $65
July 11
Midtown
From today through the 13th, Synchronicity Theatre is hosting the Atlanta Shorts Fest, which has nothing to do with how much leg you like to show, and everything to do with watching dozens of films no longer than 45 minutes.
Cost: $40
July 13
Old Fourth Ward
Pretend you're still a snaggletoothed kid and hit Atlanta Field Day with a team of other adult-ish locals who'll join you and hundreds of others to compete in goofy-fun obstacle courses, relays, tugs of war and other contests to determine by scored points which team will be crowned King of the Field.
Cost: $56 for individuals; $450-$500 for teams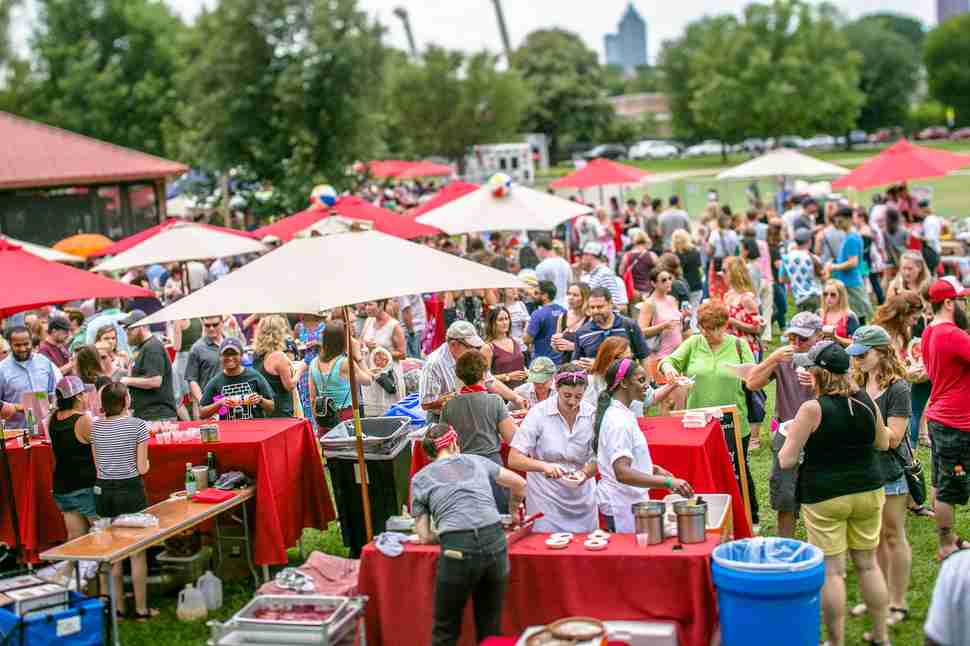 July 14
West Midtown
Ford Fry's Attack of the Killer Tomato Festival comes back to Westside Provisions District with foods that feature that famously tangy, bright red fruit, along with live music from Fry's band (The Foo'd Fighters) and others, plus VIP opportunities to try exclusive chefs' bites and cocktails, and to pickup Fry's recently released Tex-Mex cookbook.
Cost: $60 - $205
July 15
Midtown
AgLanta Eats begins at 5pm at the Atlanta Botanical Gardens, and will have local chefs whipping up unlimited tastes of foods sourced from organic Metro Atlanta farms. VIP includes two drinks, an hourlong pre-event reception, additional food, and parking.
Cost: $15 - $100
July 20
Atlantic Station
From today until the 28th you can watch live tennis action at the Atlanta Open right on 17th Street. This year's star power includes Andy Roddick, Madison Keys, and the legendary Venus Williams.
Cost: $10 - $15,000
July 27
Midtown
Piedmont Park is the site of the 10th annual Atlanta Ice Cream Festival. Join the morning 5K cancer walk, then get all the scoops, bowls, and cones you feel are necessary. Don't worry if you overindulge a bit; they'll also have health/wellness programs and fitness activities to keep you guilt-free.
Cost: Free entry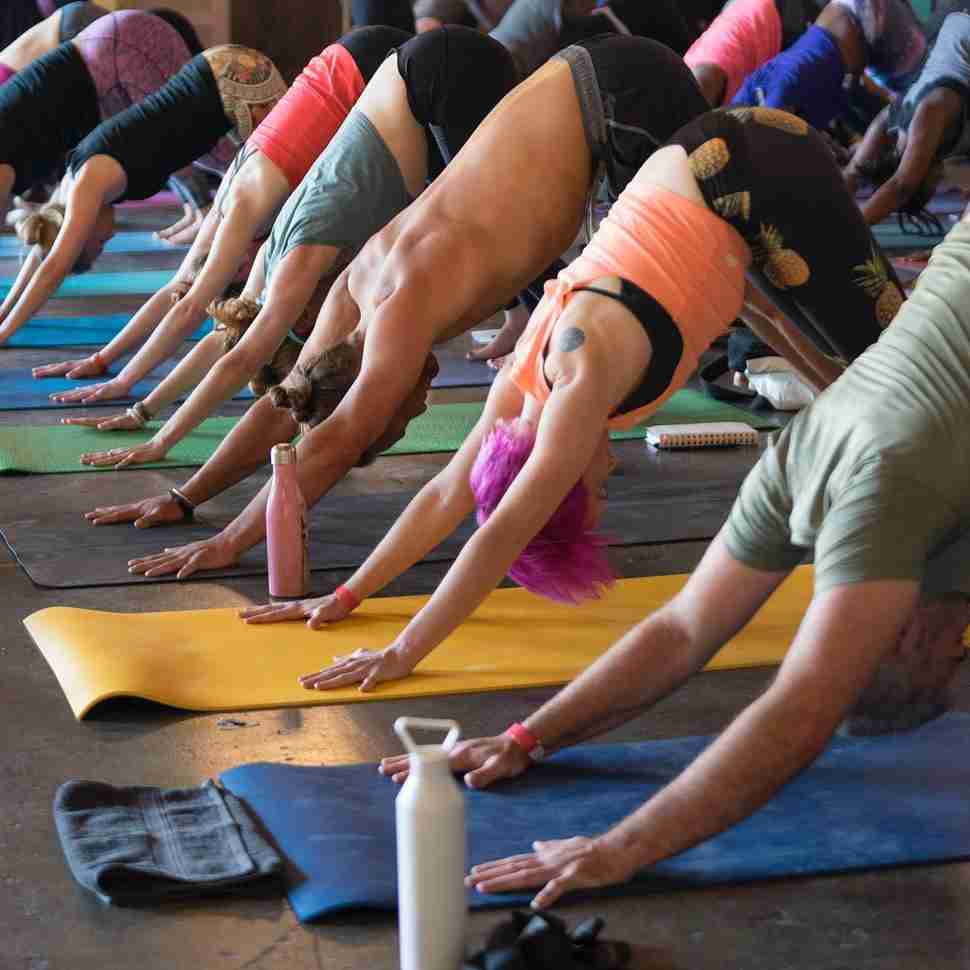 August 9
Downtown
Hit the Loudermilk Center for three days of Dirty South Yoga Fest, which begins today with a kickoff party and continues with "real" and "raw" approachable forms of yoga -- 50 classes of it -- led by local instructors. A few standouts: "CBD Yoga," "Lucid Dreams and The Path to Freedom," and "Queer Yoga Deep Stretch."
Cost: $35 - $325
August 10
Ponce City Market
City Winery is the host of this year's Atlanta Summer Wine Fest, a day with two separate four-hour sessions for you to get wined, beered, and cidered up. Live music will happen upstairs in the main dining hall, while a DJ will keep the crowd rocking beneath.
Cost: $35 - $60
August 10
Decatur
The Decatur BBQ, Blues & Bluegrass Festival has moved this year from a parking lot to 500 S Columbia Drive, saving you from all that asphalt-reflected heat but keeping you entertained with more than seven hours of live music from local and regional bands, local barbecue restaurants (previous years have seen Sweet Auburn Barbecue, G.C. BBQ, and more), and ATL breweries.
Cost: $17.24
August 21
Various
The five-day BronzeLens Film Festival is in its 10th year of movie screenings, master classes, panel discussions, and networking opportunities, plus parties led by some of the city's best deejays.
Cost: $25 - $300
August 29
Westside
29Rooms is an interactive traveling pop-up art exhibit that has a specific number of room experiences (you'll never guess how many) full of performances, installations, and mind-bending sights/sounds/stuff. It's being held at brand-new Westside property The Works, and you can pick from 11 days through September 8.
Cost: $30 - $49
August 29
Downtown
Oh, it's definitely Dragon Con time. This year you can expect homages paid to Daenerys' flying lizards, appearances by authors, illustrators, creators, actors (Robert Englund/Freddy Krueger!), and all the cosplaying weirdness that comes along with the world's biggest science-fiction/fantasy/comics/etc convention, right in the heart of the city.
Cost: $125 - $3,000
August 30
Decatur
The three-day Decatur Book Festival, which is still one of the largest independent book festivals in the country, starts today. There will not only be books of every sort, but also author readings, book-signings, panel conversations, cooking demos, a street market, and other activities for you to bookworm your way into.
Cost: Free entry
August 30
Vine City
The three-day Taste of Soul Atlanta, or "TOSA," starts today, taking place across from Mercedes-Benz Stadium and giving you the chance to celebrate Southern and soul food by eating lots of it, but also to feel fine about that by doing a 5K. There'll also be a wine tasting, an art exhibition, and an all-you-can-eat brunch event on Sunday.
Cost: Free admission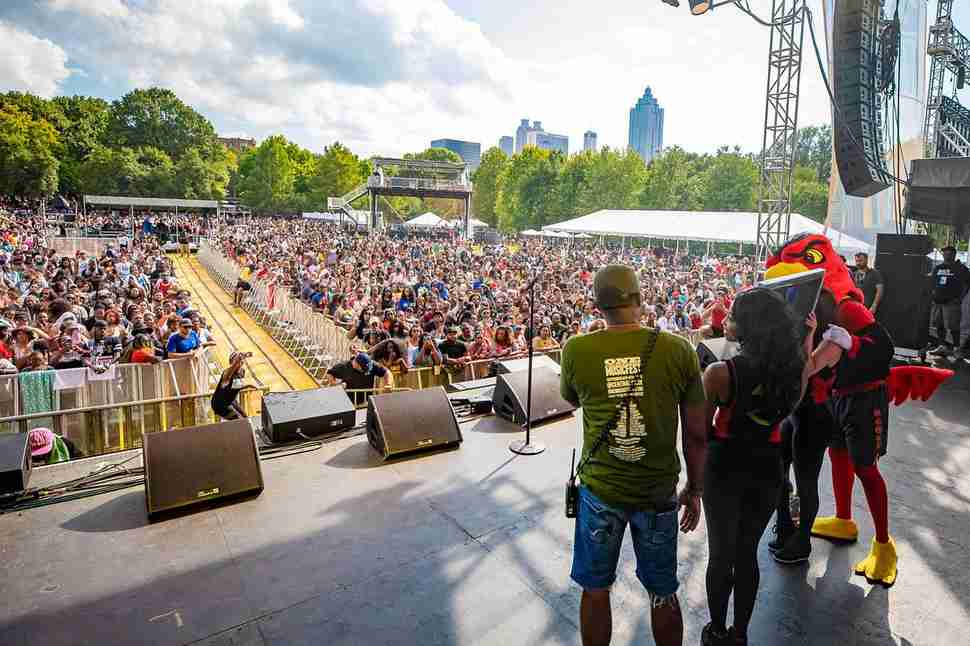 September 7
Downtown
This year's ONE Musicfest is the 10th anniversary, and will be held at Centennial Olympic Park, bringing with it a major lineup of superstar musical performances curated to bring folks together and jam out. Previous years have included shows from the entire Dungeon Family, Ice Cube, Nas, Jill Scott, Kendrick Lamar, Anderson .Paak, and others.
Cost: $109 - $250
September 12
Midtown
The Atlanta Horror Film Festival wants you to be scared poopless after four days of watching thrillers, blood-spillers, gory action, and all sorts of evil, wicked, fear-mongering films.
Cost: $40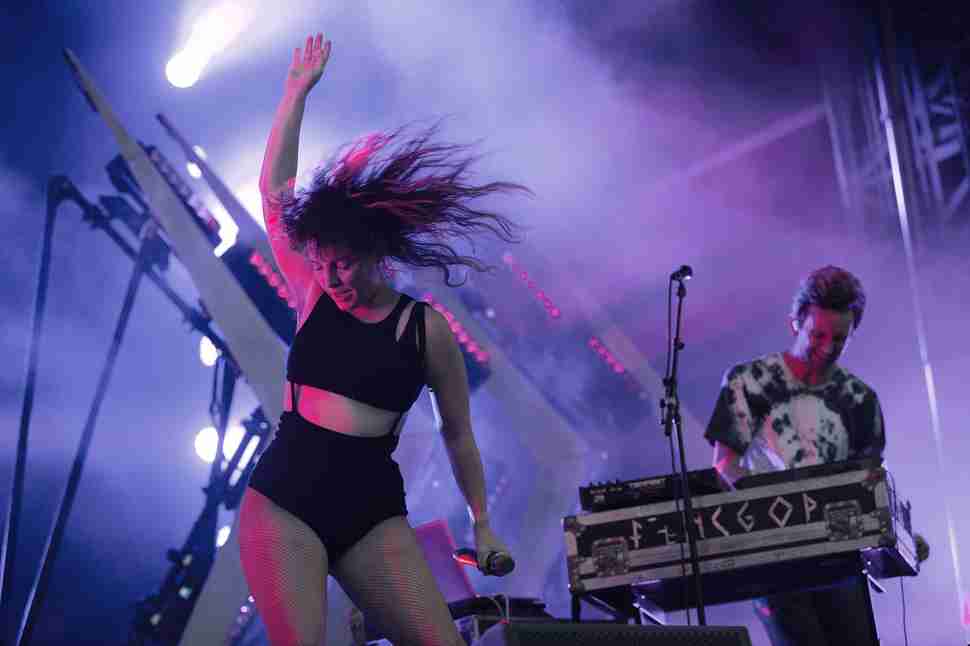 September 14
Midtown
Music Midtown never disappoints with its lineup, and this year's no different, as Travis Scott, Panic! at the Disco, Cardi B, Lizzo, and a whole lot of other superstar artists will hit Piedmont Park for two days of big-time live performances.
Cost: $100 - $1,250
September 19
Buckhead
The Taste of Buckhead will be held at ASW Distillery's Stave Room, and will have at least 20 of the neighborhood's best restaurants representing and feeding you fancy food samples. Save $25 on early bird general admission tickets for unlimited samples of food and drinks, or save $30 on VIP (which gets you special tastings, access to chef's demos, exclusive cocktails), if you buy before September 1.
Cost: $50 - $125
Sign up here for our daily Atlanta email and be the first to get all the food/drink/fun the ATL has to offer.