Here in Atlanta, temperatures get hot as hell around May, and seem like they stay that way until Christmas. But, by definition, this eight-month period of heat is not summer. Nay, summer is the time from now until late September, where we should all be outside marking off our must-do summer bucket lists before fall hits and everyone starts going batshit crazy about pumpkin-spiced lattes and beers that simply aren't great. Lucky for you, we've created just such a bucket list. To wit:
Have air conditioning
Do you want to live until September? Do you want to live... happily? Have an air-conditioning system of some sort. Even this will do.
Recommended Video
This Himalayan Salt Block is the Perfect Hack for Aspiring Cooks
See a concert at Chastain Park
Steely Dan? Modest Mouse? Flight of the Conchords? Jill Scott? Kenny Rogers??! Oh, so many choices. Don't forget the wine, cheese, and other shareables for when you make it into the crowd.
Go swimming at Piedmont Park Aquatic Center
It's not free, but hey! The beach entry, current channel, shade deck, and lap lanes make it one of the best under-$5 bargains you'll find to beat back ATL's heat via breaststroke.
Play in the Historic Fourth Ward Park's Splash Pad
Are you an adult? NO! You are a freakishly tall child with a beard or bikini. Act your spiritual age and run through the spray with the shorties.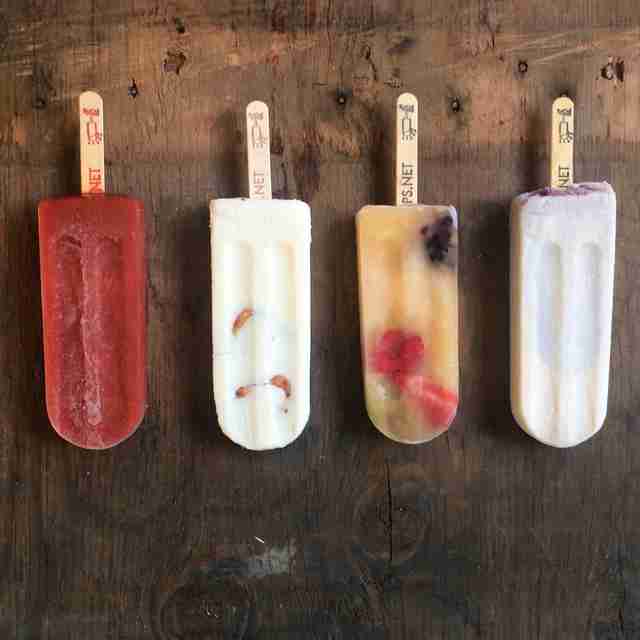 Slurp a sweet tea & lemonade King of Pops popsicle
It is the quintessential KOP summer suckable -- a frozen Arnold Palmer on a stick.
See an outdoor movie at Atlantic Station
It's free, it runs every Thursday at dusk (whatever "dusk" means), nearby restaurants like California Pizza Kitchen offer food & cocktail specials, and the lineup includes Indiana Jones and the Temple of Doom, Grease, and Top Gun.
Get soaked at White Water
Get there on or before July 31 for the 700,000-gallon wave pool, the three-second, 100ft drop of Caribbean Plunge, or the half-tunnel, half-funnel Tornado.
Throw a picnic in Piedmont Park
It costs you nothing if you can find parking along 10th, or in the neighborhood near Grady High School. You can buy pretty much everything you need right around the corner at Trader Joe's, OR get super lazy and bring a blanket, then order takeout from Park Tavern.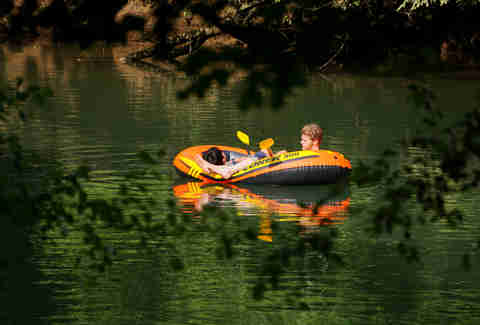 Shoot the Hooch
If you've been in Atlanta long enough, you know this is not about shooting a dog. It's what you do with a floating device, friends, beer, and our lovely Chattahoochee River.
See a Stone Mountain laser show
You've got until August 6 to see the fireworks, actual fire, digital graphics display, and yes, LASERS, at Lasershow Spectacular in Mountainvision®. It's nightly! You have no excuse.
Watch the Centennial Olympic fireworks on July 4th
There are rooftops all around the park that'll let you up to the deck for a magnificent view of sparkly, colorful explosions of lighted gunpowder -- or whatever the hell they put in firecrackers these days.
OR see the July 4th fireworks at Lenox Square mall
This is the move if you really want to get a nice cardigan from Neiman Marcus or need to get your iPhone fixed at the Apple Store prior to your fireworks show. Oh, the fireworks are pretty amazing, too.
Get your man-made beach on
Lake Lanier and Clayton County International Park aren't exactly "real" beaches, but hey, they have sand! Take what you can get and have some drinks. They'll help you get past the whole authenticity thing.
Cheer on someone running the Peachtree Road Race
Go out there while the runners are desperately trying to get some wind in their faces to combat the heat, and try not to make whatever you're drinking in that Solo cup look so refreshing to those jogging their way through hellish weather.
Drink a homemade margarita on your own porch or patio
This also works when it's storming -- if your patio or porch is covered, naturally. You might even get away with it being a Lime-A-Rita if that's what you're working with at the time. No judgments here, pal.
See a movie from your car at Starlight
It's summer, right? You're going to Atlanta's famous drive-in theater to watch a flick, yes? Of course you are. Go ahead and score your tickets now though.
Do Hurricane Harbor at Six Flags Over Georgia
The multimillion-dollar waterpark within SFOG has a gigantic wave pool, three water slides known as the Bonzai Pipelines, and a zero-gravity wave slide that you hit after slipping through a tunnel. Word to Denzel... we didn't know you liked to get wet.
Eat a vodka-soaked watermelon
It is advised that you purchase said melon from either the Buford Highway or Dekalb Farmers Market, because with all due respect to Publix and Kroger… no. As for the vodka, it's not like it really needs to be that ultra-premium stuff, since you're not exactly savoring the filtration. Get cheap stuff, cut that green sucker open, pour it in, drink it up, and lay it down.
See the Atlanta Symphony Orchestra
They have free shows in Piedmont Park occasionally, and if you haven't noticed, the music has been getting rather trippy lately. Maybe the late-June Jerry Garcia Symphonic Celebration at Chastain will have you feeling more Grateful than usual for a lazy summer evening.
See a Braves game from the 755 Club
They have air conditioning, and you'll need it. Don't have $500 for a membership? In Atlanta, you surely can find somebody that does, or at least has a hook-up... also, please call me when you find that person.
Go to all the various "neighborhood days"
You've never been to Ben Hill Day, College Park Day, Adamsville Day, Bankhead Day, Edgewood Day, or Herndon Holmes Day? Stop hiding in Brookhaven this summer and get to know your neighbors so you can see areas of town that are actually very welcoming to in-town visitors.
Get your zip-line on
You've got a few options, including Treetop Quest, North Georgia Canopy Tours, Banning Mills, and others, but the elevated air and rush of the wind whipping by is a great way to cool down while you're up in the trees.
Hit LudaDay Weekend
Ludacris has been throwing a Labor Day party for years now, and it always includes a celebrity basketball game, a block party, and -- if you can get an invite -- a secret pool party.
Celebrate black gay pride
Share the outrageous joy and colorful expressions of In The Life Atlanta, the LGBT community's African-American version of Pride Weekend, and take pictures of all the greatness that you can snap.
Get weird at Dragon Con
Atlanta's big, loud, and insane sci-fi/cosplay convention always takes over the whole city, so find a crazy comic book or Star Wars/Trek outfit and head Downtown, or just dress super-weird and show up at a club -- you'll automatically be part of the action.
Cheer UGA (or don't) at the Chick-Fil-A Kickoff Game
The Dawgs are playing the Tar Heels at the Georgia Dome this year in early September. Go see it, or just tailgate outside like everybody else.
Visit the Atlanta Botanical Garden
"Chihuly in the Garden," which is an installation of glass art from Seattle glass artist Dale Chihuly, will pretty up the already gorgeous garden grounds with colorful and shiny creations until the end of October.
See a movie at the Fox Theatre
Rocky, Jurassic Park, Citizen Kane, and The Shining are a few of the films you can catch at the prestigious Atlanta landmark between now and autumn.
Go to a "day party"
Day parties in Atlanta are basically the next thing you do after brunch, and summer in ATL mandates you participate in at least one. Which one though? Who cares! Google "Atlanta day parties" and choose your destiny like one of those books you definitely do not read anymore.
Eat local ice cream
You can find local creamers all around town, whether it's one of the Morelli's locations, Jake's at Irwin St. Market, Queen of Cream, Honeysuckle Gelato, or others.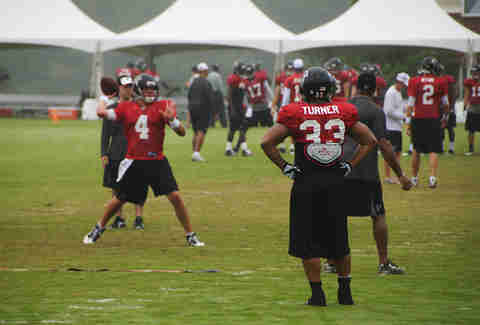 Hit Flowery Branch for Falcons practice
Not only do you get an early look at how great (or not) the Dirty Birds will be in this final season at the Georgia Dome, but it's free! Well, they don't give you gas money to drive to Flowery Branch, but you get the point.
Walk the Castleberry Hill Art Stroll
Yes, it involves walking outside any second Friday of the month, which is hot in the non-sexy way. But you will usually find chilled white wine (or room-temperature red, if you're crazy) waiting for you inside one of the various galleries (some of which we told you about recently) on Nelson St, Peters St, and nearby blocks.
Go snorkeling
You can do this at both Conasauga River (via Georgia Conservancy), and at Georgia Aquarium. The latter is done with whale sharks and manta rays, FYI.
Hear Friday Jazz at The High
This is year-long, but summer weather makes getting inside on muggy evenings every third Friday even more rewarding. Admission is just $10, and you get live music while you cop cocktails and pretend to be looking at art instead of singles. And if that doesn't work, join the Drawing in the Galleries group where you can participate in live drawing/sketching of models.
Try stand-up paddleboarding at Morgan Falls Overlook Park
You can rent a paddleboard right there from Thursday to Sunday at High Country through September, and the river entry point lets you coast right into the water.
Sign up here for our daily Atlanta email and be the first to get all the food/drink/fun the ATL has to offer.