There's one indisputable place where you can always go to find someone very funny to laugh at... but Florida is hours away, and it's not like Jeb Bush will let visitors into his house for another few months anyway. Find the next best thing -- actual, intentional comedy -- at the great Atlanta spots below, where real joke-tellers put on real joke-telling shows.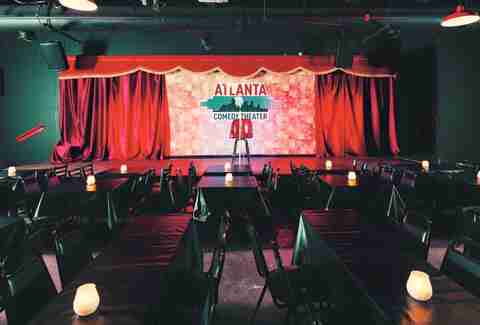 Norcross
With the appeal of an Elk's or FOP lodge, and featuring walls draped with red curtains against brush-metal-black-painted walls, this urban-contemporary comedy shop seats 300, serves reasonably priced/good bar food ($10.99 gets you a burger, a Philly, three tacos, or a few other options), and regularly puts comics from BET, HBO, and even ATL (the brokest network ever) on stage.
Little 5 Points
Star Bar's originally a dive that has opened its creaky, beer-stained doors to the standup community. They're doing a Monday Night Comedy mic and here's what you need to know: the host's name is Rotknee, the theme is "underground" comedy (which is to say, more avant-garde with both pros and amateurs testing out new and weird material), the crowd is consistent and lively, and the admission is free for the 8pm show -- which again, happens every Monday night.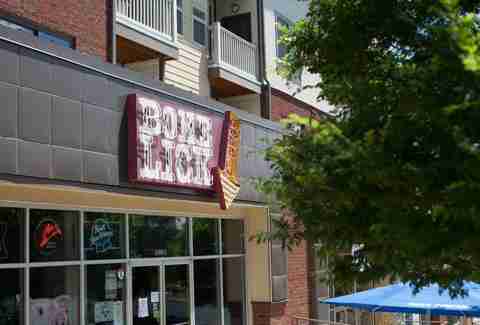 Old 4th Ward (& Other Locations)
Every Sunday at the new Edgewood location, this BBQ restaurant cum comedy club offers an open mic starting at 9:30pm. At the Westside location, the jokes are told on Wednesdays at 9pm (bi-weekly). And having two separate options to see comedy is all the more reason to order a single rib at each one (which they've always sold, and was also a comedic bit that sort of made Chris Rock famous).
Midtown
This super-intimate comedy club packs in three open mic nights a week, gets comedians who you've seen -- or haven't -- on Conan, Howard Stern, MTV, Comedy Central, and other major shows and networks, and is attached to the midtown Vortex, so you can get one of our most legendary local burgers and beers: the Laughing Skull amber ale from ATL's Red Brick Brewing.
Buckhead
A legit, all-week comedy joint, open since 1982, The Punchline moved to Landmark Diner last year but has kept loyal customers through the move from Sandy Springs since they basically launched Hapeville-raised comedian Jeff Foxworthy, and have hosted legends of the last several decades including Richard Pryor, Jerry Seinfeld, Dave Chappelle, Jay Leno, Eddie Murphy and others.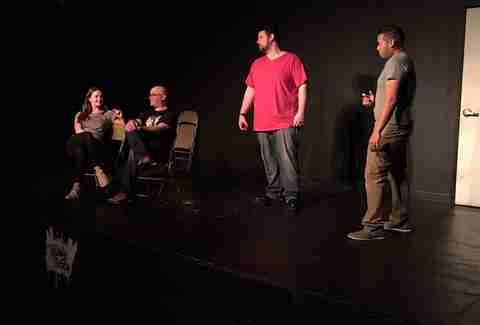 Old 4th Ward
Not only is the location great in case you drink to the point where everything is funny (the King Memorial MARTA station is across the street), but this loft-located venue offers recurring shows like "Atlanta Explained", which is like a comedic improv news program about what's happening in town. There's also "Underwear Comedy Party" -- a monthly show where stand-up comics perform in their draws.
Westside
Voted "Most Def-Comedy-Jam-like Comedy Club in ATL" (by the author of the article you're reading right now), Uptown is known for having a celebrity/community stage, and folks like Kevin Hart, Mike Epps, Mo'Nique, DL Hughley, and Bruce-Bruce were allowed to hit it on their ways to regional and national name recognition. Hopefully you'll have a sense of humor about their two-menu-item-minimum purchasing policy. If not, the fact that they actually serve "Incredible Hulk" (Hennessy & Hypnotiq) is funny in and of itself.
OId 4th Ward
Running original shows like the lady-driven "Woman of the Year" and doing weekly improv competitions from TheatreSports to CageMatch, the home of Baconfest hasn't skipped a beat since losing its former building to the Inman Quarter development, still trying out new productions every Wednesday, offering classes to anybody wanting to learn the craft and letting rookies get on stage to entertain you with their awkward bravery.
Buckhead
This $12, weekly improv comedy show starts 8pm Saturday and features an in-house cast known as The Basement Players, who take audience suggestions and create skits and games out of them.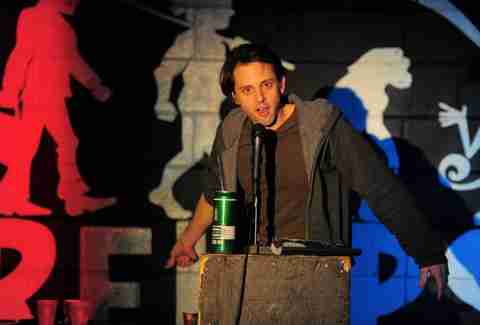 Home Park
Though it closed due to funding issues in 2013, Relapse is back and getting ready to officially open this spring. Until then, they're warming up with sneak-peek events like a live "Trump vs Bernie" comedy "debate" show, three days before the 2016 Georgia Primary.
West Midtown
Get laughs and lattes every Tuesday night from 8 to 9:30pm at the art-coffeehouse. UG lets you drop in and see local comedians for free, or try your luck at an amateur performance if there's time on the program.
Sign up here for our daily Atlanta email and be the first to get all the food/drink/fun the ATL has to offer.
Mike Jordan will show up and laugh for/at any aspiring comedians reading this story who are brave enough to get on stage at one of these open mics. Let him know on Twitter at @michaelbjordan if you're serious; he might sign up and try it that night too.