Every city -- no matter how big or small -- has notable places that can never be duplicated. And these are the same places you're supposed to visit at least once if you spend enough time there. But although some of them are wonderfully unique, others are straight-up corny, and how are you supposed to know the difference between them without a definitive list that ranks them all? You know what, don't even answer that. We've got you.
30. The Varsity
If some local insists on taking you here for dinner, ask if you can return the favor by taking them to the bathroom stall with you later. What'llyahavewhat'llyahavewhat'llyahave? A selfie, less money, and the BGs when you get home.
29. Underground Atlanta
The irony is that we're all pretty much over it.
28. The Margaret Mitchell House
A long time ago, someone bought a house on Peachtree, lived in it, and wrote a book there. Cool.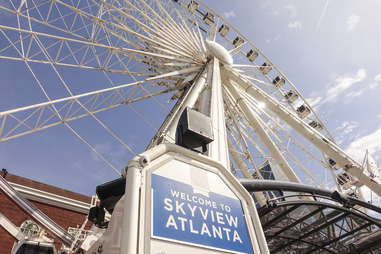 27. SkyView Atlanta
The big, bright Ferris wheel seems to have just rolled into town and stopped near the Tabernacle, like so many Lawrenceville residents attending a Slayer concert. Yes it's lit, but it's also goofy AF.
26. The Corey Tower
What would ATL be without a random phallic tube with an even-more-random digital billboard on the side of the highway? Flaccid, I guess.
25. Atlanta Cyclorama & Civil War Museum
It's on the move right now from Zoo Atlanta to the Atlanta History Center and won't be viewable for a couple years, but it still exists. And the fact that it's even possible to create what looks like a moving visual, circular interpretation of The Battle of Atlanta is perplexing. Especially because it's not about the one between Young Jeezy and Gucci Mane.
24. Atlanta History Center
Ever wanted to learn more about ATL? You could of course watch the movie -- T.I. really isn't a bad actor! -- or you could get serious and visit the AHC in Buckhead. If nothing else, it'll make you feel some sort of ownership of our city, and lord knows that will go away as soon as you walk outside and see all those surrounding Paces Ferry mansions.
23. Swan House
It's a lovely old Renaissance-revival-styled Buckhead mansion, calling out to your eyes to swoon over its old-school glamour and Southern charm. Too bad it was paid for with cotton money that was, um... "earned." Right.
22. Atlanta Botanical Garden
Walking around and breathing in the fragrant air is enough to make your lover forgive all of your stupidity and unwarranted jokes. Everybody should go here at least once a year -- it's good for your soul.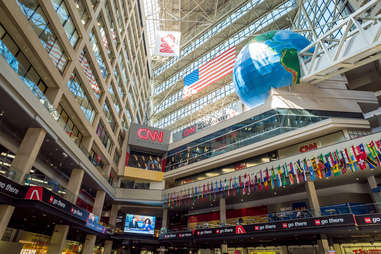 21. CNN Center
You may not even watch much CNN, but it's cool to know that the network Ted Turner built does much of its broadcasting right here. If nothing else, it increases the chances that you'll one day run into Don Lemon at the airport and tell him how you really feel.
20. APEX Museum
It stands for "African-American Panoramic Experience," and it gives visitors a great view into the societal contributions and historic achievements of Atlanta's largest demographic group, from entrepreneurs and inventors to pioneers of entertainment and cultural icons.
19. Callanwolde
This historic Candler family home was built with Coke money and has become a great fine arts center. This is one of those places you definitely DO NOT wanna be at seen with a Pepsi.
18. East Lake Golf Club
Bobby Jones designed it, and yes, everybody flips out over Augusta National. But you certainly don't feel like you're in a lesser place when you're out on the immaculate greens watching -- or playing -- a round of golf where some of the greatest players in the world come to putt while people clap gently.
17. The Fox Theatre
The iconic sign on the corner of Peachtree and Ponce is a city treasure in and of itself. Built in 1929, it's survived all sorts of financial brinksmanship and threats of permanent closure, yet continues to host world-class stage shows and movie screenings.
16. Jimmy Carter Presidential Library & Museum
Mr. Peanut's term in office was only four years, but he'll always be ATL's POTUS, and you can't help but enjoy sitting in the Oval Office replica and checking out memorabilia and photos of this amazingly beautiful man staring at things and posing with rotary phones.
15. Krog Sreet Tunnel
Entering it for the first time feels like the worst idea ever, but with all the amazing, ever-changing graffiti adorning the walls -- legally allowed by the owners and the city -- you feel like you're moving through a painting, albeit one that is admittedly sketch.
14. Oakland Cemetery
So many dead Confederate soldiers you can walk on!
13. Fernbank Museum of Natural History
The complete skeleton of the largest dinosaur to ever live, Argentinosaurus, is here. It was about 130ft long and 24ft high and wasn't afraid of nothin'! Except unexpected asteroids.
12. The National Center for Civil & Human Rights
A museum that explains humankind's struggle for equality and justice, the CCHR is a great place to go for insights into what folks went through to get us where we are today, and to remind us of the continued efforts needed to get us to a greater place. Or at least past this current election.
11. World of Coca-Cola
They have a tour video that is very likely to make you shed a brown, sugary tear of joy. They have machines that let you make the worst -- or best -- take on a Coke anybody's ever attempted. They also have the OG recipe safely guarded inside a big-ass vault, and all sorts of interactive exhibits dedicated to Atlanta's most famous beverage.
10. Georgia State Capitol
How the hell do you not include a place with a dome capped with real, actual gold? Even if nothing good ever happens underneath it, it's still flossy.
9. Stone Mountain
Sure, it used to be a meeting place for some very lame people who carved their lame heroes into the side of the stone, but whatever. There may still be a chance for us to have OutKast, riding in a Cadillac, added to The Rock. And whatever the history, people reclaim it every day just by repeating the achievement of hiking all the way to the top.
8. Georgia Aquarium
Attending an event in the western hemisphere's largest fish pool, or just taking the usual tour, is amazing. Going deeper into the water, and your pockets, for a swim with the whale sharks is one of the greatest things you can do in Atlanta, period.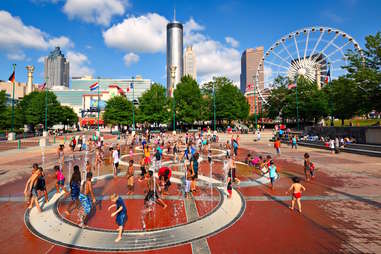 7. Centennial Olympic Park
Yes, its introduction to the world was a literal bomb, but since then it has become a fantastic space where we can drink wine on Wednesdays, attend summer and fall festivals, and even see concerts like last year's ATLast event celebrating OutKast's 20-year anniversary with three days of performances. And it's OK to admit that you still run through the Olympic ring fountain with other actual children.
6. High Museum of Art
Some people think it's cliché to be a regular attendee of your city's main art museum. The High, if it actually could, would slap some cool into you for not being aware that they have a highly popular monthly live jazz event, incredible shows ranging from Dalí to Basquiat, gallery talks with some of our smartest, artsiest neighbors, and free days for residents.
5. The Big Chicken
There's a reason you see this big wooden bird painted, sewn, stitched, screen-printed, and carved into every medium of arts/crafts imaginable at summer and fall festivals. It's ridiculous, therefore it is Atlanta.
4. Zoo Atlanta
We have more pandas than a fake Future, and you should go meet their cute little selves, along with all the other amazing animals that live in Grant Park. Try not to let the jealousy of them having a home in such a fantastic area get to you.
3. Ebenezer Baptist Church
Dr. Martin Luther King Jr. preached sermons from the pulpit of this super-important Atlanta place of religious worship, and it is still a gathering place for people who seek to collectively express the need for change in our city, country, and world.
2. The Dwarf House
Chick-fil-A had to start somewhere, and that place is this Hapeville mini-castle -- an absurd hybrid of a breakfast diner and a home for actual dwarves, with tiny doors and other strangeness to go with your favorite sandwich and nuggets.
1. MLK Jr. National Historic Site
It's the birthplace of one of history's greatest men, right here on Auburn Ave. If you didn't think this would be No. 1, you're probably eating a chili dog at The Varsity.
Sign up here for our daily Atlanta email and be the first to get all the food/drink/fun the ATL has to offer.