The Best Atlanta Farmers Market in Every Neighborhood
Where to shop local and sustainable in and around the city.
Despite its position as the largest city in the South, Atlanta's friendly neighborhoods are full of small town charm. Some of that charm comes courtesy of farmers markets, where you can stoll with a cup of coffee, do your weekly shopping, and mingle with local producers—all while supporting small businesses and doing your part to be sustainable. From fruits and veggies to gourmet foods and specialty treats, these markets have it all. So skip a trip to the standard grocery store and find a hyper-local alternative on this list of the best farmers markets in Atlanta.
Every day
Forest Park
Open 24 hours a day, seven days a week, the Atlanta State Farmers Market is truly one of its kind. It's the largest farmers market in Georgia, sprawling over 150 acres and featuring more than 200 vendors. This major retail and distribution hub sells a variety of fresh local fruits, vegetables, flowers, and plants, plus other destinations are on site like the Jam'n Designs garden center which has a large selection of pots, fountains, chimes, and pottery for the home. Stop by to buy ingredients to take home or explore the market before heading to food trucks and cafes serving BBQ and Mexican cuisines.
Monday through Saturday from 8 am to 6 pm
Sweet Auburn
The Sweet Auburn Curb Market is an indoor marketplace located in a historic 1924 building featuring 30 local businesses as well as The Learning Kitchen cooking school. It is open year-round and is a popular place to shop or grab breakfast and lunch. You can get a variety of flavors to munch, from tacos and gourmet sandwiches to soul food and African delicacies. Vendors also sell fresh produce, meat, seafood, bread, and confectionery items.
Wednesdays from 4 to 7 pm
Decatur
The hip neighborhood of Decatur was one of the first to lean into the farm-to-table movement in the Atlanta suburbs. Here you can discover eclectic flavors like Syrian spinach-stuffed fattair from Aleppo Kitchen, Mrs. Rosas Latin inspired-cheeses and snack, and Sincerely by Paryani's nutritious cashew turmeric bites. The weekly farmer's market takes place on Wednesdays and offers plenty of lawn space for families, kids, and leashed dogs to play. The full market is open from March to November and the mini-market is held during the colder months from January to March.
Wednesdays from 4 to 7 pm
East Point
With live music, bike rides, and tons of shopping options, the East Point Farmers Market is a fun spot to spend time after work. Beyond standard farmers market produce, you'll also find handmade art, textiles, dolls, jewelry, and soaps. Located at The Commons, the market is open from March to December.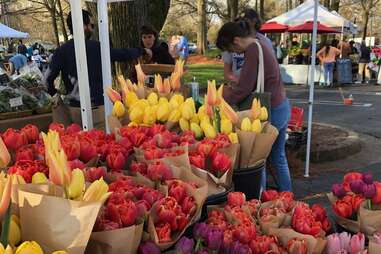 Saturdays from 8:30 am to noon
Inman Park
Located at the Carter Center and only steps away from Freedom Park Trail, this local neighborhood market is a must for families who are looking for local and sustainable food. It is easily accessible by walking, biking, driving, or MARTA. This year-round market is a great place to start your weekend with a cup of 1000 Faces Coffee along with fresh baked pastries from popular chef-driven establishments like Star Provisions and Little Tart Bakeshop. You can also find live music, a kid's tent, and chef-prepared foods to take home.
Saturdays from 8:30 am to noon
Peachtree Heights
The Peachtree Road Farmers Market is one of the largest producer-only farmers markets in metro Atlanta, located at the Cathedral of St. Philip. Visit when the market is open from March through December and expect 100% locally grown, raised, and made products. Pick up a pan of decadent Anna Bells' Mac and Cheese (a 100-year old recipe) for yourself and preservative-free Lickin' Chicken Barkful dog food for your four-legged companions, and everyone in the family will be well nourished. There are also chef demonstrations, kids' programs and live music providing entertainment for all ages.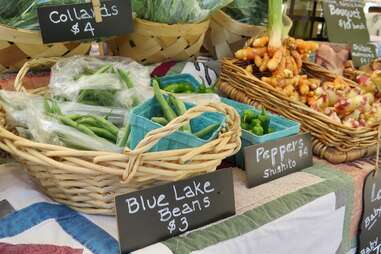 Saturdays from 9 am to 1 pm
Midtown
Located at the largest city park in downtown Atlanta, the Piedmont Park Green Market offers a great spot to stroll and enjoy fresh air while grabbing a meal or shopping for artisan and prepared foods. Buy directly from family-owned and -operated farms such as Dayspring Dairy, Furrowed Earth Farm, and Four Bellies Farm. You will also find live music, chef demonstrations, and activity areas for kids.
Thursdays from 4 to 8 pm
East Atlanta Village
Located in a lush green park, the East Atlanta Village Farmers Market is a weekly community-driven farmers market that takes place from March through November. It is one of the oldest farmers markets in Atlanta, featuring local vendors selling sustainably and ethically produced vegetables and fruit, organic meats, dairy and eggs, artisan breads, soaps, and jewelry. There are also live chef demonstrations and an on-site Edible Learning Garden so you can cook like a pro.
Saturdays from 8 to 11:30 am
Morningside
Located at the Morningside Presbyterian Church, the Morningside Farmers Market offers an intimate community atmosphere. Here you will find flowers, ice cream, produce, meat, pancake mixes, and a variety of prepared foods. Shop for probiotic foods, such as kefir and kombucha from Ancient Awakenings; organic, vegan, and dairy-free nutrition packed beverages from Astronut; and fresh Georgia caught shrimp from Captain Don's Seafood. Morningside is the first market in Atlanta to require all produce to be certified organic.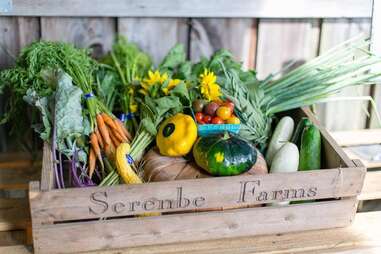 Saturdays from 9 am to 1 pm
Chattahoochee Hills
Located south of the city in a residential community, the Serenbe Farmers Market is known to support the agriculture economy through its own 25-acre organic farm producing more than 300 varieties of fruits, vegetables, herbs, and flowers. Held outdoors at the Selbourne Green from March to October, the market has a vibrant natural backdrop of the countryside. Look for seasonal heirloom and hybrid vegetables, pies, jams, flowers, and plants.
Sundays from 9 am to 1 pm
Grant Park
Held year-round, rain or shine, the Grant Park Farmers Market located outside Zoo Atlanta, is where you will find celebrity chef demonstrations, food bloggers, and culinary critics gathered on Sunday mornings. Commune at the picnic tables over indulgent Shrimp and Grits Crepes from Crepe Masters and take home a pint of Potato Leek Soup with a loaf of rye from The General Muir (aka TGM Bread). The market features rotating, seasonal vendors offering freshly prepared food, baked goods, nut butters, cold pressed juices, honey, and more.
Sucheta Rawal is a contributor to Thrillist.