Haunted houses are getting to the point where you might just stay at your own house, because they're a little too-damn-haunted. As Atlanta becomes more and more of a movie-industry hub, the production value, makeup, and stories at these creepy domiciles get more and more intense and more and more horrifying. If unfathomable dread is the kind of thing you're into, well, this is the list for you: The most profoundly unsettling ones are listed below. If not, maybe just check out our calendar of all the other fun stuff going on in Atlanta this fall.
Newnan
Tired of playing games with you scaredy cats, 13 Stories went from 2 Chainz's Haunted Pink Trap House last year to an all-extreme version of itself, meaning you're signing a waiver to experience anything (although they'll provide you a "chicken ticket" if you insist on a lighter version). The main new attraction is called "Clown Haus Returns," where evil jesters have taken over a carnival and are doing very unjovial things. There's even a "backstage" element, where you get to see the administrative and behind-the-scenes stuff the hellspawn clowns have to do when they're not performing, such as "Inhuman Resources" HR scene, and employee childcare (yikes).
Cost: $25 - $45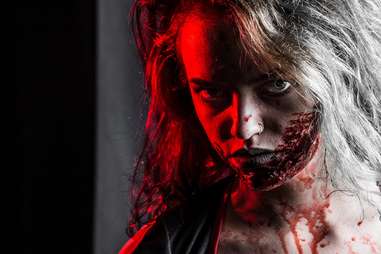 Canton
There are two attractions here: Quarantine and Hexed, which you can do separately or as a combo. The former is asylum-themed, with government secrets and other disturbing stuff/creatures behind shouldn't-be-open-but-are bunker gates. Then there's Hexed, which is about magic in the hands of the wrong people, with effects that turn not only animals but the actual forest against you.
Cost: $25 - $50
Stone Mountain
Netherworld, which is notorious for having some of the most realistic fear-inducing detail and character portrayals in the country, increased its escape rooms from three to four since last year, and now has a new pair of "haunt" scares. Alien reptiles are cloned and turned into living weapons in "Cold Blooded," and warriors in the mold of Medusa have an apocalyptic cult and want you to join it in the worst way in "Night of the Gorgon." For a few extra dollars you can get a speed pass to skip the line.
Cost: $20-$60
Lithia Springs
The Classic Paintball grounds become a hellscape of wrought iron and shipping containers that become "gateways to the afterlife," where shadows turn living beings into things you don't want to be in enclosed spaces with. There are no age restrictions but the recommend kids be at least 13.
Cost: $22 until October 14; $25 after
Ackworth
"Chromophobia," "The Manor," and "Asylum '67" are the three attractions for this year's Folklore, which without giving away too much are sort of like Mardi Gras with madness beneath the masks, The Shining, and a Georgia place of mental illness, but back in the late '60s, when laws and such were very different. They advise discretion, and suggest you keep kids under 12 years old at home. Get tickets for November 1 and 2's Glowstick Fright Nights, where your whole group will get a single green light cylinder to walk through all three attractions, which'll be pitch-black.
Cost: $27 - $45
Stockbridge
You can go to war against virus-infected demons in "Paranoia," the interactive, first-person, live-action shooter combat game, or do the "Psycho" ticket level, where you'll have to experience the terrors from a little girl's nightmares in "Haunted House," then there's the Terror Transport and Haunted Trail, where you get dropped off in the middle of pitch-black nowhere and have to walk (maybe run) from a family of farming cannibals. They don't recommend children under 13, but they also won't turn them away.
Cost: $20 for individual attractions; $35 for three-attraction combo
Powder Springs
This year you can join a new escape adventure inspired by Hopper's Cabin, featured frequently in Seasons 2 and 3 of "Stranger Things," since the actual location is right here on Sleepy Hollow Farm. There's also The Cabin Fun House Massacre, where you not only have to get away from terrors inside a place that's only fun if you're a masochist, not to mention the isolated cabin where the funhouse owner lives (you are very unwelcome). There's also The Clown: Big Top Terror (imagine a clown who spends his time in the woods), and a post-apocalyptic escape called The Bunker, where you probably won't find Archie, at least in one piece.
Cost: $33 per person; $330 for a private experience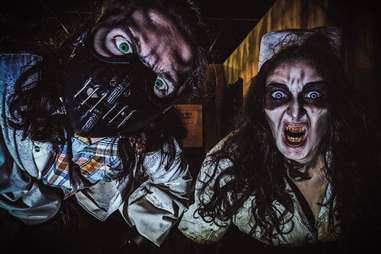 Douglasville
Based on a hospital that has let a terrible infection spread from patients to doctors, nurses, and beyond, Nightmare's concept is 30 minutes long and wants to prolong the discomfort of being surrounded by dangerously unhealthy (to say the least) beings. Don't get touched as these things reach for you, since it's currently being treated by a CDC doctor who is apparently splicing "the best of modern medicine and the most barbaric of treatments ever devised by man." Yes, you are doomed.
Cost: $25
Buford
Just read the story and you'll feel freaked out before even buying a ticket. A beyond-sketchy consortium of carnival clowns who should not be around normal people. Prison sentences. A wooded area where performers seeking revenge are still lurking. Sounds like a nice autumn hike right? Wrong. Very wrong.
Cost: $15 - $25
Rome
You'll wish you had two phones like Kevin Gates, and a billionaire emergency contact like Melinda, when you find yourself in a two-story, century-old building in the kind of Rome where you don't want to do as the Romans do. It involves murderous visitors coming through portals, or "rifts torn between this universe and others that have given many dark creatures access to our world."
Cost: $20
Sign up here for our daily Atlanta email and be the first to get all the food/drink/fun the ATL has to offer.
A longtime journalist, novelist, and lifelong music lover, Jacinta Howard resides in the Atlanta area, and she ain't neva scared. Unless shit is real. Tweet her at @jacintahoward.