Living near the world's busiest airport means having the option of catching direct flights to some of the world's coolest places. But sometimes we Atlantans forget just how fun it can be to hop in a car and ride out of town on a summer Friday. Then again, some of us work in Atlanta but actually live in Suwanee, which is kind of similar, except that it absolutely sucks. For an enjoyable place that probably takes just as long -- but not because of suicide-inducing traffic -- try one of these under-five-hour road trips from Atlanta. They're guaranteed to make you cool... in various ways.
Fort Walton Beach
Distance from Atlanta: 323 miles southeast; five hours
You'll question why anybody needs to fly outside of the continental US once you see the powdery white sands and exotic turquoise waters of Destin, Okaloosa Island, and Fort Walton Beach. Spend the whole trip drinking and beaching (this is a perfectly fine option), or rent a Jet Ski, pontoon, or fishing boat (plus bait and other gear) at Destin Marina -- or one of a hundred more. Hell, reserve a yacht and dive off for some private snorkeling if you want. Get Downtown to Fort Walton Landing early enough on Friday and catch a free weekly concert through July 15th.
Bowling Green
Distance from Atlanta: 311 miles; four hours, 45 minutes
This picturesque Kentucky town's got an underground cave system with a river running through it where you can take a seven-mile boat tour with guides who tell entertaining lies about how Lost River was once a Jesse James hiding place, and fascinating truths about how the cave once housed a Prohibition-era jazz nightclub where you could semi-legally get outlaw-style tipsy. Eat at Lost River Pizza (no relation) while you're there, and have small-batch local beer with dinner at White Squirrel Brewery. That's all cool enough, but you might feel at least a little dumb if you forget to visit the National Corvette Museum, or if you do visit, but get caught sportscar-slobbering.
Greenville
Distance from Atlanta: 145 miles; two hours, 10 mins
Weaving through Downtown, and featuring a trippy, night-lit, ultra-slim bridge crossing over cascading waterfalls, is the 32-acre Falls Park on the Reedy -- not a bad place to hide out from the Atlanta heat for a weekend. Just outside the city limits in a town called Cleveland is Mountain Bridge Wilderness Area, which contains the LeBron James of South Carolina's waterfalls: the 420ft Raven Cliff Falls. Mountain Bridge also contains both Jones Gap and Caesars Head State Park, making it a total of 11,000 acres with almost 40 miles of trails through the SC backcountry. Make sure to bring swimwear for the walk along the Middle Saluda River; it has a few pool areas where, when the Heat gets brutal, you can (wait for it)... Wade.
Hilton Head
Distance from Atlanta: 281 miles; four hours
It's pricier than other nearby options (Holiday Inn is almost $200 a night), but it's worth the drive and the dollar to get to the island's well-kept public access shores. Coligny is nice, albeit a bit ritzy. If you're looking for less frills, Folly Field and Burkes are the regular guys of the group, and Islanders is best for group barbecues. There are several hourly suppliers of kayaks, which you can take out on creeks (Broad, Skull, etc.), or among dolphins at Calibogue Sound. Hit Hilton Head Brewing Company for further reduction of body heat and brain cells when the day dies down.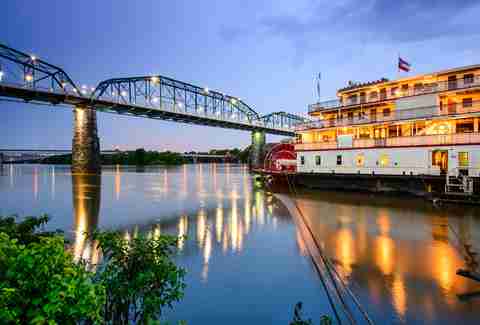 Chattanooga
Distance from Atlanta: 118 miles; two hours
The RiverPark, though it's usually called the "Riverwalk" because of the paved walkway on the edge of the Tennessee River (and because people from the South are rebellious about everything), is what made Downtown Chattanooga possibly the best bang-for-buck getaway in the vicinity. June 10th-18th welcomes the annual Riverbend Festival with 100+ musical acts performing live, and Nightfall Fridays brings free outdoor musical performances every summer weekend starting at 7pm, until August 16th. Cross the Tennessee via the pedestrian Walnut Street Bridge, or go underneath it and run through the Coolidge Park water fountain, good for a liquid jolt prior to the one you'll get on the rocks at Tennessee Stillhouse, the first distillery in Downtown in over 100 years.
Golden Isles (St. Simons, Little St. Simons, Jekyll, and Sea Islands)
Distance from Atlanta: 280 miles; four hours
Baller alert: the four barrier islands floating in the Atlantic just off the border of Brunswick -- St. Simons, Little St. Simons, Jekyll, and Sea Islands -- were once basically restricted to Illuminati-level rich folks. Now, aside from The Lodge on Little St. Simons, which is upwards of $950 per night and only allows 30 guests at a time, it's much easier to reserve a villa or rental house, unless you really want to book one of the five-star resorts. St. Simons is the largest and easiest for the public to access, with a public pool, golfing, sand that's whiter than Bill Gates, and summer events. Jekyll is another step up, while Sea Island is known for The Cloister resort, which isn't cheap, but is spectacular. Start saving now... for next summer.
Lake Oconee
Distance from Atlanta: 84 miles; one hour, 10 minutes
Located in Greensboro, GA, just an hour west of Augusta National is Reynolds Plantation, a dogwood- and azalea-dotted lakeside retreat with six golf courses, nine restaurants (including Linger Longer Steakhouse), four marinas, almost two dozen miles of trails for hiking and biking, a pristine tennis club, and a spa where you can get rubbed with Georgia red clay and sprayed with an overhead shower while hot stones lay on your back. There's also wakeboarding, water-skiing, horseback riding, and skeet-shooting, and you can even see a bald eagle colony if you want. It's a model of easy Southern livin' with a Ritz-Carlton resort serving as its centerpiece, and it offers days of shade... which is what your uninvited pals will be throwing at you after seeing the 'grams.
Charleston
Distance from Atlanta: 320 miles; five hours
The city itself gets hot as heck ("hell" in proper Southern etiquette/slang) during the summer months, but cooling off after your arrival is easier when you're sucking down "farm-to-shaker" craft beverages like the Cold Comfort (Rittenhouse Rye, Cynar 70, house-made pistachio orgeat syrup, lemon juice, and saline solution) at The Cocktail Club, or a local beer at Bar Mash. We've told you before about the West End's Beachwalker Park, your single option for Kiawah Island shoreline-hanging if you didn't bring enough cash to buy out one of the private homes with exclusive access to the rest of the 10-mile shoreline. Also try Sullivan's Island, Folly Beach, or Isle of Palms, three barrier islands off the coast.
Cumberland Island
Distance from Atlanta: 263 miles; five hours
You'll have to make reservations on a morning passenger ferry from St. Mary's, GA over to the island, but getting there to see the trippy Dungeness mansion ruins, unspoiled beaches littered with shark teeth, and wild horses running around near the water is worth the trouble. Private boats are rentable, and swimming is allowed anywhere on the island at your own risk (alligators love when outsiders try to join their already overcrowded pond parties). You can stay at the Carnegie family-owned, all-inclusive Greyfield Inn for a minimum of two nights at a total cost of around $1,200, or you can camp it out for $2-4 per person, per day, on one of multiple campground sites.
Smoky Mountains (Pigeon Forge, TN)
Distance from Atlanta: 164 miles; two hours, 45 mins
Moonshine! It's awful! But it's decidedly less awful when you sip it high above Pigeon Forge, TN, at the Ole Smoky Tennessee moonshine distillery called the Ole Smoky Barn, where temperatures in the higher elevations are usually at least 10 degrees cooler than downhill. A recently built entertainment complex called The Island offers 300,000sqft of retail, and dining featuring everything from German bratwurst stands to bison chili and Dutch oven chicken pot pies at Timberwood Grill. Plus there's live music, trampoline bungee jumping, and further drinking at either Dude's Daiquiris or via the "Frozen Concoction Maker" setup in your hotel room if you spend a night at Margaritaville Island Hotel.
Tybee Island
Distance from Atlanta: 265 miles; four hours
Just outside Savannah, Tybee is the nearest beach to Atlanta, and provides plenty of watersport activities, from stand-up paddleboarding to parasailing and surfing lessons. The average high temperature in July is only 88, which means you'll do well to visit the satellite location of ATL's own King of Pops on Butler Ave, not far from where the tide hits the sand. Since the island is less than three miles long, it's a good idea to rent a bike from either Tim's or Fat Tire, or go dolphin-watching on a chartered boat while you try your hand at light inland fishing, as you use artificial bait to "troll and pitch," which you can do later that night on Tinder if your summer fling declines your invitation to make the trip.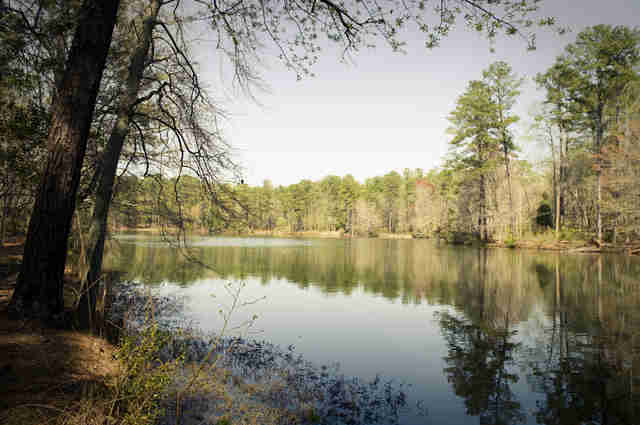 Callaway Gardens
Distance from Atlanta: 80 miles; one hour, 15 mins
Head to Pine Mountain and stay over at The Lodge and Spa at Callaway Gardens for the picturesque surroundings. There's flora and forestation as far as your eyes can flicker, or at least 6,000 acres, for those of you with X-ray vision or something. A summer-only cabana bar sits right near the pool, and when you're tired of drinking in cool water, you can go tubing on the 65-acre Robin Lake, then dry off via a 70ft-high zip-line or by biking through a 10-mile nature trail.
Amicalola Falls State Park
Distance from Atlanta: 72 miles; one hour, 30 mins
It's the home of Amicalola Falls, the tallest cascading waterfall in the Southeast (unless someone else recently built one higher than 729ft), and you have to admit that there are less-picturesque places to take a hike in Georgia. Be sure to peep down the mountain for a look at a Prohibition-era moonshine-running truck that accidentally fell down into the trees trying to avoid capture. Also take the under-10-mile trek to Springer Mountain (yes, the home of the yummy chicken you always eat at finer ATL restos!), and stay at the mountaintop lodge, or one of the campground cottages. If you need to cool down from spending the first half of the year overworked, take a five-mile hike through the woods to Hike Inn, a backcountry lodge with 20 rooms -- but no outlets for any electricity besides the lights.
Barnsley Resort
Distance from Atlanta: 69 miles; one hour, 10 minutes
Repping the Georgia side of the Blue Ridge Mountains, Barnsley offers a golfing/gardening escape in the form of a championship course designed around a super-lush heirloom garden by acclaimed greens designer Jim Fazio. Take a rented mountain bike or cruiser through the 12 miles of trails, then play paintball on Wolf Cave Mountain Field, where you can crouch and hide behind giant pieces of wood. Aside from the mountain views and Chattahoochee River tours to see waterfalls, you can visit one of several local wineries to stay chill, or ask for the resorts-exclusive brew made by Atlanta's own Monday Night Brewing: Englishman's ESB (Extra Special Bitters).
Asheville
Distance from Atlanta: 208 miles; three hours, 15 minutes
There are worse ways to stay cool than drinking impressive amounts of quality local craft and microbrewed beers in the mountains. The climate is cool, with the highest temperature averaging only 85 in July (as opposed to 90 in Atlanta), and whether it's the dine-in movie theater at Asheville Brewing Company, live weekend music at Highland Brewing Company, or the taproom at Wicked Weed, you'll have plenty of cold liquids to fight off any unexpected heatwave. Every third Friday through September there's a free concert called Downtown After 5, and there are hundreds of waterfalls to find (as well as a 60ft natural waterslide made of rock), whitewater rafting expeditions, and a 6,000ft peak called Mount Mitchell, where you can stand and say something like "COOL!" on the highest elevation east of the Mississippi.
Sign up here for our daily Atlanta email and be the first to get all the food/drink/fun the ATL has to offer.