Atlanta is one of those cities that gets a lot of people in on the weekends -- because, well, we rule. But the downside of being so great is that we end up pretty much at capacity, which means it's not a bad idea to get the hell out of town when the randos take over the streets and start asking you where to eat in Atlanta and what the actually cool things to do are. But where to go when it's time to duck away to somewhere not too far, but also not too-too close? These are the best options for your next weekend getaway by car. All of that fun Atlanta stuff will still be here when you get back.
Best Downtown: Durham, North Carolina
Spend the first night in downtown Durham, opting either for a bit of mid-century modern luxury at The Durham Hotel (be sure to have a cocktail with a panoramic view upstairs at The Roof), or the funkily renovated motel Unscripted, where you'll get a free flute of Champagne at check-in. It too has a rooftop hangout called The Patio on the third floor, where you'll find a container bar and swimming pool. Get a good look out into the Bull City, then ride over to Durham Distillery to see how a married couple uses pharmaceutical machines to cold-distill cucumber vodka and to taste American Dry and Navy Strength versions of its Conniption Gin. You can have that later in cocktails at Alley Twenty Six (if the immaculately balanced tiki "Paw Paw Paradise" is available, get it) or across the street at Kingfisher, an old office basement transformed into a new subterranean sipping escape. But before that, head southwest to Sister Liu's Kitchen, because it's only open until 8pm and not at all on Sundays, and it'd be a shame if you missed some of the best handmade shrimp, pork, or beef dumplings in the US. When morning comes, get back in the game with pastries like the brioche "tuffet" or a personal turkey pot pie from East Durham Bake Shop. Finally, choose one of four downtown restaurants from chef Michael Lee, whether you want Korean small plates at M Pocha (his newest), Korean fried chicken and ramen at M Kokko, and omakase-style cuisines at M Sushi and M Tempura.
By car: 5 hours, 30 minutes
Best Food Getaway: Raleigh, North Carolina
A six-hour drive has to be worth the trip, and in the case of Raleigh, the payoff is being fed amazing food and drinks by a community of talented folks -- many recognized repeatedly by the James Beard Foundation -- mounting a serious culinary challenge to the southeast's usual suspects. There's food from Ashley Christensen, whose flagship Poole's Diner is a veritable landmark (the mac and cheese is mandatory), yet she's still opening new spots like the adjacent and properly named Poole'side Pies, which is designed with elements of a natatorium and serves Neapolitan-style pizza you'll find hard to stop eating. AC is far from the only game in town; JBF nominee Scott Crawford has one of the hottest new restaurants in town at Jolie, in the historic Oakwood neighborhood but as close to Parisian perfection as North Carolina gets. If you can't get a reservation (it might be tough, so be flexible), you'll probably have easier luck nextdoor at his more casual Crawford & Son, and it's still outstanding. Make sure to dig into Raleigh's culinary diversity, from Chef Oscar Diaz's Mexican-influenced seafood at The Cortez, to restaurateur/chef/guitarist Cheetie Kumar's Pan-Asian and Indian shareables at Garland, plus the Laotian plates at Bida Manda, and the gorgeously appointed Brewery Bhavana, which is equal parts brewery, taproom, library, flower shop and dim sum restaurant, which somehow manages to be effortlessly simple with so much going on. And while we're talking beer, be sure to visit Raleigh Beer Garden, which has two Guinness World Records: one for most beer on tap, and another for having Earth's largest draught selection.
By car: 6 hours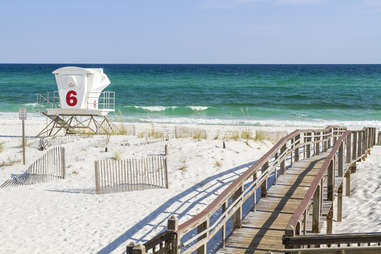 Best Affordable Beach Trip: Pensacola, Florida
Folks may brag more about time spent on other beaches along the Gulf of Mexico, but the truth is you're not likely to find a better deal in less than five hours of drive time. Pensacola's white sand beaches are surprisingly pristine and powdery, not to mention the sparkling blue-green waters. The pier on Fort Pickens Road is great for fishing, particularly king and Spanish mackerel, mahi, and cobia, or you can leave the line-reeling to professionals and dine during sunset at The Grand Marlin, a sprawling restaurant compound at the edge of the Santa Rosa Sound. For something a bit more southern, have a soul food dinner accompanied by live music at Five Sisters Blues Cafe in the Belmont-DeVilliers neighborhood, which has a Mississippi Blues Marker for its historic role as a stopping point for jazz, blues, and soul legends (B.B. King, Sam Cooke, etc.) along the famous "Chitlin' Circuit." Once you've had your beach fill, rent a kayak and paddle through a tour of Big Lagoon State Park in Perdido Key.
By car: 4 hours, 50 minutes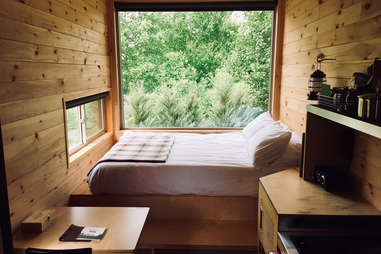 Best Mountain Getaway: Suches, Georgia
Until recently, folks who frequent the North Georgia mountains would be more likely to suggest just passing through Suches, an unincorporated community with just over 1,000 residents, on your way to Dahlonega or some other nearby town, rather than staying for a night. But with the arrival of Getaway, a campground of hardwood-lined, super-cozy cabins made from container units strewn throughout an area filled with hiking trails and surrounded by forest, you might want to ignore them. That's actually easy to do here, since the cell phone signal is intentionally bad, and you're encouraged to unplug and get back to nature. You've got a bathroom and shower, a plush bed next to a huge window looking out at the trees, a stocked fire pit outside and a stash of minibar food in case you forgot to bring your own (this includes a kit to make s'mores). It's super-romantic for two, and they have cabins for four in case you have friends or family you can tolerate being around in small spaces for a night or two, and it's one of the most relaxing trips you can take if you're comfortable committing to being as unplugged as possible.
By car: 1.5 hours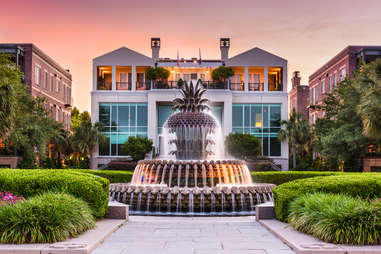 Best Hotel Getaway: Charleston, South Carolina
Downtown Charleston's Marion Square may have lost the old Charleston County Library, but replacing it with the newly constructed, 179-room Hotel Bennett is certainly more of a W than an L. Walk inside past the grand dual staircase and through the opulent rotunda with its maze-patterned floor, and you'll arrive in the reception area, where to your left is a mostly pink, egg-shaped Champagne bar named Camellias, where you can pair bubbly with ceviche and caviar. Pass the self-playing piano and keep right, and you'll arrive at the two-story restaurant Gabrielle, which boasts stellar red snapper, a range of steak cuts from 7oz center-cut filet to 14oz rib-eye, and special plates like prosciutto-wrapped monkfish. Hit your room and soak in the freestanding bathtub, which has a rack that'll hold a book and a cocktail in comfortable arm's reach, then dry off and play with the light and curtain controls using your TV remote, because maybe Charleston isn't so old-school after all. If Fiat Lux, the seasonal 9th floor rooftop pool is open, get up there and have an "Outcider" cocktail with Laird's Applejack brandy and maybe a plate of mixed Mediterranean mezze (hummus, tabbouleh, tzatziki, rosemary toast, etc.). Go to bed, wake up the next day and have a croissant or ham and brie sandwich for breakfast downstairs at La Pâtisserie, then hit the day spa for a 50-minute massage. And if you care to leave the hotel and see a little bit of Charleston, one of the best cities in the country with a bunch of fun stuff to do and an incredible roster of restaurants, that option is always available to you, too.
By car: 4 hours, 40 minutes
Best Familiar Escape: Birmingham, Alabama
Ever since the highway and interstate exits that lead into downtown Birmingham changed, the heart of the city has looked a lot different, in a good way. Known to locals by the nickname "The Magic City" (fun fact: There was once a location of Atlanta's famous Magic City strip club in downtown Bham), it's not an illusion -- this mid-state metropolis has come a very long way, even though it's not a very long drive on I-20 West to get here. And you can tell how close it is because all of a sudden, Atlanta is infiltrating Birmingham in several ways. Hop City has opened a beer store in town. Chef Adam Evans, who opened The Optimist as executive chef and ran the kitchen when it was recognized with all those national food press accolades, has his own seafood restaurant there called Automatic. It's among the best new restaurants in the country, which is important when you share the town with Highlands Bar & Grill, which the James Beard Foundation named its "outstanding" American restaurant last year. On top of that, Monday Night Brewing will open its first brewpub here in early 2020, joining stellar beer-makers like Good People and TrimTab. Oh, and be sure to hit Five Points South, which just like ATL's L5P neighborhood, is full of lovable weirdos and random shops.
By car: 2 hours
Best Place to Get Some Soul: Augusta, Georgia
Augusta National is indeed beautiful and impeccably maintained, but aside from The Masters you don't get much time to stick around, so spend time outside the green gates, out in the city where the "Godfather of Soul" James Brown, held court. The James Brown Family Historical Tour takes you through several significant landmarks, from the statue on Broad Street to the Augusta Museum of History, which has memorabilia including Brown's capes, awards, posters, and photographs. While you're feeling good, hit The Soul Bar and have a drink where James once hung out in the evenings. Augusta also has a solid sandwich community; definitely stop in at the boxing-inspired Knuckle Sandwiches for an "Uppercut" cheesesteak and some of the best fries you'll ever have. Then have one of the gourmet grilled cheese sammies at Arsenal Tap Room + Kitchen, which they have in predetermined formats like The Gov (government cheese on Texas toast), or you can make your own with options like gouda and peppered bacon on rosemary focaccia. They also have a really well-curated selection of craft beers (150+), including some stellar sours and wild ales from as far as Illinois' Une Année Brewery, plus ciders, meads, stouts, and more, with some ATL-based beer-makers like Orpheus and Wrecking Bar represented. Stay at The Partridge Inn, which is more than 100 years old and overlooks downtown from an elevated perch just five minutes west. While you're there, have a lunch at Jackie M's & Son, where you can grab Jamaican beef patties, Philly sandwiches, or a deep-fried jerk "soul roll," before walking around the restaurant's exterior and taking selfies in front of murals of legendary musicians including James Brown, Bootsy Collins, Whitney Houston, and even... underground rap hero MF Doom?! Also, you get a free house-dubbed mixtape that could be anything the chef feels like putting on a CD (jazz, funk, R&B) with your meal, while supplies last.
By car: 2 hours, 10 minutes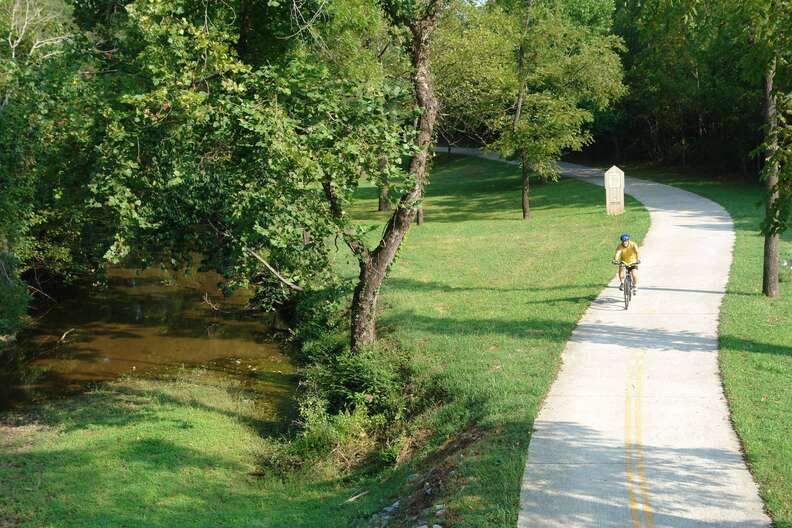 Best Place to Start a Cycling Journey: Smyrna, Georgia
The Silver Comet Trail is one of those local amenities that many Atlantans have heard about but haven't actually visited, which is particularly crazy if you're a biking enthusiast. That's because it's the second-longest rail trail in the US, and is known as a great place to train or bike for leisure, being that it was once the pathway of a passenger train that ran for 22 years until 1969. It begins in Cobb County at the Mavell Road Trailhead, and cuts through both Paulding and Polk counties for 61.5 miles in Georgia, before connecting at the Alabama state line to the Chief Ladiga Trail, creating a continuous 94-mile stretch that ends in Anniston. Look for organized rides in internet forums like ATLBike, and don't be intimidated to grab a trail buddy and start pedaling -- you'll find plenty of civilization between stretches, including a Publix, all kinds of restaurants (Thai, barbecue, Italian), and even bicycle shops that rent and service your rig.
By car: 15 minutes
Best Place for Scenic Gambling: Cherokee, North Carolina
Cherokee is just one of the towns in Jackson County that put you in the rare area of the Great Smoky Mountains, but it's the amount to win mountains of cash (or watch it go up in smoke) that make it really fun. The 56-acre Harrah's Cherokee Hotel & Casino property, billed as the southeast's largest hospitality development with a 150,000-square-foot gaming floor full of tables and machines dispensing and collecting chips, is your best bet while you wait on the Georgia legislature to seriously consider real gambling. If you win, there's a Ruth's Chris; if you lose, the 250+ nearby Jackson County rivers and creeks result in dozens of gorgeous waterfalls, which are great therapy when you need contemplation, reflection, and inspiration to get out of a financial hole. In less than 20 minutes you can get to three great ones, including the 75-foot cascades at Tom Branch Falls, or the 25-foot falls of Indian Creek and Juney Whank, which translates in the Cherokee language to "where the bear passes," which hopefully is a sign of your personal market conditions improving after all that Texas Hold 'Em.
By car: 3 hours
Sign up here for our daily Atlanta email and be the first to get all the food/drink/fun the ATL has to offer.
Mike Jordan might run back to Raleigh and Durham soon for seconds because he couldn't possibly eat everything but really wished he could. Follow him on Instagram at @MikeJordanATL, and on Twitter at @MichaelBJordan.