You need a smartphone in a city like Atlanta for myriad reasons, as traditional mediums of communication just aren't always available when you need them. And besides, if you're one of the pricks who uses it while you should be focused on operating a motor vehicle on 285, how else are you going to call 911 to let them know you're dead? Think about that for a second. Now pull the damned car over and download the apps below.
Getting around
MARTA On the Go
Free
iPhone, Android
What it does: Keeps you from missing the bus like Kris Kross. And the train.
Sure, there are other apps that track MARTA buses and trains, but doesn't it make sense to hear it straight from the horse's -- or rapid transit system's -- app? With MOTG you get precise expectations on when your ride is coming, which is much better than those brochures you'd be lucky to find at the stations.
Uber
Free
iPhone, Android
What it does: Gets you a semi-amateur chauffeur, fast
Even though it's a well-known thing, Uber still deserves a shout-out, because it feels like Atlanta may be the big U.S. city that benefitted the most. Before the ride-share company arrived, all we had was like 15 taxis and, well, MARTA. Now, with so many people in Atlanta driving for the company, so not only do you no longer have to ask your buddy to take you to the airport (and lose him/her as a friend), but it's cheaper and more reliable than what we had, and Lyft still has ways to go before it's really competing. 
Cycle Atlanta
Free
iPhone, Android
What it does: Improves safety and road quality for ATL cyclists
Using your phone's GPS, this app records your route in real-time and sends the info to city government so they'll know which routes are preferred by you and other cyclists, and can make improvements to stuff like potholes, obstructed bike lanes, and where you buy your bud. 
Mobile Passport
Free
iPhone, Android
What it does: Let's you skip the lines at the airport
We have the world's busiest airport, and you can fly pretty much anywhere you want -- and sometimes in a single flight. The problem comes when you land and desperately need to get home. With MP you sign on via WiFi when you land, receive a receipt with an encrypted barcode, and go through a separate check line that gets you outta there much faster.
Waze
Free
iPhone, Android, Windows Phone
What it does: Snitches on ATL traffic; keeps it from making you suicidal
This is a life-saver. Don't get on Atlanta streets without it. The detailed maps which show emoji-like icons for accidents, stalls, police traps, or just complete stand-stills are tools that you can't afford to ignore, particularly if you're driving anywhere in town during rush hour.
GasBuddy 
Free
iPhone, Android, Blackberry, Windows Phone
What it does: Tells you where the cheapest nearby gas stations are
Even with the expected long-term price reduction of gas due to oil being so damn cheap these days, there's no reason to pay $1.99 for a gallon when you can probably drive a mile down the road and get it for $.30 cheaper, unless of course you're below E. GasBuddy lets you drop in a zip code and shows you where petro is lowest-price. Now all you need is the courage to drive into Bankhead!
Staying in the know
Atlanta PlanIt
Free
iPhone, Android
What it does: Keeps you up on events that are perfect for a date
PBA's Atlanta PlanIt events calendar tracks local arts and cultural happenings throughout the city, letting you browse an all-inclusive list, do a personalized search, create a plan of action for your exploration, get alerts when favorite venues or events are updated, and pass details to friends via social sharing. 
Atlanta Business Chronicle
Free
iPhone, Android
What it does: Gives you the weekly lowdown on ATL business moves
This weekly delivered newsstand comes to you every Friday with in-depth news on local businesses and people, whom you can track via the People on the Move service. You can also take content offline after receiving it and read the editions in other cities.
GPB Atlanta
Free
iPhone, Android
What it does: Serves your inner tea-drinking, news-junky podcast fiend
The new kid on the public radio block lets you pause, rewind and fast-forward their radio and television programming, as well as live-stream shows, set your alarm clock to buzz when your favorite program is on, and search for shows on hundreds of other public radio stations outside Atlanta.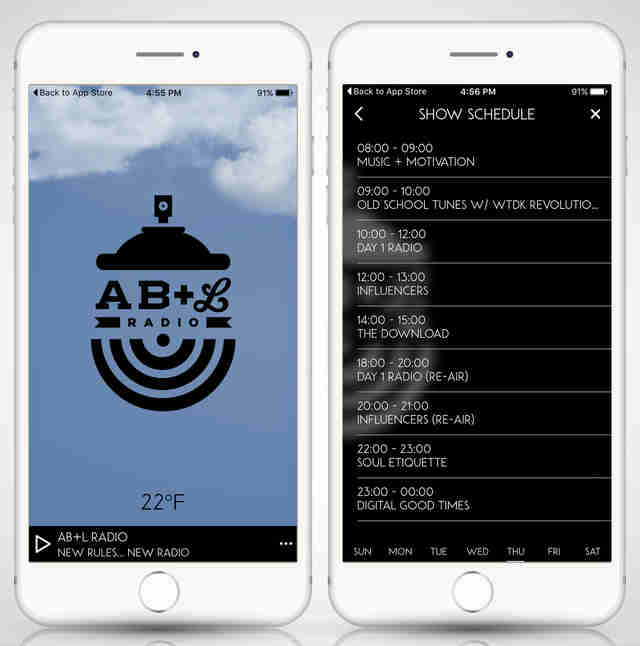 Music
AB+L Radio
Free
iPhone
What it does: Underground creative streaming radio
Streaming 24/7, this app was started by the guys who created the annual Art, Beats + Lyrics event, and continues to promote it throughout the year with great music and weekly podcast-like programs from local creatives, including Digital Good Times, The Download, and their flagship Day 1 Radio show.
BandsInTown
Free
iPhone, Android, Windows Phone
What it does: Puts all the local concert info directly in your hands
Get notifications when your your favorite artists come to town, buy show tickets, keep track of shows to which you've RSVP'd and sync them with other online calendars, share concert info with friends, and discover new bands you might want see through their Pandora-like music suggestion algorithm. 
 
Weather
The Weather Channel
Free
iPhone, Android, Windows Phone
What it does: Makes Atlanta meteorologists redundant
Home team! The ATL-based company's app is quite thorough, giving you location-based weather details, an in-app exclusive morning show offering breaking weather news, social sharing capabilities, forecasts ranging from hourly to two weeks out, and alerts on severe weather, pollen and other freak acts of ATL nature. Sorry, that doesn't include a forecast of when Freaknik is coming back -- go make it rain at Follies in the meantime!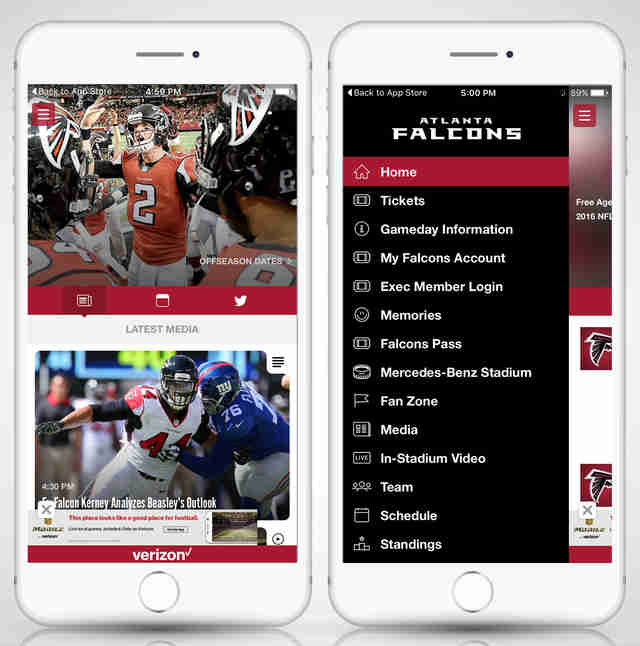 Sports
Falcons Mobile
Free
iPhone, Android
What it does: Gives you hope that something good can be developed in Atlanta football
Not a lot of NFL teams besides ATL have their own apps. Maybe they need to spend more time on the practice field than at Atlanta Tech Village, but don't worry about that until the new stadium opens. For now, real-time breaking news, upcoming matchups, post-game blogs, on-demand video clips from press conferences and interviews, a photo gallery, fantasy player tracking, conference and division rankings, mad stats, and even a podcast come with this Falcons freebie. They even show you where the concessions stands are at the games, and what they have.  
Atlanta Hawks Mobile
Free
iPhone, Android
What it does: Lets you front like you really know all types of Hawks info
For hoops, the Hawks' app features live stats, scores and standings -- some interactive with play-by-play and shot-tracking. You can get a breakdown of the roster (which in some ways we've already had for years... sorry, couldn't help it), player bios, get push notifications of breaking news and game moments from the start of the game to the end, text friends with Hawks emojis, view the Hawks' Twitter stream and play Hawks High Flyers, an in-app game where you try to guess the leading players in five statistical categories prior to tip-off to win an autographed jersey.
 
Eating and drinking
Thrillist
Free
iPhone, Android
What it does: Come on now...
Completely shameless plug here, and no, we don't feel weird about it. All of ATL's best dining/drinking content is given to you every week, from best restaurant lists to event listings, recipes, essays… you name it. Since you already have the app, this was redundant right? Riiiiiiight. Look, you'll thank us later; we'll even give you a super-late-pass and pretend we can't tell it's you when the download begins.
Yelp
Free
iPhone, Android
What it does: Tells you what's new, what's good and what sucks.
As hilariously true as that South Park episode was, Yelp continues to stay relevant because businesses continue to exceed and completely blow the expectations game like your favorite presidential candidate who nobody voted for in the primaries. No big explanation should be needed, as many local apps took a little bit from Yelp to create their own experiences. Besides, does anything provide as much satisfaction as being able to immediately publish a thrashing review on a business that's wack as hell?
Scoutmob
Free
iPhone, Android
What it does: Gives deals on places you actually want to patronize
A blend between what we do at Thrillist and what daily deal companies give you via coupons, Scoutmob has a niche editorial voice that people in ATL trust, and they're great at getting the newest restaurants, bars and services into their systems while they're hot. If you don't have this, you're probably the last of your friends, which is why they never invite you to eat, drink or spa with them. Full-price payers are not hot, son!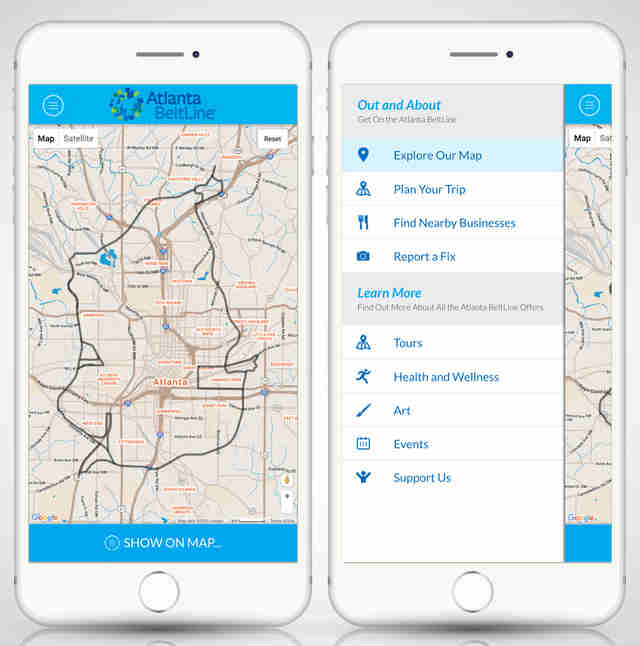 Miscellaneous
Atlanta BeltLine
Free
iPhone, Android
What it does: Guides you around the BeltLine so you don't forget where you actually are
Taking away your long-delayed goal of navigating our fast-developing inner loop, this app helps you find access points as well as parks, trails, art on the Atlanta BeltLine stops, MARTA and other transit stations, and even parking. Detailed user guides give you info on walking, running, and biking tours, plus highlighted park amenities and nearby geotagged entertainment (add more bars!), help you plan your visit with a little third-party help from Google and FourSquare.
Sign up here for our daily Atlanta email and be the first to get all the food/drink/fun the ATL has to offer.
Mike Jordan's favorite apps are found at Asian and Italian restaurants, but these are all pretty cool too. Suggest more to him on Twitter at @michaelbjordan.