Hot Chicken and Urban Markets: Atlanta's Unspoken Identity Crisis
These days, Atlanta is filled with transplants, and they all seem to be loudly -- or quietly -- expecting something similar to what they got from Brooklyn, Nashville, San Francisco, or anywhere else other than Atlanta. They want New York-style pizza. They want to be able to find artisan coffee, or a bespoke pea coat from Anthropologie for their English bulldog. They want sweet tea, but they want it with cornbread prepared by a chef they've seen on Food Network, and only if he was actually trained in culinary arts by a French tutor. Oh, and they really want hot chicken. It's all the rage these days, and it seems like all of the restaurants in town are rushing to add this stolen-from-Tennessee food item to their menus, even if they have to force it between the shrimp and grits.
What this means is that people who move to Atlanta basically expect it to be (or at least want it to be) another city entirely. Especially if they're here with pockets full of disposable income to spend. As a result, real estate developers have no problem exploiting its greatest weakness, a weakness something a lot of people who love this city aren't ready to easily admit: Atlanta doesn't know itself (say word, Drake!), and is going through something of an identity crisis right now.
A lot of what's coming to the city is decidedly un-Atlanta. And this sucks.
Atlanta is one of our country's greatest, yet most undefined metropolitan settlements, and if we're willing to honestly dive deep into the debate of how basic ATL might actually be, it sometimes behaves as if it's too concerned with the rest of the world's taste level, or what other cities find de rigueur. And because Atlanta is in a weird age of discovery right now, it's more willing to change itself so that people will accept it. To wit: we're tearing down the Masquerade so that more people can live across from Ponce City Market. We stuffed the Streetcar downtown, made an entire lane of traffic essentially useless, and blew $100 million dollars in the process, all so that visitors will think we're progressive. We even let somebody throw up a giant glowing Ferris wheel across from Centennial Park, because hell, we're just so damn fun! Add up all these seemingly unplanned pivots, and you'll see that a lot of what's coming to the city is decidedly un-Atlanta. And this sucks.
The inconvenient truth is that Atlanta is vulnerable to the influence of a couple million random, new residents, and apparently they don't care what was going on before they arrived, as long as we have what was, in essence, promised to them here when they land. Whether or not you think that's a legit statement doesn't really matter, because by 2040, according to a report from the Atlanta Regional Commission, there will be more than 8 million residents in the metro area, as opposed to the 5.5 million we have today.
 
Who are we?
We're regularly duplicating New York, Los Angeles, and Miami when it comes to its nightlife (Prive! Diamonds of Atlanta!), shopping (Buckhead Atlanta -- the Rodeo Drive of the southeast!), and neighborhood pride (Inman Park is so. Hot. Right now).
This has opened the doors to real estate developers plotting to make grand come-ups by leveraging Atlanta's confusion, meaning you can expect a lot of duplicated ideas already proven to succeed in other major cities. As in, expect to see lots of opportunities to purchase hot chicken in lots of new urban markets, right here in The City Too Busy to Hate.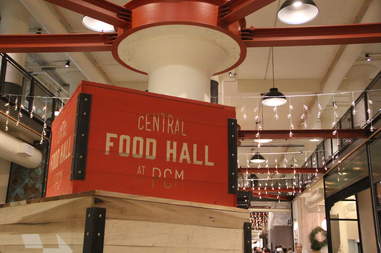 Michael Jordan/Thrillist
If it seems like I'm picking/hating on Ponce City Market, I'm not, and neither should you. Obviously it's the new kid on the block, and it's already being called a regional destination, as if it's bigger than the city itself. That's because the place is undeniably awesome. So are Krog Street Market and Westside Provisions. But all these places arrived long after Sweet Auburn Curb Market got revitalized and became cool again, something Grindhouse Killer Burgers proprietor, Alex Brounstein, deserves a lot of credit for. Sweet Auburn isn't just there to be cute -- it's an actual market where you can buy fresh seafood, butchered meats, and other groceries. It has also served as an angel incubator for several other well-loved, ATL-centric eateries, including Bell St. Burritos and Sweet Auburn BBQ, which were able to build up their reputations while figuring out how to be fully functioning, stand-alone restaurants. It's not just some gaudy development designed to make your neighborhood cuter and more foodie-friendly -- it serves the community.
But The New Atlanta doesn't give a shit about that; it wants more urban markets! Why isn't there one on Memorial Drive? Good question; let's build one! And that's just what's going to happen with Atlanta Dairies. Does this seemingly unquenchable thirst for more markets and sprawl make sense? Well, not if you consider how close the proximity is to Ponce, Krog, and Sweet Auburn.
Our originality is something we need to continuously defend from cookie-cutter profiteers.
And, if I may clarify something quickly, this isn't to diss the good folks at Paces Properties, who built Krog (and are building Atlanta Dairies). This is to suggest that after they're done, we can pump the brakes on these types of developments, particularly since they're all trending towards the east side of town, where all the cutest artisanal hipsters live. Nobody's trying to put one of these in, say, Southwest ATL, aka the soul of Atlanta where you can find all those restaurants Goodie Mob talked about on the song "Soul Food."
Thanks to a fortunate few who have their own particular visions of what the city needs, as opposed to an honest assessment of what Atlanta really wants, we're all going through these changes together. And because people with money and investors have figured out a way to capitalize on our city's incertitude, those changes will probably include every restaurant in Atlanta adding a certain dish made famous in Tennessee, and a certain type of business made famous in NYC's Chelsea neighborhood. Atlanta doesn't need that.
 
What do we need?
What Atlanta needs is an appreciation of what it already has. We have huge global businesses, our own style of music, mostly moderate weather, sometimes outrageous fashion trends, a youthful vibe (thanks to lots of colleges), a culture that appreciates dancing, the legacy of the Civil Rights Movement, genuinely nice people, and some of the best food on the planet. We are unique, and our originality is something we need to continuously defend from cookie-cutter profiteers whose eyes are on millennial's wallets. It's great that a few smart folks figured out that you can combine both of those and beautify the city by turning under-utilized old buildings into marketplaces with restaurants run by certified kitchen geniuses. But if we keep building them, and keep telling these brilliant chefs to start making ramen, burgers, or hot chicken, just because they're popular this year, our growing metro area will have the soul of a giant microwave: radioactive and lazy.
People should think of Atlanta as an old, heavy cast-iron skillet. There are lots of things you can prepare in a cast-iron skillet, from fried fish to steaks, omelettes, eggs, and more. And anybody who's had food from a cast-iron skillet can tell you it always tastes better, so it's not hard to understand why people who live in a city that can be compared to a classic cooking object would want hot chicken. It might taste great!
The problem comes in preservation, and the fact that in order to just start making hot chicken an Atlanta thing, someone might take some dishwashing liquid and a brush, and scrub away all of the flavor that doesn't exactly match the profile of the hot chicken. Maybe some would say it's worth washing away everything that's built up over centuries -- including the legacy of a great fire that pretty much burned down the house -- but they're not the kind of people who deserve to inherit Grandma's beautiful dark pan, and all the wonderful residue that comes with it. Especially if they insist on waiting for a new Williams-Sonoma knockoff to open at Atlanta Dairies and sell them one of those conveniently pre-seasoned joints.
You want hot chicken? Drive to Nashville and eat at Prince's Hot Chicken Shack. You want to visit the ultimate urban market? Fly to New York City and go hang out at Chelsea Market. You want something unique? Stop trying to change Atlanta, and go shopping at Paris on Ponce, or sit your ass down at a restaurant that's been around longer than a year and makes a mean bowl of shrimp and grits.
Sign up here for our daily Atlanta email and be the first to get all the food/drink/fun the ATL has to offer.
Mike Jordan loves Atlanta, and is always willing to ramble about the challenges the city faces, even though he was born in Nashville and raised in Alabama. He tweets from @michaelbjordan.