Hey there! Are you Canadian? Well, you kinda seem like a strange and lost outsider, which could actually make you a fantastic ATLien with the right guidance. But first things first: you're going to need some buddies, and now is a great time to find them because fall in Atlanta is the friendliest season. And even though you kind of dress weird and asked for a Pepsi, it's not hard to make nice with people here when you're new in town -- at least while you have that fresh baby scent and soon-to-dissipate optimism that can only newcomers possess. Read this guide and learn how even you can make friends in Atlanta, you ol' interloper!
Drive for Uber or Lyft
You may like how ridesharing created a huge opening for easily and cheaply navigating a city, but Atlanta LOVES it -- specifically Uber and Lyft. That's because this city has never been a taxi town if you were outside the Downtown convention area or at the airport, and MARTA routes get shorter the closer you get to suburbia. Even if you don't need the extra money, being behind the wheel as locals move around is a great way to find out where people are going when they hit the streets, particularly when it comes to areas you might not yet feel comfortable walking due to an unfamiliarity with getting in and out of the neighborhood. Having your own car, using Google Maps, and talking to strangers as part of the job will at least expose you to where the cool kids duck away from the Hollywood types.
Go to festivals
Summer is always wild, but there's no season more festive than fall in ATL. As the leaves and temperatures drop, everyone lets out a collective sigh of relief for surviving a brutal summer. And just in time to soothe us even further, we get great porters and stouts from local breweries. Being that we're in the southeast, you can count on amazing live performances from bands around the region, and since music is one of ATL's greatest unifying forces, you'll end up in historic neighborhoods to see shows you might have avoided in the summertime. Let the food, music, and festivities sink in and bring you closer to your neighbor.
Take all the local brewery tours
If all else fails -- and it certainly might -- you have one solid option that should always work. Go to SweetWater, Monday Night Brewing, Orpheus, Red Hare, Three Taverns, Scofflaw, Wild Heaven, or any of the other fantastic beer-making facilities in the Atlanta area. Find out when it's hosting special events (seems like one of 'em is always having an anniversary party) and show up thirsty. The one thing we all seem to agree on is that Atlanta beer deserves more support, and just by showing up to drink a lot of it, you'll prove that you're A-Town Down.
Mention that you're a Killer Mike fan in ALL conversations
Did you go to Project Pabst? It was awesome. Not only did ATL-based, OG metal band Mastodon absolutely murder the stage, but Run The Jewels closed down the show. Many people wore Run The Jewels T-shirts, and although few people knew the lyrics to the songs, they all roared when he mentioned how people keep asking him to run for mayor of Atlanta. That tells you folks are at least somewhat aware that he's a tremendously popular figure. Hell, they named a tunnel-boring machine "Driller Mike," by popular demand of Atlantans. But instead of just being a poser, why not actually listen to Killer Mike albums? He's made quite a few, from back when he was being introduced to Atlanta by Outkast on "The Whole World," to changing his name to "Mike Bigga," and making his most recent album, R.A.P. Music, which marked the start of his relationship with RTJ partner El-P. Learn one of his songs, and be ready to bring him up matter-of-factly when people start putting young rappers like 21 Savage and Lil Yachty in their top five ATL rappers. Proving that you have classic taste in local hip-hop and not falling for whatever's hot on the radio demonstrates that you respect the brilliant creative talent that is generationally bred here. Seriously -- few strategies are more effective than this.
Walk the BeltLine (unironically)
At the moment you can still find arts, crafts, poets, dogs, couples, skaters, and other random pedestrians enjoying the scenery and safety that has risen from the redevelopment around 22 miles of historic rail circling the inner city. Of course, it's bringing gentrification and rising cost of living, which is pretty much the antithesis of having it in the first place. Perhaps you came from a city that is going through a similar issue, such as Brooklyn, or Portland, or, well, any major city really. Your voice could help us avoid ruining the opportunity. Put your feet where your mouth is and check out all the great Atlanta views you can take in on the completed trail, meet some folks, and start a conversation.
Join the Atlanta Bicycling Coalition
Regardless of how you feel about cyclists on the streets of Atlanta (which is understandable given how Atlanta hasn't even figured out car traffic on its own yet), few communities are tighter-knit than the folks who risk life and limb every day to try to make the city bike-friendly. And myriad beards aside, they're some great people who are trying very hard to change one of the worst things about ATL -- it's infrastructure. Go to a meeting, or participate in Atlanta Streets Alive when hundreds of bike pedalers shut down major streets and joyfully coast around town. Discover how passionate people in Atlanta really are, and get inspired.
Stay out of the suburbs!
You can lie to yourself all you want, but once you move outside the perimeter, you're probably not coming back at night or on the weekends. Traffic and construction are simply not improving, which is kind of why all the successful local restaurants have opened third-string versions of themselves out in Alpharetta. It'll be easier to understand the logic once you've tried driving up 400N past 285 after 4pm and realize that all hope is lost. It only makes sense that even though you might live in a really nice neighborhood, everybody's pissed because they've also been spending three hours every weekday trying to drive a total of 30 miles round-trip from their homes to their jobs. That's not the kind of life that makes you want to go hang out with your neighbors, unless your neighbors have really good herbal supplements and offer discounts to members of their HOA. Fact: You will not find cool people if you rest your head more than 15 minutes OTP.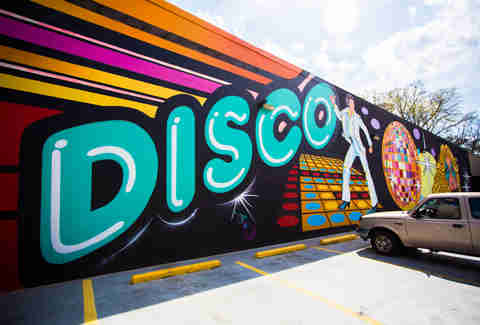 Follow the local art scene on social media
Atlanta creatives are incredibly welcoming, even though a lot of folks have lived here for years and never thought to look into where these artsy types get together over whatever drinks they consume (spiked red zinger tea or matcha, probably). That's unfortunate for them, but good for you, since a lot of ATL's young-professional class spend their evenings redeeming the fact they sold out by supporting local art events, or at least showing up for the free local beer and Cathead Vodka. The result is that not only do you get a decent, low-cost buzz, but you also meet people with great ideas who tend to be down-to-earth and invested in keeping the city somewhat communal. Basically head to coffee shops and look for random flyers, stickers, and posters, then match them up with Twitter handles and Facebook pages. Voila.
Go on a brunch tour
It is very important that you join the movement of early afternoon drinking and French-toast devouring that happens every weekend all over metro ATL. You don't even have to stay within 285 to do this correctly -- many restaurants know that they get a second shot at earning the week's rent just by frying some chicken, ironing some waffles, shrimping some grits, and pouring out some fizzy or zesty tomato cocktails. Atlanta's brunch crowd takes life so not-seriously on Saturdays and Sundays that it reverses itself and becomes illogically serious and judgmental -- but in a good way. Wear some beat-up sneakers, comfortable pants, a shirt from college, and your cheapest liquor-distributor-branded sunglasses, slap on a golf or Braves cap, and eat/sip until you and everyone seated around you gets chatty enough to become one happy blended family.
Avoid the Atlanta Streetcar
No, not just because there's a good chance it'll run you over. It's because the only friend you could possibly make would be the operator of the car. Sure, it could turn the corner (though not without hitting some random car. Sorry…), but right now, riding the Streetcar would no doubt immediately make you believe the entire city is haunted.
Make a journal of all your discoveries and share it
Most Atlantans have no idea where the hell to go to socialize on any given day or night. The city is changing so quickly that your idea of what to do might be as good as a longtime resident's one. You see, people tend to stay hyper-local and might not know that the greatest new thing in the city is a mile away, which may as well be in South Carolina. Your exploration brings with it a vision of Atlanta through fresh eyes, plus more and more good bars and restaurants are being built on the bottom floor of new condo buildings. You might teach us a thing or two about wherever you live -- so take notes.
Choose a local sports team to hate on
What do you like: football, basketball, or baseball? Good news: It doesn't matter -- it's the same story every season in all our sports! There will be a moment when it looks good for the Falcons, Braves, or Hawks. Then there'll be the rest of the time when everybody drinks and says horrible things about our quarterback, pitcher, center, or respective coaching staff. It's tradition. The only catch is that you should actually like this team and want them to be good at the same time you're hating on them. They say hate is simply misunderstood love anyway, I think. Or just wear your old team's gear to games… about half the people who live here do it anyways.
Sign up here for our daily Atlanta email and be the first to get all the food/drink/fun the ATL has to offer.