How to Support Black-Owned Businesses in Atlanta Right Now
There are still plenty of ways you can help.
As the regularly scheduled programming makes its return to the forefront of news coverage and social media feeds, we must not forget that all Black Lives Matter, and we must not let this moment and this movement be swept aside. Since the start of the initial protests in response to the murders of Ahmaud Arbery, Breonna Taylor, George Floyd, and Tony McDade, a lot has happened, but there is still work that needs to be done.
From the force enacted by APD on Atlanta University Center students Taniyah Pilgrim and Messiah Young during the first weekend of protests in Atlanta to the police shooting of 27-year-old Rayshard Brooks at a local Wendy's on June 12, it is clear that our Black community still needs support.

"The biggest way to support the Black community right now is to listen to each other, check on each other, and reassure each other that you are present and in this moment sharing each other's pain," says Adrienne Leak, the owner of A. Leak Hair Studio. "With each day, we will take an intentional step towards healing and justice."
Right now, local business owners say reverting back to "normal" is simply not the answer.
"My biggest concern is, that as time passes and we have a few victories, we return to a level of complacency," says Cassandra Ingram, owner of Urban Grind. "We can all commit to something that will keep the movement alive -- drive progress and generational change, vote for people and policies that drive positive change, continue to support and lift up Black businesses, mentor a young person, clean up a community, or donate to businesses or organizations."
Whether you take the time to educate yourself, donate to nonprofits and community efforts, or patronize local Black-owned establishments, there are several ways in which you can spread awareness and push the movement forward. Here are some tangible ways for you to continue to make a difference on a local level right now.
Donate to nonprofits and community efforts
Atlanta has a thorough assortment of social justice and nonprofit organizations -- including
Project South
,
Black Lives Matter Atlanta
,
SONG
,
Malcolm X Grassroots Movement
,
ACLU
,
The New Georgia Project
,
Southern Fried Queer Pride
,
A Just Georgia
,
The Neighborhood Sprouts
, the NAACP's
Georgia
and
Atlanta
branches, and many more. In order to stay updated about different ways that you can help or contribute to them, you can follow along on social media. As always, pay attention to local politics, and here's an
aggregated list of petitions
that you can strategically sign to get the attention of the Georgia officials.
Another organization that's long been doing good in an underserved Atlanta neighborhood is PAWKids, which recently partnered with rapper Killer Mike (see more below) to provide meals to the Grove Park community during COVID-19 and the more recent political upheaval.
Many have taken to the streets of Atlanta to protest the injustices of APD and police departments nationwide, and if you're interested in joining them, you can find an aggregated list of protests taking place around the city by following @whereprotest on Twitter. If you feel like you can best support the protests and the overall movement in other ways, you can also continue to donate to the Atlanta Solidarity Fund, which provides resources -- from bail to representation -- for protestors facing repression.
Support these Black-owned restaurants
Whether your morning fuel is a latte, fresh juice, or a cup of tea, you can get the best caffeinated, herbal, and fresh-pressed drinks from
Urban Grind
,
Hodgepodge Coffeehouse
,
Just Add Honey Tea Shop
, and
Juiceheads ATL
.
For casual bites, look no further than Supreme Burger, Taco Pete, The Sleepy Potato, Triple Jay's Pizza, Le Petit Marché and Big Dave's Cheesesteaks, And for some unforgettable seafood, pull up to Sweet Auburn Seafood, Krab Queenz, and the Bankhead Seafood truck. If you're looking to enjoy some tried and true soul food or southern cuisine that (almost) gives your mother's a run for its money, check out Busy Bee Cafe, Old Lady Gang, Debbie's Delights, Paschal's, Harold's Chicken and Ice Bar, Sweet Georgia's Juke Joint, Ms. Icey's Kitchen & Bar, Chicken + Beer, and Virgil's Gullah Kitchen.
There's plenty of more flavors to explore in the city, from great barbeque spots like Daddy D'z BBQ Joynt and Pit Boss BBQ to diverse Caribbean restaurants like One Luv Cafe, The Spice House, Kingston Grill, and Dat Fire Jerk Chicken. For those following a plant-based diet, Viva La Vegan, Healthful Essence, Slutty Vegan, and Grass VBQ are good health-conscious options.
But if you're interested in a maybe not-so healthy treat, Popbar, Cheesecaked, Sublime Doughnuts, and Vintage Frozen Custard are all great options. Even if you don't know what kind of dish you're in the mood for, you can't go wrong with all-around eateries like Fletcher's Place, Kenley's, Mr. Everything Cafe, and Kelz Kitchen.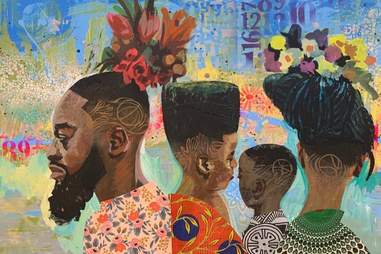 "Fresh Cut 1" by Charly Palmer at Zucot Gallery

| Zucot Gallery
Patronize local Black-owned businesses
With the hardships of COVID-19 still weighing heavily on most minority businesses as well as some physical store damage due to riots, many Black businesses could use a hand right now.
In Atlanta's art scene, Black artists and curators have made major strides over the past decade to increase the diversity and representation in art shows and gallery ownership. Check out trailblazing galleries like
TILA Studios
,
Sydney's Creations
,
Arnika Dawkins Gallery
, and
ZuCot Gallery
as well as phenomenal local Black artists like
Jasmine Nichole
,
Demetri Burke
,
FRKO
, and
Paper Airplane Jane
.
There are also plenty of helpful services offered by local Black-owned businesses that you could patronize. Supporting barber shops and beauty salons like
A. Leaks Studio
,
The Purple Door Salon
, and
The Swag Shop
is an excellent place to start, and you won't regret booking esthetician and spa services from businesses like
Sharnise the Nail Tech
and
Celestial Spa
.
Beefing up your wardrobe may not exactly be on your mind right now, but it is another way to support the community. There are several Black-owned fashion brands and clothing stores -- including Wilbourn Sisters Designs, Bstroy, Nello Vintage, The Lavish Brand, Heet ATL, Pressed, Atlanta Influences Everything, Versus ATL, and Tags. Plus, you can feel good about shopping at many of these businesses as they themselves work to give back to the community. A Ma Maniere regularly leads social justice initiatives, and God Is Dope -- the Edgewood store behind the shirts that you've seen everywhere -- recently raised $25,000 for George Floyd's memorial funds by selling a benefit t-shirt.
Looking past apparel, still be sure to shop with Black businesses for whatever needs you may have. You can grab cosmetics and organic beauty products at Cova Beauty, the largest beauty supply store in Stockbridge, and you can also buy plant-based feminine hygiene products from The Honey Pot Company. There's even SustainAble Home Goods, a Black-owned store that partners with independent artisan entrepreneurs across the globe, and it's currently highlighting Black Makers in its latest collection.
Something as simple as reading a book or vibing out to music can help ease your stress during this time, and there are plenty of Black-owned businesses that could help with both of those options. If you're a bookworm looking for a stimulating read, check out For Keeps, Black Dot Cultural Center, Medu Bookstore, and The Listening Tree. For tunes, look no further than the Little Five Points staple Moods Music and the legendary DBS Sounds, an independent and socially responsible record store in Riverdale with a diverse offering of music across genres.
Atlanta nonprofit Living Walls, an organization dedicated to curating thought-provoking public art activations that inspire social change, has recently collaborated with TILA Studios to raise funds for the Atlanta Solidarity Fund by selling limited edition digital posters that were commissioned by local Black artists Erica Chisolm and Aaron Trimiar. Purchasing the artwork is one sign of solidarity, as all of the artwork sales will directly support Atlanta's brave protestors. Another way to put your money to work is to not use it at all and participate in one of Blackout Day's upcoming monetary protests.
More ways to help?
Check out a list of national organizations we've compiled
here
. If you have thoughts on other businesses you'd like to see included in our local stories, please email
feedback@thrillist.com
.
Sign up here for our daily Atlanta email and be the first to get all the food/drink/fun the ATL has to offer.
Joshua Robinson is a Black Atlanta-based contributor who is hurt and fed up, yet inspired and ready for change. Black lives matter.