Along the tragic, comedic journey we call MARTA... wait, I mean life! There are many experiences the Atlanta resident will undoubtedly undergo before she or he is a true ATLien. Like a Shakespearean play, but with more shaking asses and less tights, the stages of becoming an Atlantan, for real for real, play out like acts. And they are as follows:
Stage one: The pleasantly surprised stage
Where you're living: Buckhead. There's somewhere else?
Where you're going out: Buckhead Atlanta, Havana Club, Gold Room, The Ivy, Opera
Your mantra: "A whole new world; a new fantastic point of view... "
Go-to activity: Reading Yelp, Angie's List, Thumbtack, MyAJC, Atlanta Business Chronicle
This is the initial shock that Atlanta not only doesn't suck, but is basically a magical land of mystical wonder, freaks, brilliant people, chicken biscuits, and butt-naked booty clubs that are somehow socially acceptable (and encouraged). The cost of living is extremely reasonable and the diversity is damn-near a model for all societies to adopt. There are four actual seasons in the year. People go out and have fun, eat phenomenal food, go to festivals, brunch, see celebrities everywhere, and never stop eating breakfast... It's somewhere between The Love Boat and The Love Below. There are lots of sexy people who are very spiritual and dress really spectacularly, and they're all much nicer than everybody else was where you just moved from. Interracial dating and appreciation for cultural differences! Atlanta is love!
Stage two: The adventurous stage
Where you're living: Midtown. Probably Atlantic Station at first, until you realize you're the only person living in Atlantic Station. Then you move to West Midtown, breaking your lease agreement.
Where you're going out: EVERYWHERE! Except Southwest Atlanta. Is there a such thing as a Southwest Atlanta?   
Your mantra: "It's Lit!"
Go-to activity: Learning the full names and birthdays of every local celebrity chef and mixologist
This is where you attempt to learn everything at once. You find out how to get to all the neighborhoods and cool spots that are easily accessible via major interstate exits and landmarks. You walk, you bike, you Uber, you Lyft. You don't take MARTA, but you seriously consider taking the Atlanta Streetcar. You learn the names of local bands and rappers. You wear seersucker. You take every random tour, from Oakland Cemetery to Walking Dead film sets. You sit down and talk to the street poets in Little Five Points. You ride by the house Rick Ross allegedly owns off Old Nat-El. Hell, you even visit the Downtown tourist traps, spelunking through Underground Atlanta (wow) and doing the whole World of Coca-Cola, Varsity, and Center for Civil and Human Rights visit. You selfie with The Big Chicken. You get to know ATL. Almost biblically.
Stage three: The I-feel-like-a-local stage
Where you're living: Ponce City Market, Inman Park, or Virginia Highland. West Midtown was too expensive, so you moved to a more expensive area. You're bleeding out your savings account, but so is everybody else.
Where you're going out: Ponce City Market, Virginia-Highland, Krog Street Market, and Inman Quarter. Exclusively.
Your mantra: "ATL, shawty!"
Go-to activity: Explaining the difference between the beef jerkies you can buy at Ponce City Market, Inman Quarter, and Krog Street Market.
This is where you claim the city and act as if you were actually from Atlanta... like everybody else that's not really from Atlanta. There's a younger version of you in town, and even though you've been here less than six months, you feel like a savant of the experience. Some of the sparkle has left your eyes though. You only derive pleasure from recreating the surprise that others felt when they first discovered The A. You'll still casually date, whether that means courting romance, food, hipster bars, or shopping malls and boutique stores, but you're no longer aroused. Why? Wait... Oh shit, it's because...
Stage four: The OK-I'm-actually-a-local-now stage
Where you're living: Kirkwood, Little Five Points, or maybe East Atlanta Village. You might even have bought a house in the West End. Maybe Decatur if you can find a nice woke neighborhood near Whole Foods.
Where you're going out: East Atlanta Village bars like The Earl, Noni's, The Sound Table, Music Room, Boulevard & Edgewood, Octane, and various coffee shops.
Your mantra: "Out here in the A"
Go-to activity: Attending neighborhood organization meetings, nodding. Saying things. Going out for drinks later. High-fiving Kwanza Hall when you run into him.
Something happens and you realize things aren't perfect in Atlanta. It could be falling for the local sports hype, which hahaha, c'mon! Dude/Girl, wake up! ATL is not a town for winning teams. Perhaps it's the inequality. Atlanta is doing poorly when it comes to beating national averages on things like income inequality. Or maybe it's simply the traffic, which never makes sense because people always choose to be victims of whatever the car ahead of them is doing. If only folks remembered that the highways and intersections were made for people who want to arrive somewhere peacefully and precipitously, there'd be less bottlenecking on the fast lane on 400N.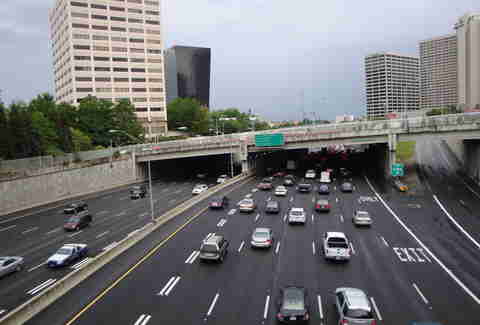 Stage five: The WTF am I doing here? stage
Where you're living: East Point or Lawrenceville. Maybe even Douglasville. Snellville? Damn.
Where you're going out: The Independent and other random pool halls.  
Your mantra: "You know what? Fuck you, Atlanta."
Go-to activity: Drinking standard cocktails, walking to the Freedom Parkway bridge, staring out aimlessly at traffic until you start hallucinating that the city really is how it looks on The Walking Dead.
Traffic is like playing Tetris with cars, and every day you lose. People in Atlanta pretend to have more money than they do, and that's mostly because they blew it all living above their means until they realized they could have played it smart and lived a less-ridiculous lifestyle. Wait, are you talking about yourself? No... couldn't be! You're talking about those other people who don't use MARTA, and think everybody should have enough money to live in Buckhead or West Midtown. And yo, what the hell is really good with all this pollen? You are dying.
Stage six: The coming to terms stage
Where you're living: Old Fourth Ward. Definitely not Ponce City Market -- that money is gone.
Where you're going out: Eats, The Dwarf House, The Albert, The Majestic Diner, Landmark Diner, maybe the new Kroger that has the bar.
Your mantra: "Long hair don't care"
The only thing left to do with your life is eat until you feel no pain. Atlanta tricked you, but it's OK, because that's life. You see all the pretty people who have good jobs, and even though your job is good, it should be… better. You should have that Brookhaven condo you deserve, but you don't. You vape now. You find yourself drinking a lot of high-ABV IPAs, and you're growing a pretty sarcastic beard, which weirds out all your friends because you can't actually grow a full beard. You have not a care in the world. The illusion has been shattered. Atlanta is not New York, LA, Chicago, DC, San Francisco, Miami, Austin, Portland, or even Cleveland. It's a sexier Nashville with seemingly better people. Maybe they aren't so bad. Maybe you needed to find the deeper meaning of ATL, which is that the ATL so many people celebrate doesn't exist. Maybe your dream had to die in order to be reborn? Maybe you need another IPA.
Stage seven: Acceptance
Where you're living: Westside. Not the glamorous West Midtown, unless you find someone's abandoned loft and squat.
Where you're hanging out: The airport, followed by Miami, New York, LA, Chicago, DC...
Your mantra: "I love Atlanta. I can die now."
Go-to activity: Being an adult and taking trips out of town you can't really afford.
Remember the end of 1984, where the hero has successfully been brainwashed and feels so much pride for Big Brother, in whose name he is about to be put to death? Spoiler alert: that's you. Atlanta is undefeated, and you are the latest person to experience the transition it takes you through. Just because Atlanta feels like a fake Hollywood doesn't mean it is. Eventually, everybody comes to terms with the fact that there are limits to Atlanta, including no real beach, no gambling, no easy commutes, and no way to sustain living in Brookhaven or Dunwoody unless you're already rich. But really, you wouldn't have liked that as a long-term thing anyway. And sure, Atlanta wore you down. But you accept it and wear it like a badge of honor. And now you live where cool people live, which is way better than Brookhaven anyways.
Sign up here for our daily Atlanta email and be the first to get all the food/drink/fun the ATL has to offer.