The South is known for its southern charm, especially in places like Charlotte, New Orleans, and Savannah. The latter was founded in 1733, which means thousands flock to Georgia every year to take in the old buildings, walk the historic streets, and get a little taste of what colonial living might have been like. Underneath all the charm, however, there are stories of murder, tragedy, and mysterious hauntings.
And now that it's October, a month where people actively seek out the best places in America to terrify themselves for some reason, you'll have lots of options for places that are setup to give you a quick-but-safe scare. This is not a list of those places; this is a list of actually haunted places around Georgia that might give you a scare you we're never expecting. Good luck! We're not coming with you.
Old Candler Hospital
Savannah
It's not surprising that the very
first hospital built in Savannah
, Georgia back in 1804 is said to have housed more ghosts than a movie starring Tony Shalhoub and Shannon Elizabeth. The giant Candler Oak is said to be one of the most haunted places on the property. Known as the "hanging tree" for horrific reasons of racism, it's said that ghosts have been seen hanging from its branches. But the most haunted aspect of the ancient hospital is said to be inside: There's a morgue tunnel that runs from Candler Hospital to Forsyth Park that was once used to transport dead bodies diseased with yellow fever. There was also a psych ward where rudimentary shock therapy went down. Appropriately, you'd be crazy as hell to go there today.
Hay House
Macon
Sometimes the scariest things aren't on the surface, but in what lies beneath. The 18,000-square foot mansion located in Macon, also known as the
Hay House
(which hosted its first ghost tour in 2016), was a declared a National Historical Landmark back in 1974; however, it's only ever housed two families in its entire existence, and visitors have reported hearing odd sounds, seeing spooky figures, watching chandeliers swing back and forth from inexplicable breezes, and general creepiness. In 2010, while photographing a wedding, one photographer
claims to have captured a ghost
lingering the background, sporting a top hat.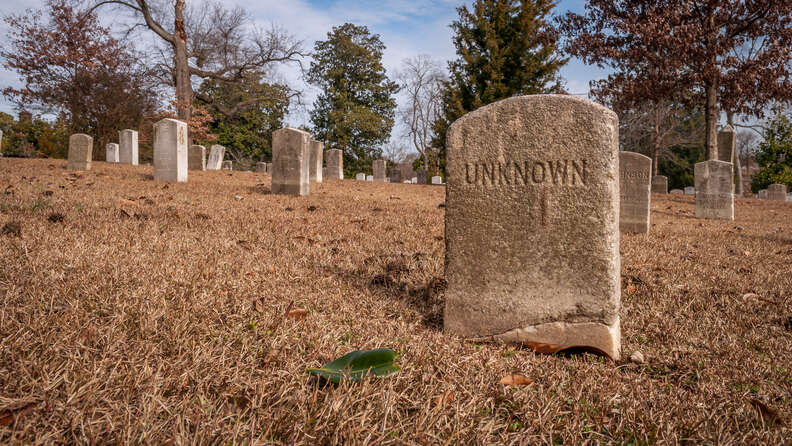 Atlanta
Maynard Jackson, Margaret Mitchell, and Bobby Jones are among the most famous buried in Atlanta's Oakland Cemetery, the oldest and largest burial ground in the city. Built in 1850, the cemetery has a large section that houses the Confederate dead, 3,000 of which are known soldiers. People say they've seen soldiers in full uniform roaming the grounds and hanging from trees, and some claim they've heard Confederate soldiers doing a roll call, with a few folks saying their name was added as well. If you dare explore, don't expect things to feel very Civil.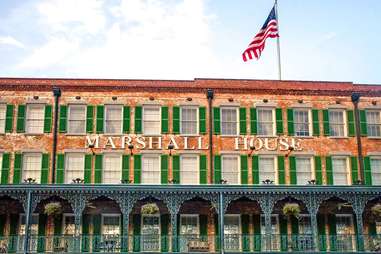 The Marshall House Hotel
Savannah
Savannah has a long history of eeriness, and one of the most haunted hotels in the United States -- The
Marshall House Hotel
, constructed in 1851-- is located there. It's served as both a boarding house and a hospital, and has maintained many of its original fixtures. Guests have said they've seen a man holding his severed arm, looking for someone to help him reattach it, and hotel staff claims to have seen civil war soldiers wandering around the halls. Because there's so much paranormal activity, staff keep a journal, recording everything they witness.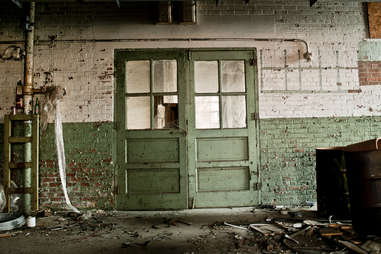 Central State Hospital
Milledgeville
Once the world's largest mental institution, The
Central State Hospital
, located in Milledgeville, Georgia, still stands today as the largest mental health institution in the United States. There are up to 25,000 patients buried on the 2,000-acre site, which officially opened in 1842 as the Georgia Lunatic Asylum, five years after Georgia lawmakers authorized a "Lunatic, Idiot, and Epileptic Asylum." Known simply as "Milledgeville" to many Georgians, the site is haunted by the memories of the patients who are said to have been mistreated there. In fact, according to a 1960
Pulitzer-winning article
by Jack Nelson in
The Atlanta Journal-Constitution
, thousands of patients were served by only 48 doctors -- none a psychiatrist -- and some of the doctors were actually hired off of the mental wards, meaning in some cases, the inmates were literally helping to run the asylum. If that ain't enough to haunt you, nothing will.
Moon River Brewing Company
Savannah
Once upon a time, the microbrewery
Moon River
was the City Hotel, which explains why visitors say these days it's haunted by a spirit named "Toby," who creeps through the basement. People also mention voices they claim to hear whispering in their ears. The second floor is said to be haunted by James Stark (no relation to Ned), who was shot by town doctor Philip Minas for whatever reason (the doctor knew we'd need a ghost one day?), and women who dare use the restroom say they've been trapped inside stalls, due to an unseen force holding the door closed.
St. Simons Lighthouse
St. Simons Island
Built in 1872,
the St. Simons Lighthouse
is considered one of the spookiest places in Georgia, mostly because of an incident that happened back in 1880. There was an assistant, a wife, a gun, and an acquittal. And now the guy who was murdered haunts the place, spooking up the hallways, clicking lights on and off, and being a general nuisance to those who enjoy seeing where they're going.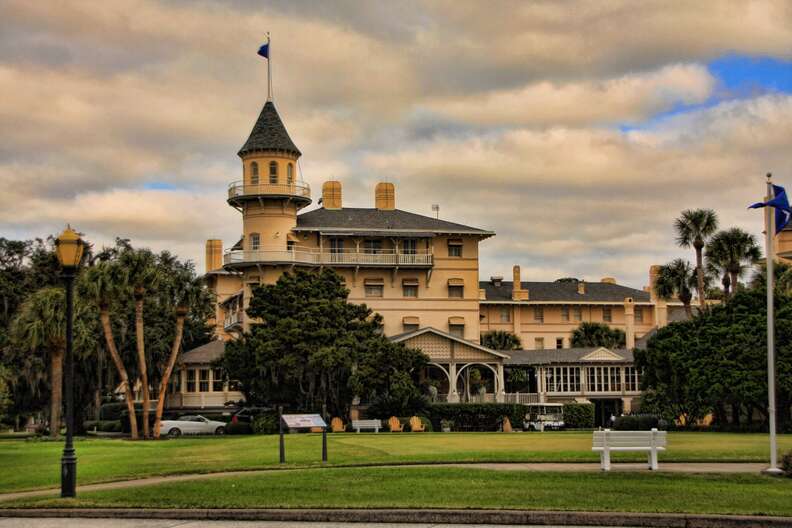 Jekyll Island Club
Jekyll Island
The Jekyll Island Club
, whose members included some very famous last names -- the Morgans, the Vanderbilts and the Pulitzers -- was the happening spot for rich folks from 1886 until World War II. The Club still stands, as do some of the cottages of the wealthy in Jekyll Island's historic district. Naturally, with all the wealth that's passed through its doors, the club is haunted, namely by the ghost of a former railroad magnate, who apparently gets his morning coffee and kicks back with the newspaper just to mess with your mind. Room 3101 of the Annex is also said to be haunted, but by a friendly ghost (yay!) named Charlotte Maurice, who ironically advises visitors on how to live their best lives.
Sorrel-Weed House
Savannah
Now a historical landmark, the
Sorrel-Weed House
reaches back to the Civil War days -- it was the childhood home of a brigadier general who served under Robert E. Lee. If that's not creepy enough, it's rumored that Matilda Sorrel, the owner's wife, threw herself off of a balcony and died on the property. The grounds are also where one of the bloodiest hours of the American Revolution, The Siege of Savannah, took place. So yeah, contrary to the name, it might not be the most fun place to smoke up.
A longtime journalist, novelist, and lifelong music lover, Jacinta Howard resides in the Atlanta area, and she ain't neva scared. Unless sh*t is real. Tweet her at @jacintahoward.
Mike Jordan is scared right now, and might even lie and say he'll come with you to a really haunted place if you insist but will actually ghost on you, the other way. Tweet him at @michaelbjordan.