The Most Haunted Places in Georgia
Who needs sleep?
Although the South is known for its Southern hospitality, the most charming region of the United States still has a bit of a dark side to it. Georgia—appropriately the 13th settlement in the original British colonies—has more horror stories throughout its history than any of us would likely care to hear, but in honor of Halloween, now is the perfect time to revisit some of the most inexplicable supernatural occurrences that have been documented within the Peach State over the years.
The nearly 250-year-old coastal city of Savannah honestly has enough haunted locations to fill up this entire piece, but what's unbeknownst to many is that many of Georgia's rural and urban cities are filled with similarly spooky folklore based on racist, violent, and tragic historical events. Whether you choose to believe in their reputations or not, these are the most frightening places in Georgia, from abandoned houses and hospitals in the countryside to haunted buildings and cemeteries that you may pass every day in the city. If you're a brave soul who has always been intrigued by unearthly experiences, go have fun on your ghost tour. And for those who are bound to get scared by just reading this, here are some far less frightening Halloween activities that you can participate in this year.
Murder Kroger
Atlanta
Although it was demolished in 2016 and reopened as a mixed-use development, the infamous grocery store known as Murder Kroger has been one of the creepiest pseudo-haunted places in Atlanta in recent memory. From 1991 to 2015, there were numerous incidents in which people were killed or found dead on the premises, and despite developers' attempts to rebrand it as the BeltLine Kroger, the scary history of Murder Kroger is something that locals won't forget anytime soon. In fact, the deadly lore surrounding the grocery store has even inspired merchandise, a website, and a Wikipedia page due to its infamy.
Lake Lanier
Northern Georgia
While countless people visit every year, locals know that there's a strange aura about Lake Lanier, which is widely known as one of the deadliest lakes in the country. There have been countless drownings, boating accidents, and serious injuries there, and depending on who you ask, some will tell you that the lake is just downright haunted. When Lake Lanier was created in the 1950s, a city formerly known as Oscarville was flooded. Oscarville was a predominantly Black community that was the site of Forsyth County's violent 1912 racial conflict, which led to a racial cleansing and expulsion by white "Night Riders" who threatened Black residents to leave or face death. As a result of its harrowing history, many believe that ever since Lake Lanier submerged Oscarville, the souls in the ghost town's cemeteries have been haunting the area. Grade A spookiness.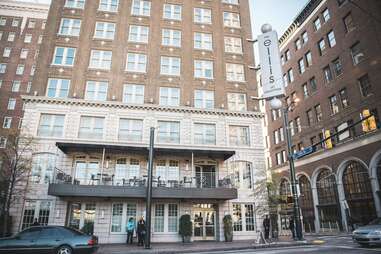 The Ellis Hotel
Atlanta
On December 7, 1946, the Winecoff Hotel in Downtown Atlanta went up in flames, and 119 of its occupants, including the 76-year-old owners William Fleming Winecoff and Grace Smith Winecoff, were killed during the unbelievable tragedy. That hotel fire has gone down in history as the deadliest hotel fire in United States history, so it's only fitting that ghost sightings and supernatural occurrences have continued to be documented there, even as it has lived a new life as the Ellis Hotel. Some people claim to have smelled smoke, heard screaming, or seen apparitions while staying there, and there are also accounts that the fire alarm sometimes goes off in the wee hours of the morning, around the same time that the blaze first started to engulf the hotel 75 years ago.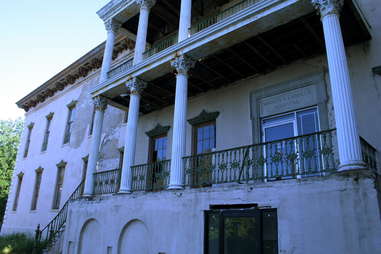 Old Candler Hospital
Savannah
The Old Candler Hospital was built in 1804, becoming the very first hospital constructed in Savannah, Georgia, and in 2021, it is the second oldest continuously operating hospital in the United States. Considering that it's been around for over 200, it's pretty safe to assume that the place is teeming with spirits. Outside of the hospital is the giant Candler Oak that's colloquially known as the "hanging tree." The tree is approximately 300 years old, and at night, it is said that apparitions can be seen hanging from its branches, serving as a ghostly reminder of the horrifying history of racism in the South. Unfortunately, things are just as creepy on the inside of the hospital, as the bodies of dead patients who succumbed to yellow fever are rumored to have piled up to form a massive grave in a morgue tunnel underground. To make the hospital grounds even creepier, there was also a psych ward where patients were subject to ghastly rudimentary shock therapy.
The Historic Lawrenceville Jail
Lawrenceville
Like many of the ghost stories that you're about to read, the Historic Lawrenceville Jail is believed to have been haunted for well over 100 years. Urban legend has it that a slave named Elleck was attacked by his slave master, and to escape the scuffle, Elleck is rumored to have tried to escape by climbing up a ladder to his quarters. The slave master tried to follow him but ended up falling off the ladder and plunging to his death. Opting to tell the truth about the matter, Elleck is said to have confessed the entire situation to the courts in good faith, but rather than seeing that it was merely an accident, the courts sentenced Elleck to death. After a failed escape attempt, Elleck was chained up and immobilized until his hanging, and legend suggests that he would sing a sorrowful song dedicated to his wife Betsy while awaiting his fate. It's currently a major stop in Lawrenceville's popular ghost tours, and to this day, many visitors attest that they can sometimes hear Elleck singing to Betsy from his jail cell.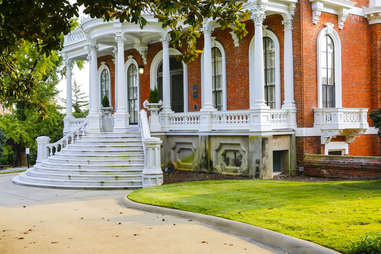 Hay House
Macon
The Hay House, an 18,000-square foot mansion located in Macon, became the town's first walking ghost tour in 2016, decades after it had been declared a National Historical Landmark back in 1974 for its unique architectural style. What's even more fascinating than that, however, is that since its construction in 1855, only two families have lived at the Hay House in its entire existence. People who have visited the museum over the years have reported hearing spooky noises, seeing ghosts, and witnessing inanimate objects moving mysteriously, and in 2010, while photographing a wedding, one photographer claimed to have captured a ghost on camera, creeping around in the background and sporting a top hat.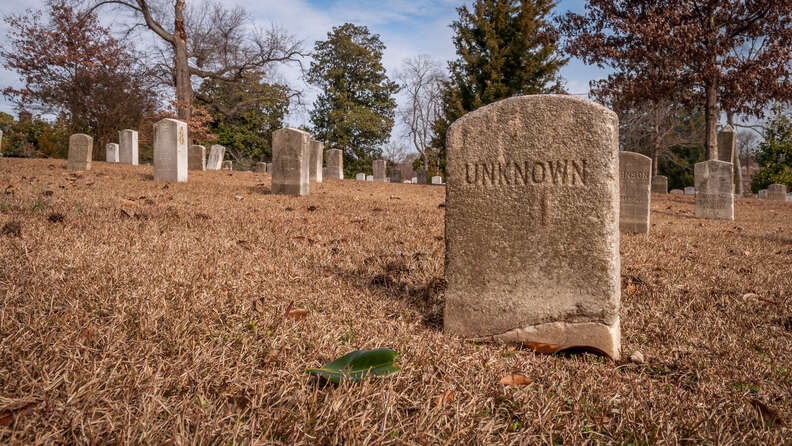 Oakland Cemetery
Atlanta
Before getting back to the eerie accounts of supernatural activity on Georgia's eastern coast, we have to touch on the Oakland Cemetery. Countless people who have left a mark on Atlanta—we're talking folks like Maynard Jackson, Margaret Mitchell, and Bobby Jones—have been buried in Atlanta's oldest and largest burial ground in the city, but don't expect to run into the ghost of a hometown hero while visiting. Since it was founded in 1850, the cemetery has a large section that houses the Confederate dead, 3,000 of which are known soldiers. Spooked visitors have claimed that say they've seen soldiers in full uniform roaming the grounds and hanging from trees, and some even say that they've heard Confederate soldiers doing a roll call and including their names. If you dare to explore Oakland Cemetery this Halloween, don't expect things to feel very civil.
Camp Daniel Morgan
Rutledge
Long before spooky—but still fun!—streaming series like Stranger Things started filming in Georgia, a campsite at Hard Labor Creek State Park was the filming location for one of the most terrifying slasher movie franchises of all time: Friday the 13th. Part VI of the Jason Vorhees serial killing saga was shot at Camp Daniel Morgan in the late 1990s, and if you were to show up at the campsite today, you would notice how eerily similar it still looks to the movie's fictional Camp Forest Green. Although it's not necessarily haunted, the horrifying imagery of Friday the 13th Part VI: Jason Lives is surely enough to make an overnight stay at Camp Daniel Morgan feel a little uneasy.
Milledgeville
If you've seen the amazingly terrifying second season of American Horror Story, you already know how this story—which is set at an old, creepy mental institution—goes. Located in Milledgeville, Georgia, the Central State Hospital still stands to this day, and it remains the largest mental health institution in the United States. There are up to 25,000 patients buried on the 2,000-acre site, which officially opened in 1842 as the Georgia Lunatic Asylum, five years after Georgia lawmakers authorized a "Lunatic, Idiot, and Epileptic Asylum." Known simply as "Milledgeville" to many Georgians, the site is haunted by the memories of the patients who are said to have been mistreated there. In fact, according to a 1960 Pulitzer-winning article by Jack Nelson in The Atlanta Journal-Constitution, thousands of patients were served by only 48 doctors, none of which were certified psychiatrists. An even more disturbing tidbit about Central State Hospital is that some of the doctors were actually hired out of the mental wards, meaning in certain cases, the inmates were literally helping to run the asylum. If that ain't enough to haunt you, nothing will.
St. Simons Island
Thanks to a bloody duel that involved Frederick Osborne, the lighthouse keeper in 1880, and the assistant keeper John Stephens, the picturesque St. Simons Lighthouse is believed by locals to be haunted. While accounts vary drastically, a disagreement over one of their wives ultimately led to Osborne's death, and in the 141 years since their duel, visitors say that the slain lighthouse keeper still lingers over the St. Simons Lighthouse. Osborne's ghost is believed to regularly cause the lights to flicker, loudly walk up and down the stairs, and be an overall menace to everyone, from visitors to the Coast Guardsmen performing maintenance on the lighthouse.
Savannah
Being one of the most haunted buildings in one of the most haunted cities in Georgia is a title that Sorrel-Weed has most definitely earned. An official state landmark of Georgia, the Sorrel-Weed House was constructed during the latter half of the 1830s, and it was the childhood home of Brigadier General Moxley Sorrel, who fought under the Confederacy. The owner of the house, Francis Sorrel, was also good friends with General Robert E. Lee, who visited the house on many occasions. In addition to the heavy Civil War energy weighing over the Sorrel-Weed House, legend suggests that two people lost their lives in that house—Francis Sorrel's mistress Molly and his wife Matilda Sorrel, who many think threw herself off of the balcony and died on the property. The grounds are also soaked with blood from battles in the American Revolution and The Siege of Savannah, so contrary to the name, it's probably not the relaxing place to light one up.
A longtime journalist, novelist, and lifelong music lover, Jacinta Howard resides in the Atlanta area, and she ain't neva scared. Unless sh*t is real. Tweet her at @jacintahoward.
Mike Jordan is scared right now, and might even lie and say he'll come with you to a really haunted place if you insist but will actually ghost on you, the other way. Tweet him at @michaelbjordan.
Joshua Robinson is an Atlanta-based contributor for Thrillist. Follow him on Instagram and Twitter at @roshrisky.