Atlanta Artist FRKO Shares His Must-Visit Spots in the Old Fourth Ward
An artist's tour of the historically Black neighborhood which includes historic landmarks, great restaurants, and more.
Old Fourth Ward in Atlanta means a lot of things to a lot of people. It's a historically Black neighborhood home to Martin Luther King Jr.'s birthplace and other landmarks. Some know it for the bustling nightlife scene on Edgewood Avenue. While today many associate it with the beloved—and recently transformed—Ponce City Market.
But to Atlanta-based artist FRKO, Old Fourth Ward is where he started his family and says he truly became a man.
Born Richard Montgomery, FRKO is a free-spirited illustrator known for his outlandish and unspoken art. He has become one of rap's most distinguished graphic artists, having created cover art for Action Bronson, Earth Gang, and Gucci Mane—the latter of which also tapped FRKO for character design in his music video for "All My Children." A quick scroll through his Instagram timeline will show the full gamut. From his raunchy and delightfully villainous comicbook Nigga-X to his hilarious social commentary, FRKO has built a cult following in hip-hop, Atlanta, and beyond.
Though he originally hails from the Eastside, he came up in Fourth Ward, so we linked up with him on Edgewood Avenue for a tour of his old stomping grounds. The neighborhood is situated in the crosshairs of Downtown, Midtown, Virginia-Highland, and Inman Park in a historically Black section of Atlanta. Best known as King's birthplace, the area has a rich history dating back to the 1800s, and it gets its name from an 1854 Atlanta City Council ordinance that, at the time, separated the city into five wards.
"I got roots here," FRKO tells me as we walk past Chrome Yellow Trading Co. down Daniel Street Northeast, the narrow offshoot of Edgewood Avenue where he used to live. "My earliest memory is visiting the MLK Memorial at four years old. I look back at pictures from the '90s and there I am in my mother's arms and now I'm walking my own sons through the memorial. When I lived over here, I went to the same barbershop that MLK went to, Leslie's, right there on Edgewood."
We reach the blue apartment building that FRKO used to call home with his wife and fellow artist, Biyunka. "We had my first son here," he reminisces. "It's funny. Before we had him, I never thought we were gonna move out of there."
FRKO switches his attention to Life Storage on Boulevard and Decatur. "You see that storage spot?" he asks. "There used to be a legendary bar called Lenny's there. It was like a dive bar before they became popular. You ever see a movie where someone gets in a fight with some bikers at a bar? That's what Lenny's was!"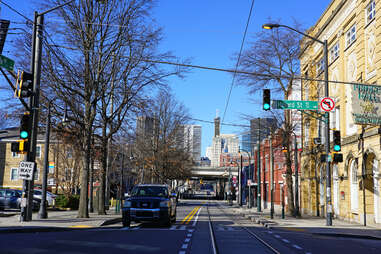 We circle back towards Chrome Yellow until we get back to one of the most important places in Old Fourth Ward: Edgewood Avenue. On that lively street, FRKO used to frequent clubs like The Music Room and Department Store. We make our way down Edgewood and come to the site of the recently collapsed Sound Table lounge, and while discussing what has been yet another major loss for Edgewood Avenue in the past year, it's clear that FRKO is feeling sentimental.
"That shit hurt a lot of us, man," he says. "Like I said, I grew up on this street, and I say that because I grew into a man right here. That's why this area is so significant to me."
Throughout all the changes that have hit Old Fourth Ward over the past few decades, many new developments have also strengthened the neighborhood. Rapper and Atlanta native Killer Mike opened up his barbershop Swag Shop in 2011. A few years later, there was the much talked about revitalization of Ponce City Market. The Black-owned, plant-based restaurant Slutty Vegan recently opened a new location in the neighborhood. And this past fall, it was announced that Black-owned footwear and fashion boutique A Ma Maniére would be one of the tenants in an upcoming four-story mixed-use building on Edgewood Avenue.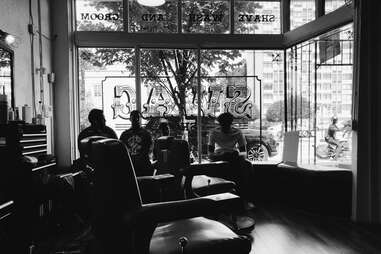 "I like seeing Killer Mike and other music artists buy some of the real estate on Edgewood Avenue," FRKO says. "I like seeing people taking care of each other on the regular, feeding the homeless and people in need. The street people know all the history and it's important to hear their stories. There's always someone out doing something. Even early in the morning, you can feel the energy of the streets. You just know that it's going to be a busy day in Fourth Ward."
Clearly, Old Fourth Ward still holds a special place in FRKO's heart. Although there have been significant changes to the area since his days there, the spirit of O4W is still alive and well. Here is a selection of restaurants, bars, parks, and locations essential to the area today.
"Go to Fourth Ward for a good original taste of Atlanta's inner culture," FRKO says. "It's a neighborhood that is changing, but if you pay close attention while walking around it you can find some gems within the native people, the corners, and the red clay oozing out from under the asphalt."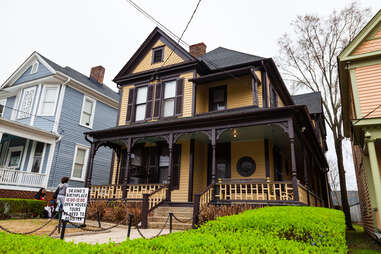 You can't miss out on the chance to see the home in which the legendary Dr. Martin Luther King Jr. was born, located at 501 Auburn Avenue NE. The King Center and Ebenezer Baptist Church are also close in proximity, so take time to appreciate O4W's rich civil rights history.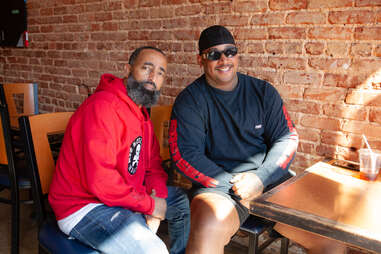 This Black-owned neighborhood pizzeria has long been a staple on Edgewood Avenue, and it even survived a major electrical fire in 2013. Edgewood Pizzeria's famous "king slice" is enough to get you in the door, and its warm atmosphere and walls full of artwork will definitely make you want to stay.

This holistic shop is a Black-owned business where you can grab fresh squeezed juice, soup, wraps, and sandwiches that complement your blood type. According to FRKO, it's also a great place to go to get rid of a hangover.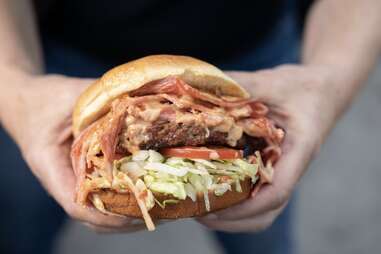 One of the newest additions to Edgewood Avenue, this Slutty Vegan location is open from 4pm to midnight Tuesday through Thursday and 4pm to 1am on Fridays and Saturdays, making it the perfect spot for late-night, plant-based eats.
One of the most universally acclaimed bars still standing on Edgewood Avenue is Sister Louisa's Church of the Living Room and Ping Pong Emporium. It's quirky, devilish, and a whole lot of fun.
At the start of the pandemic, Old Fourth Distillery took a step back to reevaluate its operations and put the community first, spending a bulk of its time throughout 2020 producing homemade hand sanitizer for frontline workers in Georgia. Now that the dust has (slightly) settled, give the O4W staple its props by purchasing some of its delicious Southern spirits.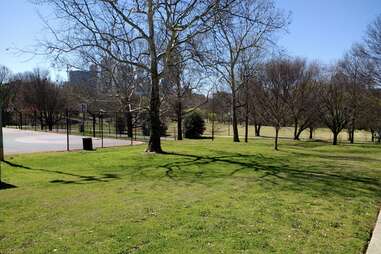 Central Park is home to several annual music festivals, from Shaky Knees to ONE Musicfest. Spanning 17 acres, the park also boasts multiple courts and fields, a recreation center, and plenty of open green space.
Also known locally as OG Jamaican, this Edgewood Avenue eatery serves authentic Jamaican dishes such as patties, coco bread, and curry goat for a reasonable price. FRKO has vouched for O.G. Jamaican for years, and he even immortalized the restaurant during his verse on Pregnant Boy's underground classic "Jerk Chicken." "Atlanta, GA is where it's at/Catch me on Edgewood spittin' facts/O.G. Jamaican gettin' fat/Jerk chicken sauce on the side for the boss."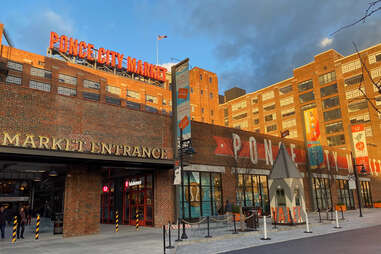 Ponce City Market is one of the best places to visit in Atlanta, period—it just so happens to also be a part of Old Fourth Ward. Sitting across from what used to be The Masquerade, PCM houses a few Black-owned businesses of its own, including Sustainable Home Goods, The Village, Root Baking Co., 9 Mile Station, and 18.21 Bitters.
In addition to his art, FRKO is known for pulling out his bike and hitting tricks, so follow his lead and head over to Historic Fourth Ward Skatepark. Skateboarders and bikers alike can enjoy the open-air bowl and ramps, and it's also located right along the Eastside Trail of the BeltLine.
Joshua Robinson is an Atlanta-based entertainment critic and lifestyle writer for Thrillist.