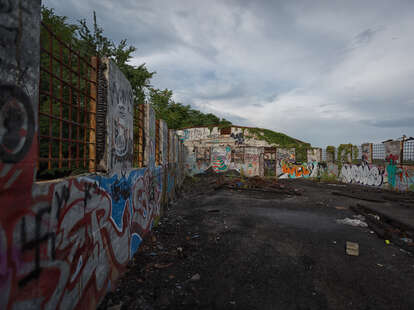 Historically, Georgia has been known for its peaches, pecans, peanuts, and of course, its infamous red clay. While there are plenty of adventures to get into in the metropolitan areas, the state also has its fair share of overlooked spaces in need of some major upkeep. It's the lack of maintenance that adds charm to many of these spots—because, hell, who doesn't like to explore a good ol' run down, neglected building, right? From the Old Atlanta Prison Farm to New Manchester Mill Ruins, Georgia is home to some of the coolest abandoned places around. So, if you're in search of some spooky fun to get into in the coming months, look no further.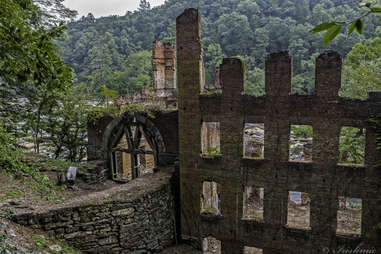 The New Manchester Mill Ruins
Lithia Springs
Located at Sweetwater Creek State Park in Lithia Springs, the New Manchester Manufacturing Company Mill was built in the late 1840s, and at one point made uniforms for the Confederate army—until Union soldiers burned it down in 1864. Now, all that remains of this former textile mill are the walls and its run, which makes for the perfect site if you're feeling like Indiana Jones. In 2017, the ruins reopened back to the public and is only a short hike from the SCSP parking area. As the summer months approach, be sure to check out the ruins' downstream water just off the Red Trail.
Harville House
Statesboro
Constructed in 1894, Harville House has become legendary for its rumors of paranormal activity. A second story was added to this house 10 years after it was built, giving it a total of 14 rooms. You would love a home this big if it wasn't overtaken by massive shrubbery and even more ghosts. For all you Leatherface fans, its wooden architecture makes it that much more creepy. Now considered a landmark in Bulloch County, much of the site has been cleaned up—but it's privately private property, so it's suggested that you only take photos from the road.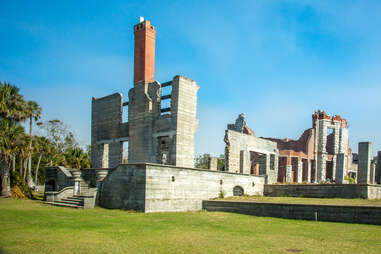 Dungeness Ruins
St Marys
This Cumberland Island mansion went through a series of changes since being built in the 1730s. After a big fire in 1959 it kind of lost its luster. Previously owned by powerful families like the Carnegies and the Dungeons, currently, only the ruins remain. Still, the mansion is still one of the most visited places in the state of Georgia. You can explore the house and other buildings on the grounds on your own, or you can do a guided tour for the full experience.
Central State Hospital
Milledgeville
Milledgeville is home to Central State Hospital. During its peak, it held over 17,000 patients, but now the majority of the facility is abandoned, only used for psych evaluations and recovery services for Georgia State Corrections. The Jones Building is a popular tourist attraction; just try to not to get lost in the facility's long, cold hallways. Tours of the Georgia Lunatic, Idiot, and Epileptic Asylum (its original name) go for about $30 a pop.
Scull Shoals Mill Ruins
Watkinsville
If you're a believer in bad juju, this place will surely give you a scare. Located on the Oconee River, the land was once occupied by the Cherokee, but after a whole bunch of back-and-forth, it became Georgia's first paper mill before a big flood in the 1800s made it practically unsustainable. It was sold to the feds in the 1930s, and today, only a few of the warehouse's walls still remain, along with the wooden covered toll bridge. The surrounding area has some nice hiking trails and picnic areas. Tread lightly.
Atlanta Prison Farm
DeKalb County
Confederate cemetery you say? Well, the Union said "nah." The Honor Farm, as it is also known, became a prison focusing on free labor. Throughout its history, the facility has suffered from multiple fires, but the walls have been covered in colorful graffiti by the dozens of artists that have traveled here in recent years. It's been "closed" since 1995, and to be honest, it's the perfect place to shoot a music video or your traditional horror flick.
The Horton House
Jekyll Island
James Oglethorpe, who "founded" Georgia but was British, had a colonial buddy named William Horton who he trusted with military leadership back when they were settling the land. Horton had a two-story building created of tabby (basically a concrete-ish substance made with oyster shells), and the place is one of the oldest surviving buildings in the state. A few hundred yards away you can find another structure Horton built—GA's first brewery, which he used to supply beer for soldiers.
Georgia Nuclear Aircraft Laboratory
Silver City
Back in the day, the military was thinking of building a nuclear-powered airplane. Fortunately, they were smart enough to test it, but unfortunately, they did it in a building in the middle of Dawson Forest and built underground bunkers where white-coated dudes would run after activating the nuclear reactor so they could see what happened (all the surrounding trees' leaves would fall off). The lab was shut down in the '70s, with some of its remnants—which include a train house and a gnarly reactor—still very much intact.
Woody's General Store
Dawsonville
One of the last buildings still upright in the gold-mining ghost town of Auraria, just south of Tennessee, this place sold goods to the miners who discovered more than $20 million worth of shiny metal during the rush of the 1820s around Dahlonega. Apparently if you look inside there are still old soda bottles stacked on the shelves. You can tell via the old Coca-Cola sign that they weren't having any of that New Coke crap around them there hills.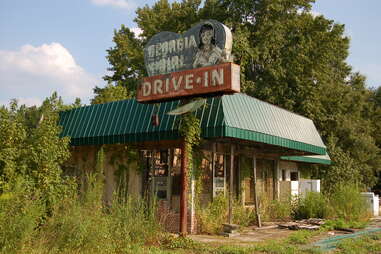 Georgia Girl Drive-In
Woodbine
This old sign from a defunct diner owned and run by the White couple (that's the family's actual last name) can still be found on US Hwy 17 along the coast in Woodbine. Still an attention-grabber even after being abandoned for so many years, the inside has pretty much been gutted, with a few random objects and materials still remaining. Lord only knows what this place could get away with selling if it were relocated to Nevada.
Okla Jones
is an Atlanta-based journalist who writes about food, fine arts, and entertainment. His work also appears in ESSENCE, Creative Loafing Atlanta, and Consequence of Sound. Follow him on Instagram at
@coolhandoak
.

Mike Jordan is a contributor for Thrillist
.