There are songs inspired by Atlanta that you should never, under any circumstances, sing. For example, "Hot 'Lanta" by The Allman Brothers Band. And there are three very sound reasons for this: A) it's an instrumental track, B) it's called "Hot 'Lanta," and C) The Allman Brothers Band. So let's be real and pay homage to these truly great ATL-repping songs that pretty much all of us -- except maybe The Allman Brothers Band -- can agree on.
And after you finish reading, hit our Spotify playlist at the bottom to actually listen to the most Atlanta songs that've ever been recorded.

"Elevators" by OutKast
Most Atlanta line: "One for the money, yes sir, two for the show / A couple of years ago on Headland and Delowe / Was the start of something good / When me and my ***** rode the MARTA, through the hood…"
"Elevators" was leaked to Atlanta radio deejay Greg Street months before it was supposed to be on radio. Allegedly LaFace Records sent a cease and desist order to WVEE-FM to make them stop playing it. Street called for LaFace boss, L.A. Reid, to allow the song and rescind his C&D, because the people had spoken and they loved the song. After it became clear that it had enough momentum to become a single, it was released with a video, becoming one of 'Kast's most beloved cuts.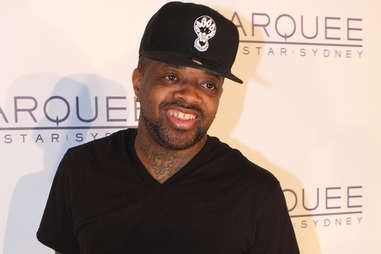 "Welcome to Atlanta" by Jermaine Dupri and Ludacris

Most Atlanta line:
"I been puttin' it down here since eighty-three
Since the Lakeshore/MD rivalry
When Frozen Paradise was the place to be
If you was ridin', you was bumping to homie Shy-D"
Lakeshore and MD Collins were two Atlanta-area high schools that closed in the '80s and were consolidated with other schools into what are now Westlake (alma mater of several NFL players including Adam "Pacman" Jones and Cam Newton) and Benjamin Banneker, which Luda attended. And that last part of Luda's verse ("Chillnininininin-flimiminininin... ") is from a weird ad-lib he frequently used while he was a radio personality at WHTA-FM.
"F.I.L.A" by Lil Scrappy

Most Atlanta line: "Forever I love Atlanta! Forever I love Atlanta (what!)! Forever I love Atlanta!
Forever I love Atlanta (what!)!"
Scrappy may not be the city's hottest rapper anymore, but he successfully parlayed his music career into a TV career as a cast member of Love & Hip-Hop: Atlanta. Also, this year's ELEVATE -- the annual public art festival put on by the Mayor's Office of Cultural Affairs -- was named "Forever I Love Atlanta (F.I.L.A.)." Crunk!
"Oh Atlanta" by Bad Company

Most Atlanta line: "Oh, Atlanta, hear me calling, I'm coming back to you one fine day
No need to worry, there ain't no hurry, 'Cause I'm, on my way back to Georgia... "
This song was played to start the 1993 broadcast of the Motorcraft 500 race, after it had to be switched to The Nashville Network, due to a six-day snowstorm that delayed the broadcast and caused ABC to have to give up on airing it. Because few things make us say "Oh Atlanta" like snow and roads combined.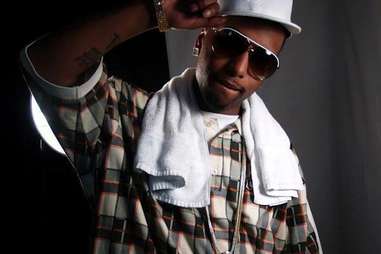 "Lookin' 4 Nikki" by Lil Will

Most Atlanta line: "She got a brother named Southwest, a sister named College Park, an uncle named Decatur, and he be BOOMIN' after dark…"
An Atlanta strip club icon rivaled only by Magic City and Gentlemen's Club in the late '90s, Nikki was located at 1785 Stewart Ave (now renamed "Metropolitan"), and even had a smaller satellite version of itself to handle overflow. Then it got shut down, and to this day everybody's still looking.
"Straight Outta Dunwoody" by Dormtainment

Most Atlanta line: "Dunwoody got everything and I mean it! Because living here's very convenient!"
The six dudes who made the song and video left Atlanta a few years ago, moving to Hollywood and scoring a deal with Comedy Central for their series Six Guys One Car.
"85" by YoungBloodZ

Most Atlanta line: "For thangs to go down, see I ain't playin' around / Got a half a tank of gas, I'm 85 Southbound / It's a long ass way, I'm from the 20 side of thangs / She said it's dead serious, hot like some lighter flames, so you know how it go... "
At the beginning of the YouTube vid, that's a young, pre-debut-album T.I., riding shotgun with Kawan "KP" Prather, who brought the Dungeon Family to the attention of the music business. T.I. was originally signed to the same label as YoungBloodZ.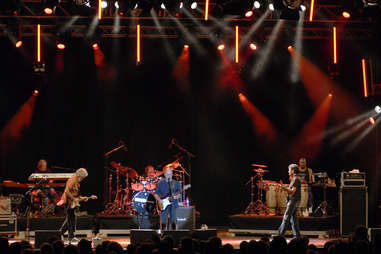 "Oh, Atlanta" by Little Feat

Most Atlanta line: "Well you can drop me off on Peachtree / I got to feel that Georgia sun / And the women there in Atlanta / They make you awfully glad you come."
This song was released before Bad Company's version and is more of an ode to the city being a premiere city for music concerts than the Real Housewife-y/bad-traffic/condos-over-culture version we know today.
"All Gold Everything" by Trinidad James

Most Atlanta line: "Gotta love, Cheshire Bridge / Them bad **** at Onyx... "
Trinidad James was sadly dropped by his label, Def Jam, before even releasing the full-length LP for which he'd reportedly signed a deal worth $2 million in 2012. All Gold Everything? Well, not when it comes to album sales.
"Bankhead Bounce" by Diamond & D-Roc

Most Atlanta line (basically, the only line): "What's up, What's up?! What's up with the Bankhead Bounce, shawty?! WOO-Lawd what's up!? What's up with the Bankhead Bounce, shawty?!!!"
D-Roc went on to become one-half of Ying Yang Twins. His shoulders went on to bounce for other classic ATL songs like "Get Low," "Salt Shaker," and "Wait (The Whisper Song)."
"Kryptonite (I'm On It)" by Purple Ribbon All-Stars

Most Atlanta line: "I-I-I-I-I be... On it all night / Man I be on it all day / Straight up, pimp, if you want me you can find me in the AAAAAYE!!! (I'm on it) AAAAAYE! (I'm on it) AAAAAYE (I'm on it)!!!"
Killer Mike and Big Boi fell out for a few years due to Mike's frustrations with how his music career was being handled at Big's Purple Ribbon label (Mike reportedly once compared the label to the LA Clippers -- the 2007 version). The two have since reconciled and perform regularly together during Run The Jewels and Big Grams sets.
"Dirty South" by Goodie Mob

Most Atlanta line: "Stankin' like them Lincolns in Piedmont Park!"
Though it's now associated with the entire Southeast and places that don't even sit on the bottom of the US map, "Dirty South" contained multiple nods to ATL and East Point streets (Delowe, John Freeman Way, etc.), landmarks like Charles' Disco and Martel Homes, and mentions of "dirty Red Dogs" hitting the door -- in this case, Goodie meant the Atlanta Police Department unit, although it was apparently something UGA fans were ready to see happen to Mark Richt.
"Ride Wit Me" by T.I.

Most Atlanta line: "This well-known flow, man I got this shit from Simpson Road / Adamsville, Bowen Homes, Center Hill to Zone 4…"
T.I.'s Bankhead credentials were once questioned by D4L founder Shawty Lo, who once said Bankhead must have "two sides" if T.I. was from the same Bankhead neighborhood where he grew up, suggesting that he'd never seen him in the streets. Fast-forward to today, and many people who laughed then probably wouldn't recognize Shawty Lo if they saw him at Lenox Mall, and T.I. is still one of Atlanta's most popular rappers of all time.

"My Boo" by Ghost Town DJ's

Most Atlanta line: "These feelings I have for you / can go deeper if you can come / correct with your game boy (no, no) / No you can't be lame boy!"
Atlanta is not specifically mentioned in this song, but nobody can dispute the ATL-ness of this massively popular and regularly covered fast-tempo bass hit. Also, the word "lame" is the standard Atlanta term for "wack." If you didn't already know that, you're lame as hell!

Sign up here for our daily Atlanta email and be the first to get all the food/drink/fun the ATL has to offer.
Mike Jordan is not from ATL, but was Thrillist ATL's founding editor, interned at So So Def Recordings and Hot 97.5 in the '90s, and also worked at LaFace Records in the '90s. If you're mad that Kilo, Raheem, MC Shy D and others aren't mentioned, complain to @michaelbjordan.